Ibaraki: Pro gamer Kurihara connects Mito to world through esports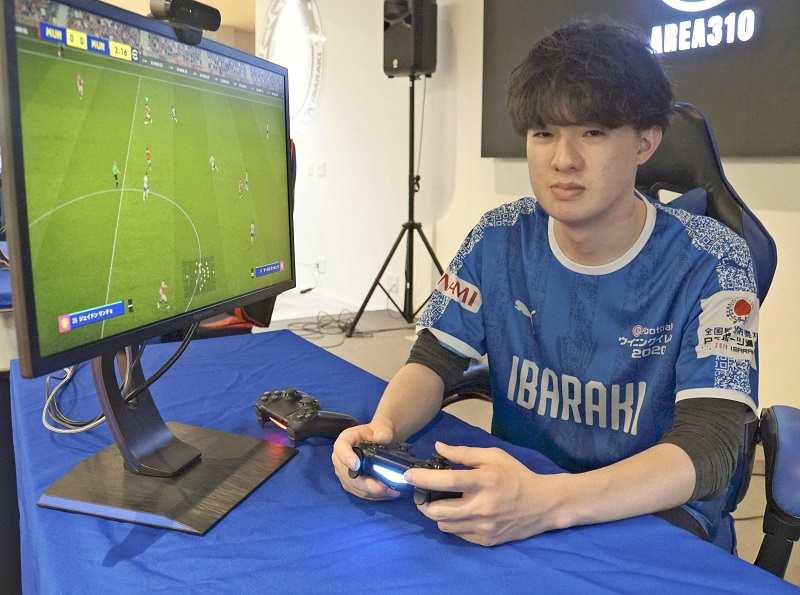 15:33 JST, April 26, 2022
MITO — Motoki Kurihara skillfully maneuvered a game controller and took care of the opposing team in an exhibition soccer match held at an esports facility in Mito in late February.
When he struck the winning goal with a penalty kick in "eFootball," formerly known as "Winning Eleven," the boisterous crowd cheered as it watched a live broadcast on a big screen.
Kurihara, 23, is a professional gamer who goes by the name of "Choburi." He finished in the top 10 in a national online competition, and in February, he became the leader of the professional esports team "AREA310," operated by a local IT company.
"I want to turn this into a team that is supported by my hometown," he said.
Born in Mito, Kurihara was focused purely on soccer throughout his days in elementary, junior high and high schools. But a turning point in his life came in the summer of his second year in high school.
During a physical education class, he suffered an avulsion fracture in his knee and was forced to spend six months in a cast. He was unable to kick a ball, but he managed to continue playing soccer in esports.
He gradually became fascinated with the world of online gaming, in which players compete against each other.
In "eFootball," gamers control players of real powerhouse clubs. They are in control of the tactical decisions and can put players in any position they wish, just like a coach. Kurihara said he felt that he could create his ideal "reality" through the game.
Kurihara excels at ball movement to get around defenders. He represented Ibaraki Prefecture when he finished in second place at the 2019 Inter-Prefectural Esports Championship 2019 IBARAKI, Part of Culture Program of Ibaraki National Sports Festival.
After this event, Kurihara received an offer to join a pro team, and he decided to quit his job at a hair salon and earn his living as a gamer.
The field of esports has grown in popularity, especially overseas, and some tournaments attract crowds to stadiums. The Economy, Trade and Industry Ministry estimated in a report that the market would expand from ¥33.8 billion in 2018 to ¥69.5 billion this year.
In Japan, however, it is difficult to make a living on cash prizes alone. Kurihara had to supplement his income with part-time jobs at a coffee shop and other locations. Some of his friends took a dim view of the notion of becoming a professional gamer, but his parents encouraged him because esports is what he wants to do.
Kurihara posts game instructions via video streaming services and his number of Twitter followers has climbed to about 17,000 as his name has gained recognition.
With the establishment of his professional team, Kurihara is now in an environment in which he can concentrate on competitions. He is practicing hard with the goal of competing in international tournaments.
The team name "AREA310" is a play on Mito's postal code. Enthusiastic about being a professional gamer, he expresses hometown pride by saying, "I want to introduce Mito to the world."