Japanese war orphan left behind in China graduates junior high school at 78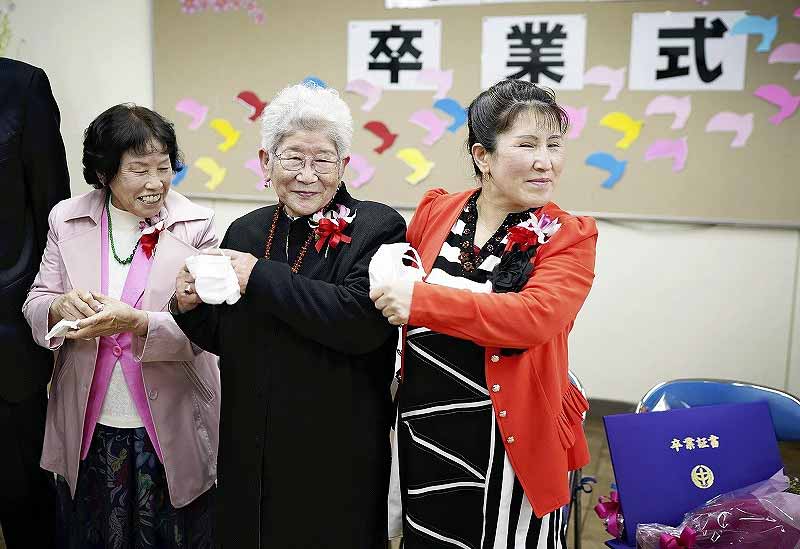 16:10 JST, April 16, 2022
NARA — A 78-year-old woman who spent most of her life in China has graduated from a Japanese junior high school after attending evening classes for the past 20 years.
Tomoko Okuyama grew up in China after being separated from her family amid the turmoil at the end of World War II. Many such war orphans were raised by Chinese families, and a large number returned to Japan in the 1980s following the normalization of diplomatic relations between Tokyo and Beijing in 1972.
Okuyama, who returned to Japan at the age of 56, lives in Nara City. She had particular difficulty with the Japanese language, having been raised in a Mongolian-Chinese family in the Inner Mongolia Autonomous Region.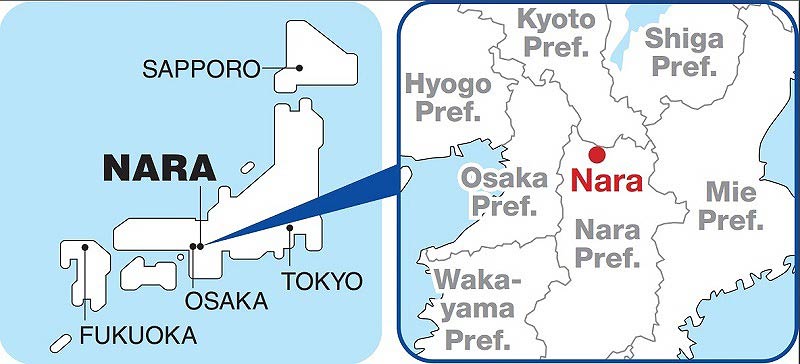 Used to speaking Mongolian, she could not understand Japanese or the kanji Chinese characters used in Japan. However, Okuyama has enjoyed the learning process over the past two decades, saying, "There's peace here, so people can learn."
Back to Japan
According to Japanese government data, Okuyama was born in northeastern China, then known as Manchuria, which was then effectively under Japanese control.
Her mother and elder sister were killed by Soviet Union forces in August 1945, while her elder brother sustained an injury and later died as well. Her father was absent, having been called to serve in the Japanese military.
A Chinese Mongolian found Okuyama crying and alone and took her to their home. "I was the weakest member of my family, but I survived," Okuyama said.
By listening to those around her, Okuyama gradually became aware that she was Japanese. She was raised by a loving family who treated her as though she was their biological daughter and she soon blended into local life.
When Okuyama was about 20, she married a local man, with whom she had five children. In 1981, the Japanese government began an investigation into war orphans, which led to Okuyama and her father being reunited.
She agonized over whether to return to Japan, thinking about the people who had treated her so warmly in China. However, after numerous visits, her admiration for Japan grew ever stronger. She eventually decided to make the move after consulting with her children and has been living in Japan with her family since August 2000.
Kanji challenge
Although Okuyama and her family received support from the central government and other entities, she was keenly aware of the need to understand Japanese, particularly regarding medical treatment for her sick husband. This was the catalyst for her to begin taking evening courses at Kasuga Junior High School in Nara City.
In Japan, junior high school evening courses are free for people who were unable to complete compulsory education for such reasons as war, poverty or truancy.
"I learned because I wanted to live here," Okuyama said.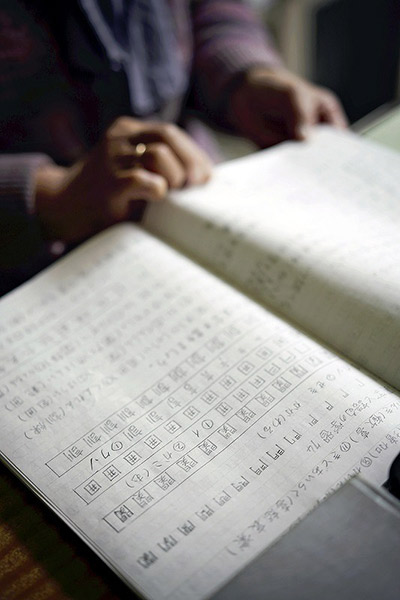 She found kanji particularly difficult and would turn up at school one hour before her classes, to copy kanji characters with the aim of bettering her understanding. Okuyama said she went through dozens of notebooks as part of her kanji-learning process.
"She worked so hard," said her class teacher, 56. "The pages of her notebooks were filled with kanji in next to no time."
As Okuyama's understanding of the language improved, she was able to take social studies and science classes. She enjoyed learning and continued taking evening classes for almost 20 years, with few absences.
'I'll never forget'
Under municipal regulations, people can attend junior high school evening classes for up to 20 years.
Okuyama celebrated her graduation at a ceremony on March 12. During a speech at the ceremony, where she represented eight graduating students, Okuyama said: "I've spent a happy life here and have gradually learned how to interact with others. I'll never forget what I've learned during the past two decades."
Okuyama said she intends to continue studying at home.
"In a war, children and the weakest people suffer most," she mused, alluding to the Russian invasion of Ukraine. "We can study because there's no conflict. I hope the whole world can reach a state of peace."
Language poses biggest challenge
Before and during World War II, many Japanese immigrated to then-Manchuria — now part of China — and other regions that were under Japanese control.
According to the Health, Labor and Welfare Ministry, 6,724 Japanese nationals that were left behind in China have permanently returned to Japan. Of these, 2,557 are regarded as war orphans, a term that loosely refers to people who were 12 or younger at the end of the war.
Many war orphans permanently returned to Japan in the 1980s — more than a decade before Okuyama. According to a 2015 ministry survey on the Japanese-language ability of returnees, 24% said they can "exchange basic greetings in halting Japanese," while 5% said they "cannot speak [Japanese] at all." The average age of respondents was 76, and one in every four was currently receiving nursing care.
Returnees need help to settle back into Japanese society, as the language, lifestyle and other factors are very different from what they have been used to.
The central and local governments and private-sector organizations extend various kinds of support, such as dispatching interpreters to help with hospital visits, offering mobile health-counseling services and disbursing a basic old-age pension.
Add TheJapanNews to your Google News feed.