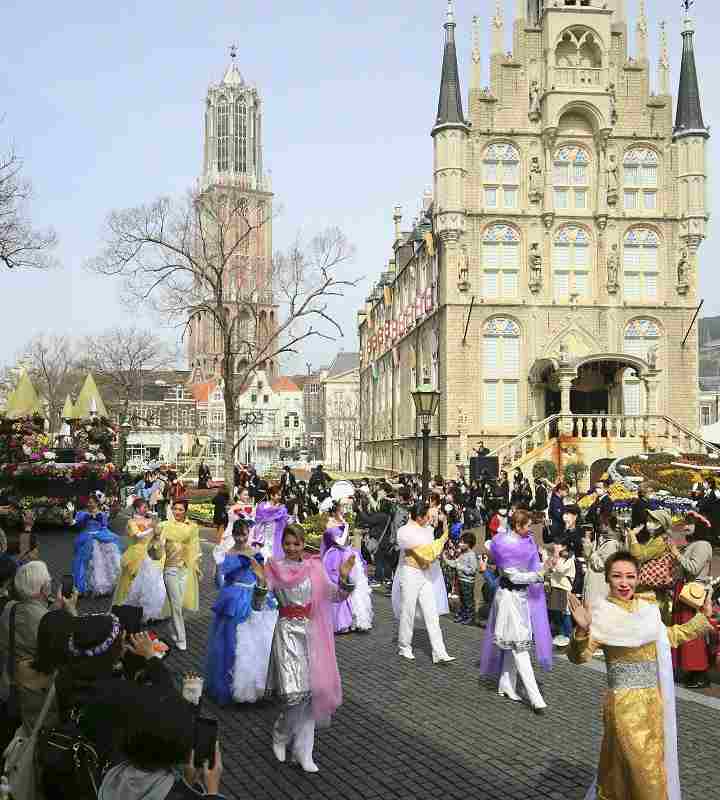 22:00 JST, April 9, 2022
SASEBO, Nagasaki — A resort facility that has become identified with Kyushu celebrated 30 years since its opening in late March.
Huis Ten Bosch in Sasebo, Nagasaki Prefecture, opened in 1992 as a theme park re-creating the cityscapes of the Netherlands in the medieval period. It boasts 1.52 square kilometers of land, about 1.5 times the size of Tokyo Disney Resort.
Having weathered a business failure and the withdrawal of a corporate sponsor, the theme park is now facing yet another trial, with its strategy under review.
Brink of closure
Huis Ten Bosch started off well after it opened, enjoying an attendance of 3.8 million in the business year ending in March 1997. It drew so much attention, it was touted as "the Disney Resort in eastern Japan and the Huis Ten Bosch in western Japan."
Its journey in the years that followed, however, was beset with a series of ups and downs. Burdened with a massive amount of debt, it had continuously incurred recurrent losses since its opening, eventually driving it to file for court protection from creditors under the Corporate Rehabilitation Law in February 2003.
Moreover, a company affiliated with Nomura Holdings Inc. decided to withdraw its sponsorship due to the economic slowdown after the collapse of U.S. investment bank Lehman Brothers in 2008. This sent the theme park to the brink of closure.
Weird hotel
Leading tourism agency H.I.S. Co. extended a helping hand to Huis Ten Bosch upon the request of the city government of Sasebo.
When Hideo Sawada, the then chair of H.I.S., became the president of Huis Ten Bosch in 2010, he pushed ahead with corporate reforms. With his novel ideas, he helped create an opera troupe and "Henn na Hotel [Weird hotel]" at the park. The hotel, where robots work in areas such as the reception desk and housekeeping, was the first of such hotels that H.I.S. deployed nationwide. This all drove up park attendance.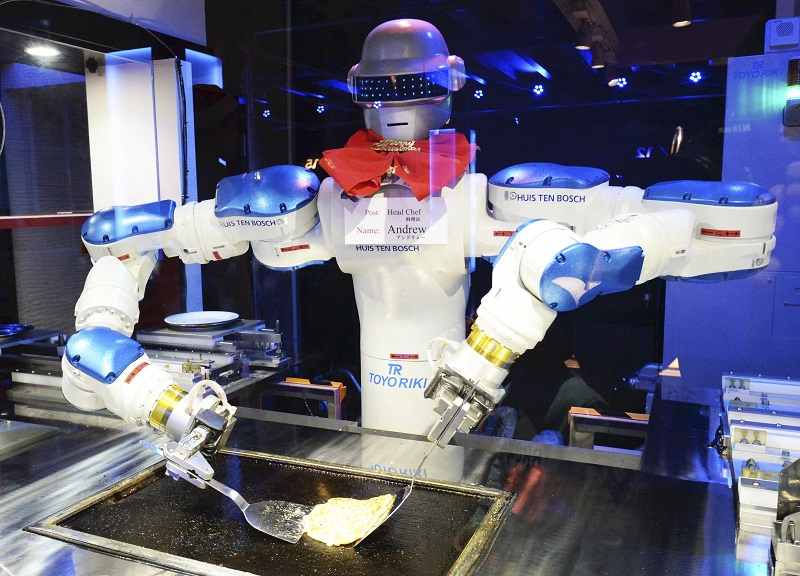 Sawada reviewed running costs, including making cuts in outsourced operations of special events, and had Huis Ten Bosch posting a recurring profit after his arrival.
"It was beyond our imagination that he was able to rebuild it that far," an official of a business circle said.
Then the pandemic hit. Attendance plunged to 1.38 million for the year ending September 2020, almost half of the previous year, and the park fell into the red again. In addition, the pandemic has had serious negative impacts on parent company H.I.S.
Sawada referred to the possibility of selling Huis Ten Bosch at a press conference in December 2020 to improve the management of H.I.S., though he later said he was "not considering such a plan."
If Huis Ten Bosch were to see its parent company change, its corporate management would likely be affected once again. With prospects for the pandemic being brought under control remain uncertain, the park's crisis looks to continue.
'Take on new needs'
Kyushu Sangyo University Prof. Sotetsu Sen emphasized that the theme park in Sasebo is different from Tokyo Disneyland or Universal Studios Japan located in Osaka.
"The management of Huis Ten Bosch will not be easy in the future because unlike the parks located within major urban areas, it has a small marketing area" with small populations in neighboring areas, the tourism scholar said.
"The challenge lies in how to secure repeat visitors. They must also make use of its vast tracts of land and natural beauty to work out ways to take on the new needs of people living amid the pandemic."
Add TheJapanNews to your Google News feed.