Fukuoka: New high-speed ship to link Hakata, Kitakyushu ports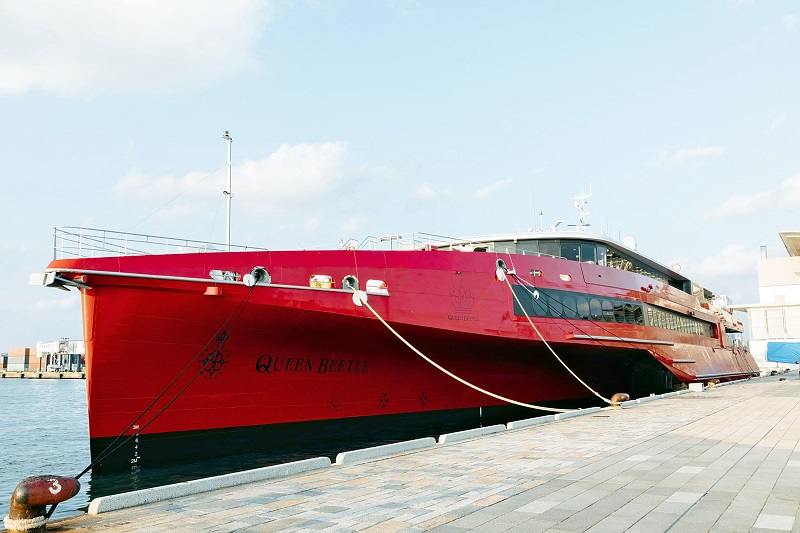 16:52 JST, April 2, 2022
FUKUOKA — JR Kyushu Jet Ferry Inc. has announced that it will newly open in April a route between Hakata and Moji ports, by utilizing a new high-speed ship "Queen Beetle," which the company plans to bring into its ferry service between Japan and South Korea.
As there are no prospects to resume its international route amid the spread of infections of the new coronavirus for a protracted period, the company, based in Fukuoka Prefecture, aims to have the domestic tourism demand lead to generating revenue.
The company plans to have the new high-speed ship – as seen in this photo — make a return trip between Hakata and Moji ports a day, mainly on Sundays, starting from April 10. By June, it plans to make 9 round-trip services between the two ports. With the new service, the wharf of the Hakata Port International Terminal and that of the Mojiko Retro district will be linked with a ride of 2 hours and 45 minutes. The company has chosen the new service destination of the Mojiko district because it is quite popular among holidaymakers.
The one-way ticket costs ¥6,600 for adults (junior high school students and above), and children (elementary school students) ¥3,300.
Queen Beetle was originally scheduled to be deployed in July 2020 for the Hakata-Busan route, which has been suspended since the spring of 2020, due to the COVID-19 pandemic.
JR Kyushu Jet Ferry, which has been using the ship for a sightseeing cruise service sailing in coastal waters around Fukuoka, indicated last December that it would beef up its domestic service routes.