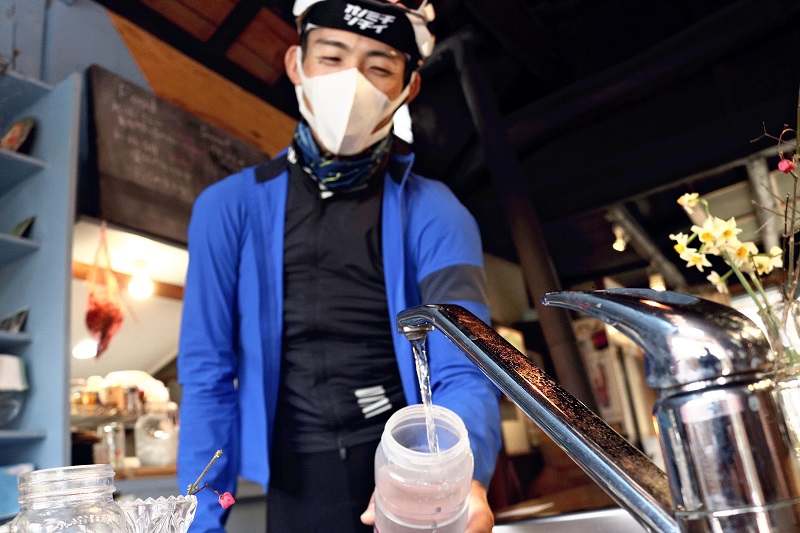 14:16 JST, April 2, 2022
KAMEOKA, Kyoto — A municipality in Kyoto Prefecture is working to reduce plastic waste — particularly single-use plastics — by setting up more locations around the city where people can fill their reusable bottles with water for free.
The Kameoka city government hopes that increasing the number of water bottle filling stations will lead to more people using reusable water bottles and reducing the number of discarded plastic bottles. The endeavor has, so far, proved fruitful as there are now about 90 filling stations around the city and an almost 70% increase in the number of people seen carrying reusable bottles.
Filling up at cafes, restaurants
One such water bottle filling station is at Kiri Cafe in the mountains of Kameoka, west of Kyoto City.
During lunch on a holiday, a man who was cycling got off his bike and filled his bottle at a tap at the cafe. The 32-year-old said he has been trying to be more environmentally friendly by using a reusable water bottle for the past three years. The man said he has become more aware of his dry skin amid the pandemic, so he has started drinking more water.
"I appreciate that there are more bottle filling stations," he said.
Since January 2021, the municipal government has installed filling stations at 32 locations, including schools and other public facilities. In addition, it also asked 54 restaurants and other privately owned businesses to offer customers and other residents free filtered water or tap water. A triangular blue flag is displayed at these bottle-filling station locations.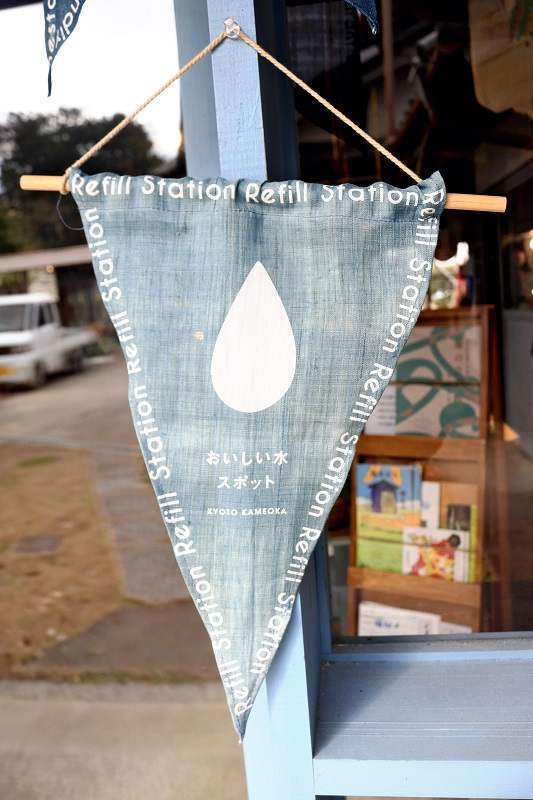 "Little by little, more people — from high schoolers to the elderly — are using our water tap," said cafe owner Sachiko Takeda. "I feel that there is growing awareness [about these filling stations]."
Environmentally conscious residents
In December 2018, Kameoka announced its "Kameoka Zero Plastic Waste Declaration," stating its goal to reduce single-use plastics, such as plastic bags and food packaging, to zero by 2030. In August 2019, stores working with the city government started charging for plastic bags. In January 2021, a city ordinance was enforced to ban stores from providing plastic bags even if paid, leading to 98% of customers bringing reusable bags as of July 2021. These measures have led to residents becoming more environmentally aware.
Kameoka is now aiming to reduce the number of single-use plastic bottles.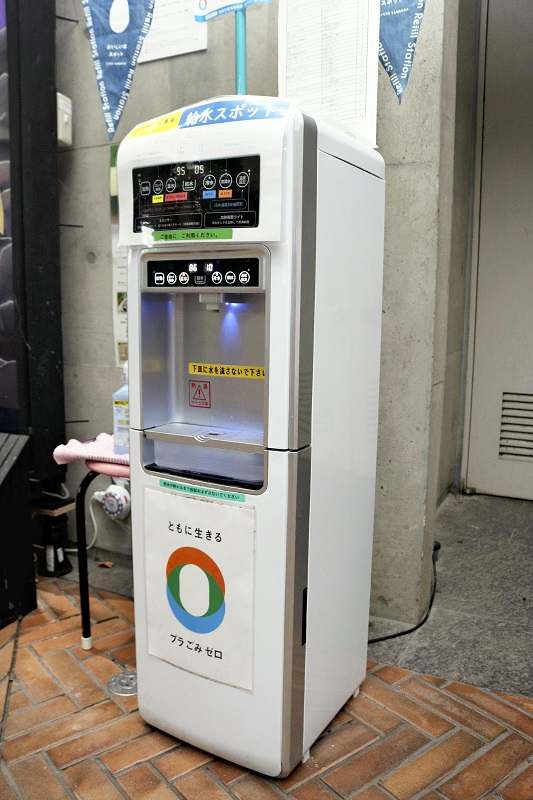 In October 2021, the local government tried to motivate the public by holding a competition, in cooperation with Brita Japan K.K., a Tokyo-based foreign water purifier manufacturer, to reduce the number of plastic bottles. Participants kept track of the amount of water they used to refill their reusable bottles, whether at home or outside, instead of buying a bottle of water. That volume was then converted into the number of plastic bottles. As about 900 people took part in the competition, there was a reduction of more than 37,000 bottles in one month.
"The public could visualize the amount that was reduced through the competition, leading to resident awareness," said a city government official.
The Kameoka city government surveyed about 1,500 residents in September 2021 about their reusable water bottle use and found that 66% of respondents used their own bottle "almost every day" or "often" when they went out.
Meanwhile, a nationwide survey conducted in December 2019 by Planet, Inc., a Tokyo-based information and communications company, revealed that out of 4,000 people aged 20-79, 40.6% of respondents "always" or "often" took their reusable bottles with them.
Although the two surveys were not conducted at the same time, it shows how environmentally conscious Kameoka residents are.
Changing behaviors
Kameoka is also working to install machines to recycle plastic bottles.
In January, the city government signed an agreement with Seven-Eleven Japan to be allowed to install plastic bottle collection machines at nine of its stores in Kameoka.
The bottles that are collected will be recycled into new bottles that will end up on shelves again. By placing the machines at convenience stores, the municipality expects an increase in the amount recycled as residents will be able to access them more easily.
According to recent figures, the annual volume of waste from plastic bottles is about 130 tons, which only accounts for 0.5% of total waste. However, the city government believes that it is meaningful for people to think about plastic waste first among many environmental problems.
"As it is a familiar part of our lives, we can expect major changes in consumer behavior," a city official said.
Add TheJapanNews to your Google News feed.