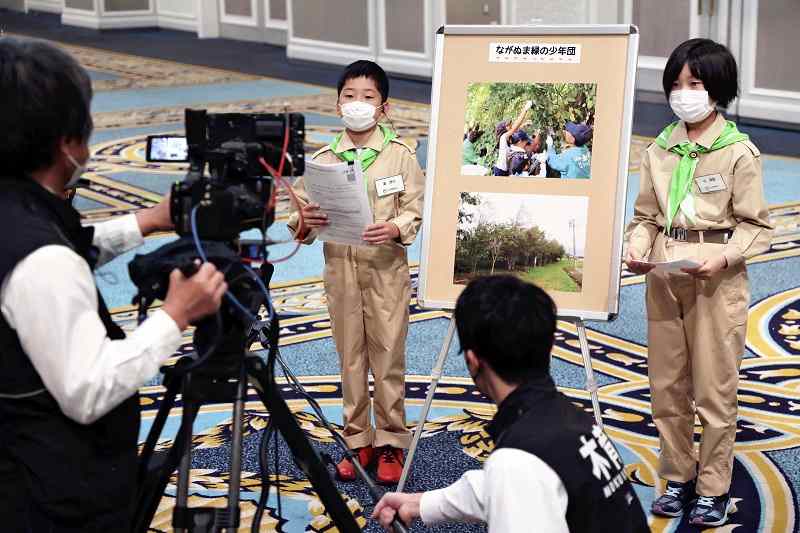 15:44 JST, October 26, 2021
SAPPORO — Crown Prince Akishino and Crown Princess Kiko reached out to local children taking part in afforestation projects during their virtual attendance at the 44th annual National Tree-Care Festival, a ceremony conducted by the Tomakomai and Sapporo municipal governments on Oct. 9.
Postponed last year due to the coronavirus crisis, the Tree-Care Festival is an event in which trees planted by the Emperor and Empress during the National Tree-Planting Festival are cared for.
This year marked the second time the event was held in Hokkaido since 1987.
About 200 people, including Hokkaido Gov. Naomichi Suzuki, attended the event held in Nagomi no Mori forest in Tomakomai.
Five elementary school students — all of whom belong to a club associated with the forest — and two students from a Hokkaido school specializing in forestation explained how much the trees had grown to the Imperial couple.
Suzuki and others applied fertilizer to the roots of red spruce and mountain ash trees the Emperor Emeritus and Empress Emerita had planted during the 2007 National Tree Planting Festival.
"I was very nervous when I was explaining the huge forest has 20,000 trees in it," said sixth-grader Rinto Tokusa after giving the explanation to Crown Prince Akishino and Crown Princess Kiko.
The Imperial couple also spoke with children and forestry award recipients who had gathered at a hotel in Sapporo.
"I think that you all are doing a very important job," Crown Prince Akishino remarked after being fully briefed on the activities of the award recipients.
Fourth-grader and youth landscaping participant Mitsuki Tani seemed to have been encouraged by the Imperial couple's visit, saying, "I want to learn more about all sorts of trees."
Add TheJapanNews to your Google News feed.