Company uses surplus wine to make wine salt rich in flavor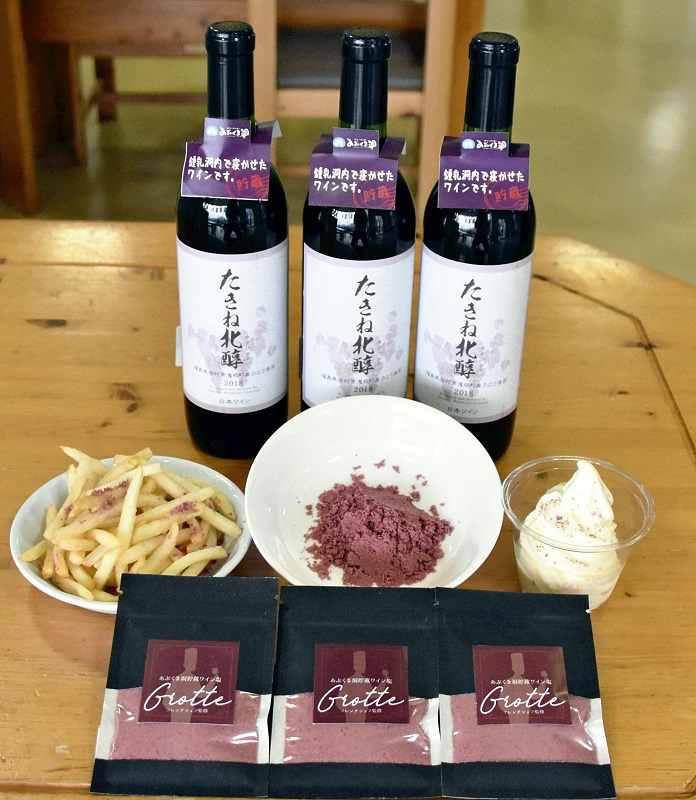 16:15 JST, October 12, 2021
TAMURA, Fukushima — A tourism promotion company in Tamura, Fukushima Prefecture, is selling wine salt using local specialty red wine stored in the city's Abukuma Cave, a tourist spot the company operates.
The company — Tamurashi Takine Kanko Shinko Kosha (Tamura City Takine tourism promotion corporation) — hopes wine salt will become another local specialty amid fewer visitors to the cave due to the coronavirus pandemic.
Called Takine Hokujun, the wine is made from yamabudo, or crimson glory vine that is grown by local farmers. The wine has been produced and marketed every year since 1990, with about 3,000 to 4,000 bottles annually produced.
The cave is an ideal storage space for wine because the temperature stays at 15 C throughout the year, according to the company.
"You could say it's a natural wine cellar. Wine kept here tastes mellow, and many tourists come and buy it," a company representative said.
However, the pandemic forced the company to close the cave during the Golden Week holidays in spring last year. The number of tourists currently remains low at 80% of what it was in an average year.
This has caused a growing backlog in bottles stored in the cave. To make good use of the wine, the company's staff came up with the idea of producing wine salt — salt infused with concentrated wine. The aromatic salt is a quality seasoning popular with food connoisseurs and goes well with meat dishes, tempura and other delicacies. From around May, the company experimented on making wine salt, such as by looking at recipes on the internet and so on. During the process, the staff faced the problem of the wine flavor disappearing when heated. They managed to start selling the product in August, however, under the supervision of a French-cuisine chef.
The wine salt using French salt was named Abukumado Chozo Wain Shio Grotte (Wine salt Grotte made using wine stored in Abukuma Cave). Grotte means "cave" in French. A 30-gram bag Grotte salt sells for ¥840 including tax.
The salt is sold at the cave and the facility's restaurant, where it is also used as a topping for soft-serve ice cream, French fries and ramen.
"Wine salt is a promising product for us because even children and people who cannot drink alcohol can now appreciate Takine Hokujun wine," said Chiharu Endo, 36, of the company. "We'd like to make new recipes using the salt, which can be used at the shop and the restaurant of the Abukuma Cave."