Kuroda becomes longest-serving Bank of Japan governor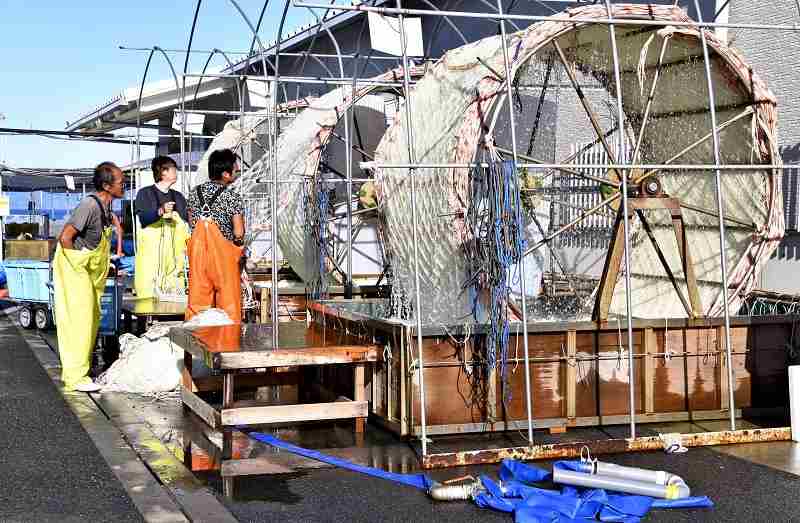 17:48 JST, October 5, 2021
TOKONAME, Aichi — Planting nori seaweed spores for this season started Sept. 19 at the Onizaki Fishery Cooperative Association in Tokoname, one of the leading seaweed-producing areas in Aichi Prefecture. Waterwheels about 2 meters in diameter were wrapped with nets and placed in a seawater tank filled with oyster and scallop shells that had seaweed spores attached to them. Fish farmers then turned the wheels to get the spores onto the nets, each 1.2 meters wide and 18 meters long. A total of 11,000 nets were to be seeded with the spores across four days.
Forty-two aquaculture sites in Ise Bay, near Chubu Centrair International Airport, prepared seaweed spores under a blue sky after a typhoon passed earlier in September.
"The seeding season is finally starting this year," said cooperative member Mitsuo Nakamura, 60.
He said he hopes to give consumers delicious and quality nori seaweed, grown full of nutrition in waters from the three major rivers in the prefecture — the Kiso, Nagara and Ibi rivers.
The seeded nets will be frozen for storage before being placed into the sea in late October, when the sea temperature drops.
Nori seaweed harvesting will start in late November.