'Ah! He's about to attack!' Kendo master, 80, anticipates and outfights his opponents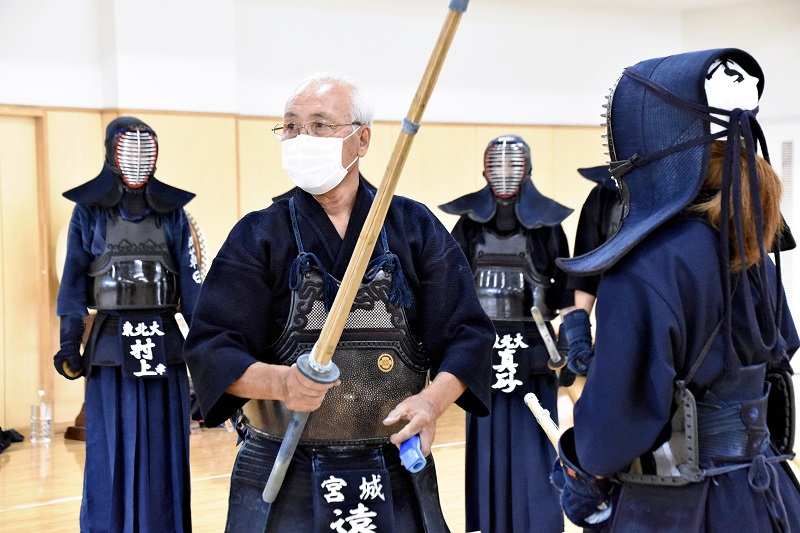 17:54 JST, October 5, 2021
SENDAI — "Whack!" The sound of the shinai (bamboo sword) hitting the center of the opponent's men (head protector) echoed throughout the dojo. The tip of the shinai, which was brought down with a long but relaxed swing, was not shaky at all.
"Make a big, proper and strong swing of the shinai," said Katsuo Endo, 80, to his students. He is a hanshi 8th-dan kendoka, the only one in Miyagi Prefecture with the grade.
I took the opportunity on Sept. 20 to celebrate Respect for the Aged Day by having the kendo master who lives in Sendai tell me about his life with kendo — a martial art he has been practicing for 65 years.
He is gifted at what is called "katsunin-ken," a technique of letting the opponent strike first then countering that strike. When he was 60, he took part in the National Sports Festival as captain of the kendo team representing the prefecture in the team competition. His team won the championship.
He now coaches a kendo club at Tohoku University.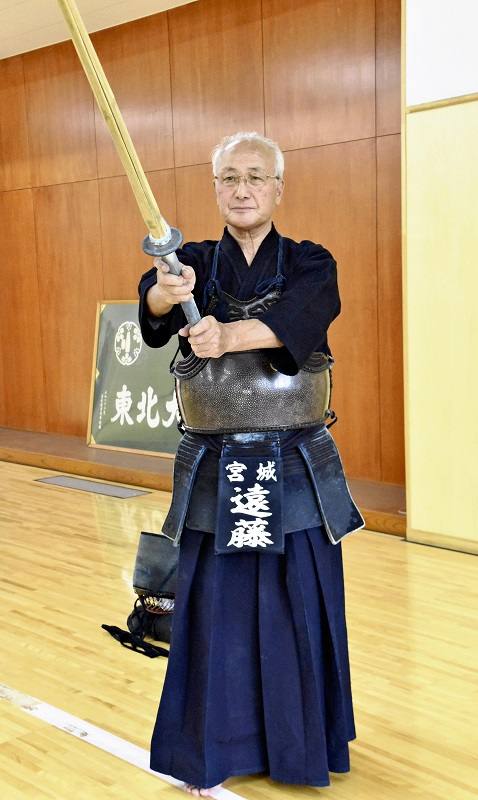 "He is strong in every aspect, both in fighting spirit and techniques," said Yusuke Fukazawa, a 21-year-old junior. "I'll get hit if I pause at all. If I try to strike him, he just parries it, then counterattacks using the momentum of my initial attack."
Endo said: "Not even a powerful young man can hit me. As I can read my opponent's moves well, I know that, 'Ah! He is about to attack.'"
He started practicing kendo in high school after being persuaded by one of his friends to join a kendo club. He fell in love with kendo after being praised by the instructor of the club. Endo participated in national contests while in high school and advanced into higher ranks. After graduating from Kokushikan University, he became a physical education teacher at a high school in Miyagi Prefecture while serving as an advisor for the kendo club at the school.
Even though he is 80 now, Endo is determined to maintain his physical strength. He wakes up at 6 in the morning and stretches for one hour. Later, he has three rounds of 10 thigh lifts and squats, followed by walking for two hours. He also makes a daily habit of doing practice swings with his shinai 800 times in his garden, which has left a patch of the lawn bare.
He said he's never had a difficult time with daily kendo practice and that it is fun for him.
Endo does not allow any student to carry his kendo gear, even if they offer. He values the teaching given by his respected instructor during his college days, who told him, "It is time to quit practicing kendo when you can no longer move around and carry your own kendo gear."
His objective now is to continue practicing kendo for as long as possible.
"I won't think about my age," he said. "I've got my whole life ahead of me."
Endo smiled, his back ramrod-straight.
Add TheJapanNews to your Google News feed.