18:10 JST, September 20, 2021
KINOKAWA, Wakayama — One of the leading producers of peaches and hassaku citrus, Kinokawa, Wakayama Prefecture, is particularly known for the Arakawa no Momo brand peaches harvested there. The peaches lure people to the city every summer to buy them, and a local civic group is hoping to capitalize on this with so-called fruit tourism. They are organizing experience-based events in the hopes of advertising not only the various fruits grown there year-round, but the city itself.
Fruit sushi
One attraction in fruit tourism is fruit sushi, such as fig atop vinegared rice or a gunkan maki battleship roll filled with diced watermelon. A variety of colorful fruits such as peaches, melons and grapes are also prepared in the sushi style.
The sweet and juicy fruits go surprisingly well with vinegared rice — a slice of fig topped with rich butter creates a fresh combination. There is also a fig sushi roll in which nori seaweed brings out the fig's sweetness and the shiso leaves' subtle bitterness.
Chikara-zushi, a restaurant known for fruit sushi, is located in a district in front of the Kokawadera temple, one of the 33 temples along the Saigoku Kannon Pilgrimage route. The shop is about a 10-minute walk from JR Kokawa Station.
"Fruit sushi is popular among young women," said owner Akio Chikatani. "At first, I thought fruits and vinegared rice wouldn't go well together, but the combination of sweetness and saltiness is actually exquisite."
Chikatani said he uses different kinds of fruits from each season to keep entertaining his customers.
Local specialty center Kokawa near the temple's main gate sells fermented juice made with local fruits aged for two to three months. There are more than 10 kinds of drinks, using such fruits as peaches and strawberries, and they go well mixed with soda and ice.
"I would love for my customers to enjoy Kinokawa through [our] juices," said the center's manager Mitsuyo Ozaki, who also shares recipes through online lessons.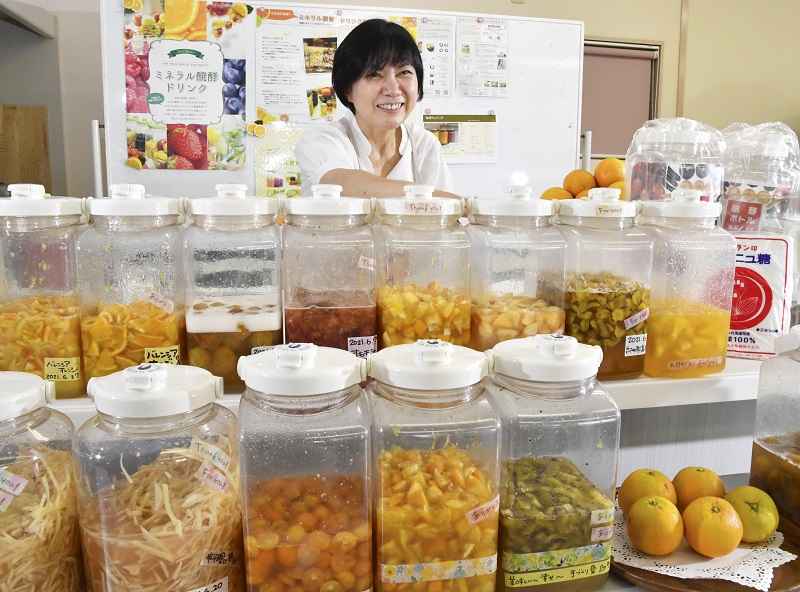 Matchmaking through fruits
The rich soil of the Kinokawa river basin and the city's mild climate are ideal for cultivating many kinds of fruits.
In 2014, the city government called on farmers and restaurant owners to form a fruit tourism study group to promote their fruits. The members were divided into discussion teams to focus on cooking, experience, product development and education. The group was incorporated as Kinokawa Fruits Tourism Association in 2016.
The following year, the group launched the Kinokawa Fruits Tourism Expo comprising a series of events and workshops such as hassaku-ponzu sauce-making or matchmaking parties through fruit picking. They have drawn in 10,000 people over five events so far.
A members-only event was held in July at Nocafe Oriya and elsewhere in the city's Momoyamacho area, a producer of Arakawa no Momo peaches. The participants had herb tea and peach burgers, learned from a farmer how to find good peaches, and tried their hand at serving desserts.
"Farmers are aging, and few have successors," said Minehiro Matsuyama, 70, who taught them at the event. "I'm hoping this kind of event would not only get participants interested in visiting the city to buy fruits, but in farming as well."
"It was good learning how to find delicious peaches and how difficult it is to harvest them," said a company employee from Sakai, Osaka Prefecture, after participating in the event. "The event filled my heart and my stomach."
Toshiaki Kodama, who represents Kinokawa Fruits Tourism Association, said: "We hope the current trend of people coming to our city to buy fruit will lead to the city's revitalization. We must keep monitoring the state of pandemic, but we want to plan an event that would allow visitors to enjoy fruit all year round."
Add TheJapanNews to your Google News feed.