Kaizuka hoping to become drone 'holy land'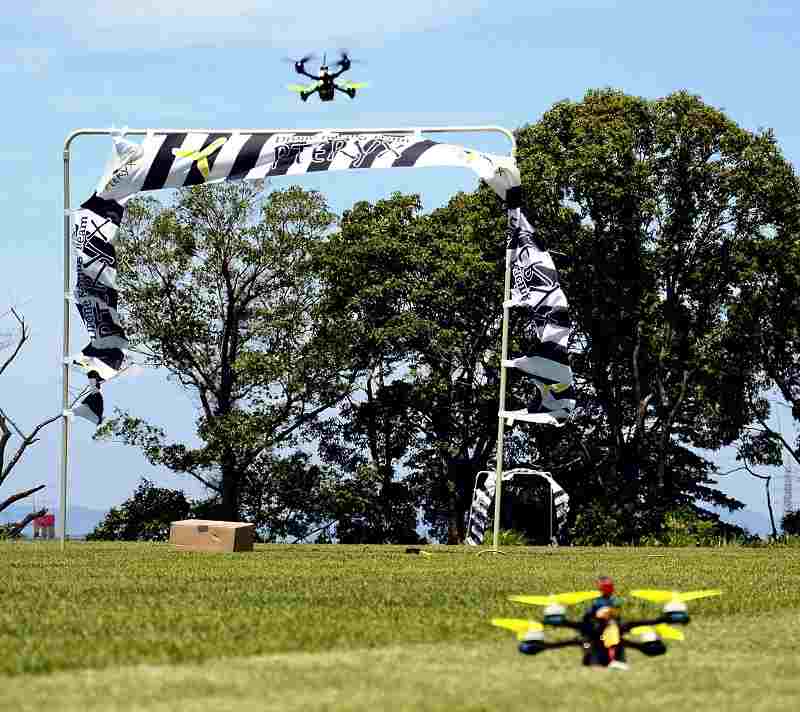 8:55 JST, September 12, 2021
KAIZUKA, Osaka — One of the highlights of the opening ceremony of the Tokyo Olympics was a light show with a display of drones forming the shape of the Earth in the air.
With drones continually playing expanded roles in society, from weather observation to assisting rescue efforts, it is only natural that they would also become used in sports competitions and recreation.
The city of Kaizuka, Osaka Prefecture, is aiming to become the "holy land" of the new pasttime, and will host a drone race on Sept. 23 in which operators can pit their skills against each other.
The competition will be held at the municipal Drone Cricket Field, which the city opened in October last year. The grass field covering about 1.2 hectares was part of a park designated as a disaster evacuation area.
By permitting the use of drones in its airspace, and with its convenient location close to Kansai Airport and accessible by expressway, Kaizuka hopes the field will draw drone enthusiasts from around the country.
In drone racing, a pilot maneuvers a drone around an obstacle course in a timed race, watching through special goggles images from a camera mounted on the aircraft. Crashes are not unusual, either into obstacles or each other, but the technology for quick repairs is also part of the appeal.
With speeds exceeding 100 kph, popularity of this "new motor sport" is growing, with the global number of competitors estimated at about 1 million. Some overseas races offer prize money totaling $1 million.
In Japan, the number of races and competitors began growing around 2016, although it is still rare for a local government to host a competition.
The Sept. 23 event is divided into three categories: "general," which has no restrictions on participation, "women" and "over 30." The drone must use a 5-inch propeller.
"I want people to experience the intensity," said Takako Kishimoto, the leader of Osaka-based drone racing team Pteryx, who plans to enter the event.
A unique field
Kaizuka's Drone Cricket Field is a rarity in Japan, and not just from the leisure aspect.
As a facility for use in land surveys, it serves as a public marker approved by the Geospatial Information Authority of Japan, and has five concrete cubes, each about one square meter, which can be identified from the sky. A source at the Drone Surveying Education & Research Organization, based in Nishinomiya, Hyogo Prefecture, said he had never heard of a local government having a permanent facility like that.
The city reached a deal with the research organization to rent out the site for drone operating sessions or land surveyors' examinations by companies and local government employees.
Using drones for laser surveys has been attracting attention in recent years because it is cheaper than using airplanes. As the drones are remotely operated by radio, they can quickly and safely survey disaster areas, such as landslide sites, and other places inaccessible by humans. In thickly forested mountainous areas, accurate data is obtainable by shining a laser through the leaves to the ground surface.
In December last year, the city held a drone training session for municipal employees. About 20 people took turns operating the two city-owned drones, moving them in all directions and making them do figure-eights.
In the future, the city plans to increase the number of employees who can operate drones, and use them to inspect high places of public facilities and collect disaster response information.
This movement is expected to get a tailwind from the 2025 Osaka-Kansai world expo, which aims to realize flying cars using drone technology.