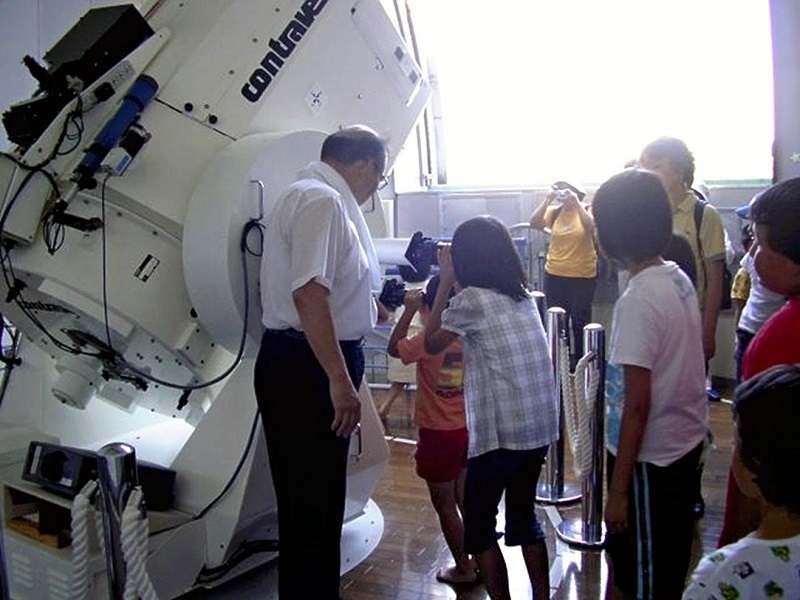 14:42 JST, August 24, 2021
TOYAMA — The Astronomical Society of Toyama submitted a request Aug. 2 to the Toyama city government for the early redevelopment of an astronomical observation facility. The request follows the closure of the city observatory in March, which the society sees as a major loss of opportunity for children to develop an interest in astronomy and science.
The city observatory was established in 1956 on Mt. Kureha and moved to the Sannokuma district in the city in 1997. In October 2014, the total number of visitors exceeded 200,000, but in 2018, it was temporarily closed after a part of the promenade connecting the observatory and the parking lot caved in because of typhoon No. 21 in September that year.
Although the promenade was restored, the observatory closed for good in March this year because the facility had become deteriorated, and the cost to repair the equipment, including the mechanism for automatically tracking stars, would be more than ¥100 million.
Back in December 2018, the city's board of education and others announced a plan to establish an astronomical observation room and renew the planetarium. They were positive about the development and planned to make either Jonan Park in the city of Nanto or Toyama Castle Ruins Park in Toyama the site for the new facility.
However, with no progress made for more than two years since the announcement of the plan, the society's president Katsuyuki Kawaguchi, 63, decided to submit a letter of request to move the plan forward, noting, "It is strange that no progress has been made regarding the plan for many years."
In the letter, Kawaguchi pointed out that the absence of an astronomical observatory would have a negative impact as it would lead to the absence of an institution that can record and preserve astronomical phenomena, and provide a means to educate children. Kawaguchi requested that a new observatory be built next to the Toyama Science Museum in Nishinakano, Toyama. He said the new observatory will be effective in educating children if they can listen to explanations by museum curators. "I hope a new facility will be built so that the people of the prefecture will become interested in astronomy," Kawaguchi wrote.
Katsushi Miyaguchi, the city's education superintendent who received the letter of request, said, "The city's board of education will make every effort to build a facility that will become familiar to residents, including children."
Add TheJapanNews to your Google News feed.