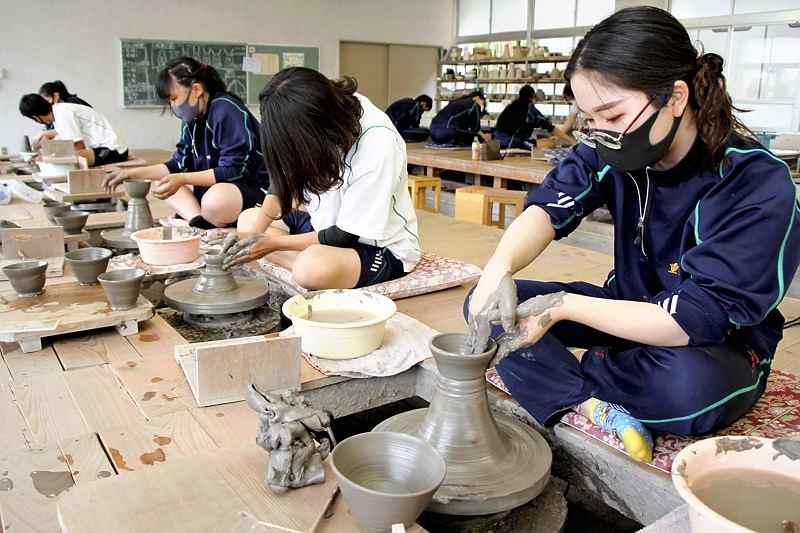 10:32 JST, August 14, 2021
KOKA, Shiga — A high school in one of Japan's oldest pottery-producing areas has been recruiting students by offering special programs for studying ceramics and design.
Shigaraki ware is a specialty of the Shigaraki district in the city of Koka, in the highlands of Shiga Prefecture, where many kilns operate. Shigaraki ware is known for its figurines of tanuki racoon dogs holding a bottle of sake.
The pottery, which has a history of nearly 1,000 years, is not limited to figurines. A variety of vessels have been produced thanks to the sticky clay from the strata around Lake Biwa, including hibachi charcoal braziers, washing basins and teapots. During World War II, Shigaraki potters even made ceramic weapons such as land mines and grenades.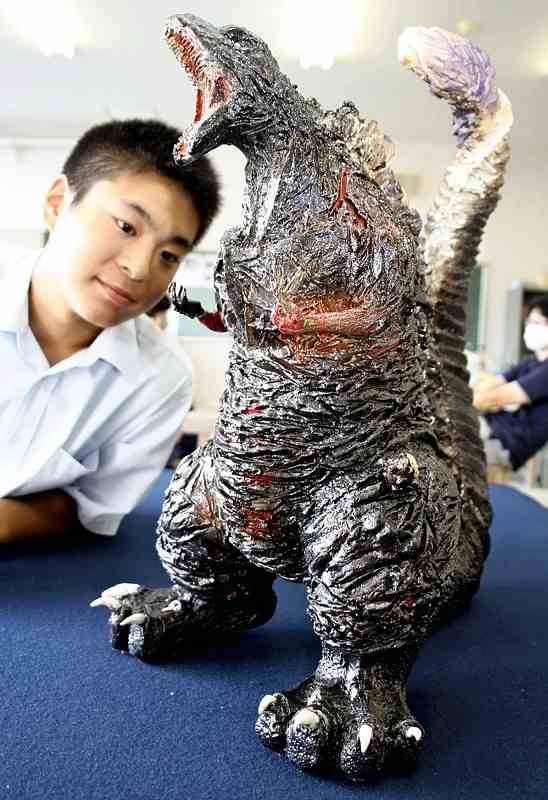 Shigaraki High School has a ceramic art course and a design course. The school has nurtured many successors to local family businesses in the ceramics industry. However, after Japan's economic bubble burst in the early 1990s, the local industry gradually declined, and the motivation for students to enter the school changed. Recently, more students have enrolled because of their interest in ceramics, rather than because they are part of a family business.
Third-year student Shori Yamamura made a ceramic Godzilla. With its rugged skin, gaping mouth and rising tail, it's hard to believe the famous monster is made of ceramic.
"It would've been better if the glaze I applied had turned out to be a little more purple," Yamamura said.
The 18-year-old was supposed to make a raccoon figurine for a class project, but opted for Godzilla because he fell in love with the monster after watching one of the Godzilla movies when he was a junior high school student.
Yamamura spent several days early in the morning and after school shaping the Godzilla by hand, paying attention to details such as the teeth and claws.
Having been sprayed with glaze and fired in an electric kiln for about 16 hours, the approximately 40-centimeter-tall, 15-kilogram figurine appears to have come to life.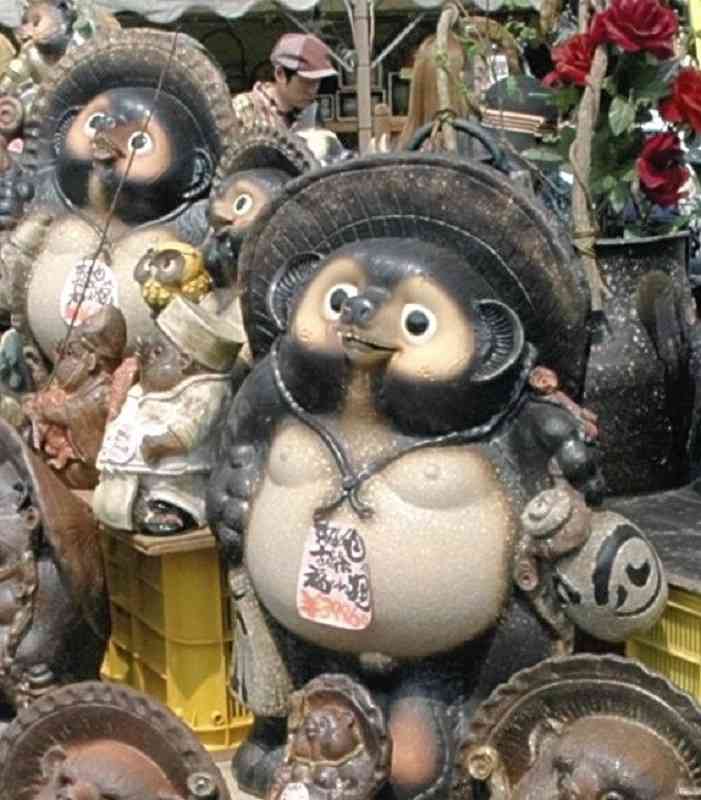 Yamamura's family runs a pottery store in Shigaraki. Although he has the potential to be a skilled potter, "Pottery is no more than a hobby," the boy said. Yamamura wants to be a farmer in the future.
In 2014, the school started recruiting students who want to study ceramics or art. Yuna Uemori hails from Nishinomiya, Hyogo Prefecture, and the second-year student lives alone in a dormitory in Shigaraki. However, she intends to get an ordinary job after finishing school.
"It seems too difficult to make a career out of it," she said.
Hayato Hora, 33, who graduated from the school and works there as a technician, expressed satisfaction with the current situation.
"If our students get amused by clay and potter's wheels and become interested in ceramics, that's enough," Hora said.
A battle for a career in clay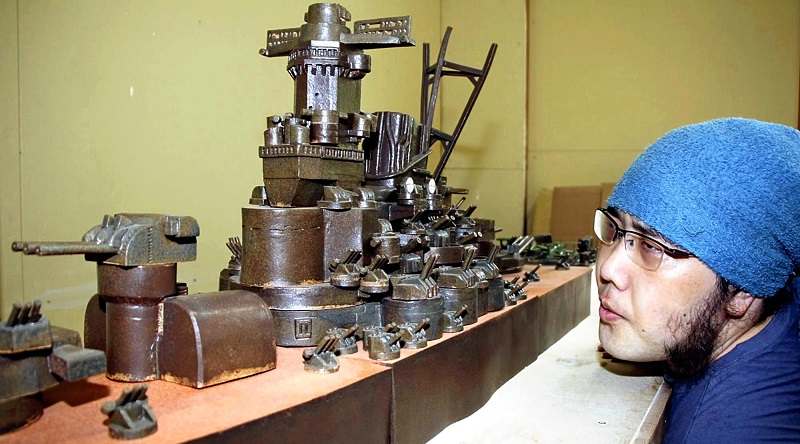 Shigaraki ware is made from clay known for its stiffness and high plasticity, which allows for a wide variety of products to be crafted.
A ceramic tank is on display at the Exhibition Hall of Industrial Ceramics, which is located in the Shigaraki Ceramic Cultural Park in the district. Yogo Imura, a 35-year-old artist, created the tank.
In his studio, Imura has a ceramic replica of the Yamato, the famous World-War II-era Imperial Japanese Navy battleship, measuring about 2.5 meters long and weighing over 30 kilograms.
Looking at the traditional Shigaraki-yaki vases and tea sets created by his father, who is also a potter, Imura felt they were too plain for him. After graduating from the design course at Shigaraki High School, Imura studied at a vocational school to become a game creator.
However, Imura realized he was not cut out to for that field, so he returned home and started making things out of clay. He is a military enthusiast and started making ceramic tanks.
"I figured no one else would make them," Imura said.
He took up the challenge of fashioning the Yamato, which took about a year to complete. The project involved much detailed work, such as spraying a special glaze that turns a rusty-iron color when fired. A single machine gun consists of nearly 10 parts, including the turret and sights. Imura made every piece from clay and assembled them one by one.
"The clay can be molded into any shape and when fired, it hardens and can be preserved," Imura said. "I want to broaden the scope of ceramics and make people say, 'I can't believe you could do this!'"
Shigaraki ware
According to the Shigaraki pottery industry cooperative, there were about 170 member potteries, including individuals and corporations, in 1992, but the number dropped to 96 in 2020. Annual production also decreased from about ¥16.8 billion to about ¥2.9 billion in value over the same period. Several factors are seen behind the trend, including changing lifestyles, the spread of cheap plastic products, and a decrease in demand for building materials.
Add TheJapanNews to your Google News feed.