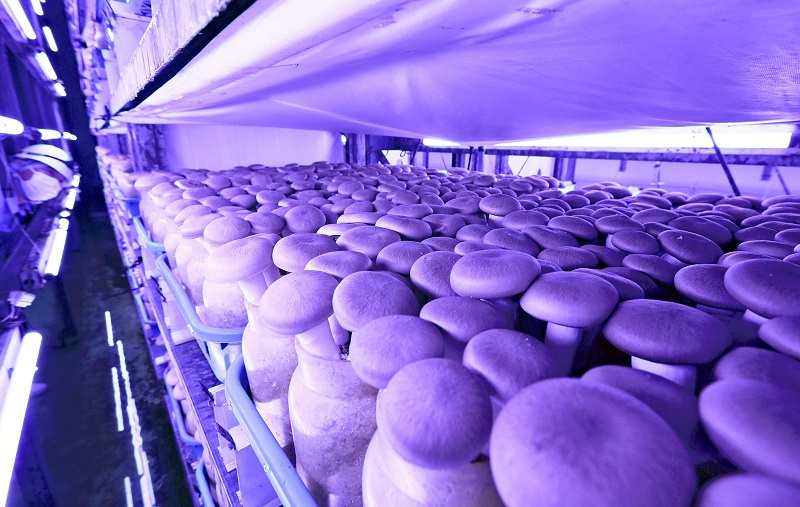 8:44 JST, July 10, 2021
KYOTAMBA, Kyoto — Restaurants and shops in northern Kyoto Prefecture are offering various dishes featuring honshimeji mushrooms, a rare delicacy in the same family as the more common bunashimeji mushrooms, which can be found in supermarkets.
While matsutake mushrooms are the top of their class in regards to aroma, honshimeji mushrooms are said to be the best when it comes to flavor. Honshimeji mushrooms are known by some as "phantom mushrooms" because until recently it was thought they were impossible to cultivate artificially.
Through the development of new technology, however, production has become possible and has made the town of Kyotamba the largest producer of the tasty fungi. The town has even launched a walk-and-eat tour that lets visitors enjoy the mushroom's distinct flavor.
Particularly, patiently produced
Plump mushrooms fill every shelf within a 230-square-meter room of Mizuho Norin, the semi-private company that accounts for almost the entire domestic production of honshimeji mushrooms.
The temperature and humidity in the room are automatically calibrated to reproduce the environments in which wild honshimeji grow, such as the heat of summer or the damp air of autumn. Employees take care to provide nutrients for the mushrooms, priced as much as eight times more expensive than their more common relative, by mixing starch into the sawdust beds. It takes about 130 days for them to reach a height of about 10 centimeters.
"Compared to bunashimeji, it takes more time and care to produce honshimeji. I am proud of what we are producing," said Mizuho Norin President Kazunari Araya. The company ships about 300 tons a year to restaurants specializing in Japanese cuisine and supermarkets across the country under the Kyotamba Daikoku Honshimeji brand.
Innovative dishes
Roughly 80% of the land in Kyotamba is forest, with about 13,500 people living on the remaining flatlands. With the forest industry facing a downturn and the aging population, the town's yield of matsutake mushrooms — a regional specialty — has been on the decline for more than 20 years.
However, technology capable of cultivating honshimeiji was developed and Mizuho Norin started mass producing the crop in 2013, then some vitality unexpectedly came back to the area.
Gourmet dishes made using honshimeji can also be sampled at roadside rest areas. The food court of Michi-no-Eki Tamba Markeds serves gyudon — bowls of rice topped with thin strips of beef — with a few pieces of honshimeji and other varieties of local mushroom.
"When you bite into them, a juicy broth, much like a meat broth, fills your mouth," said Tetsushi Oki, 63, the food court's owner.
As I crammed a whole piece into my mouth, I found that he was right. It had a chewy texture and a rich aroma with a slightly sweet aftertaste that filled my mouth. The dish quickly became a hot-ticket item, always selling out on weekends.
Similar new dishes began popping up one after another in the town. For example, Michi-no-Eki Mizuho no Sato Sarabiki serves rice bowls topped with tempura fried honshimeji.
The town's largest honshimeji shop recently opened in Kyotamba Ajim no Sato, a Michi-no-Eki located within the Kyoto Jukan Expressway rest area.
"It's great how stir-fried mushrooms with butter are served as a main dish, much like how sausages would be," said a visitor from Uji, Kyoto Prefecture.
Town deity?
A 75-room hotel opened in the town in October 2020 with the aim of luring foreign visitors. The municipality has a recommended travel plan in which guests can explore the surrounding nature on rental bicycles and take a tour of local restaurants and bars in the downtown area.
"This area has long been rich in foodstuffs, including Tamba black soybeans and Tamba chestnuts," said Ken Katayama of the town's industry and tourism division. "We want these kinds of foods to be the key to the town's revitalization, along with honshimeji."
Honshimeji have a shape that is said to resemble Daikokuten, a Japanese fortune and wealth deity. Perhaps these mushrooms will someday bring fortune and wealth to the town.
— Extend your trip!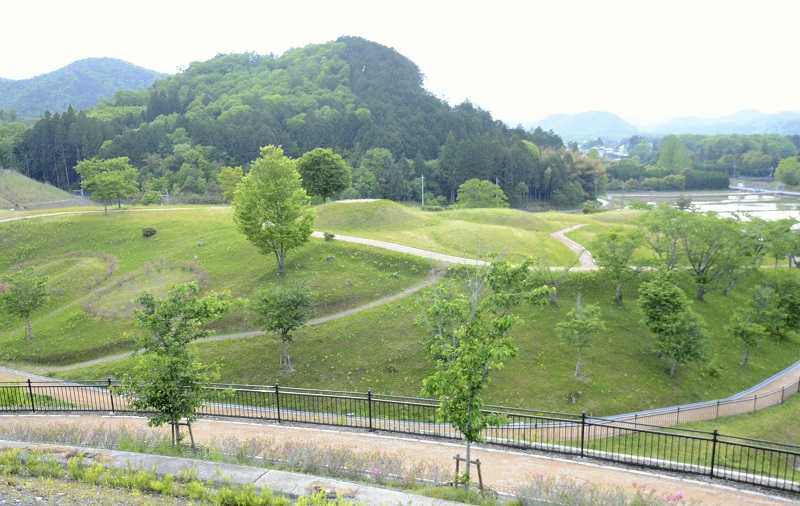 Shiotani Kofun Park
Adjacent to Kyotamba Ajim no Sato, the park has 12 small hills ranging from 8 to 15.5 meters in diameter. They are actually old tombs believed to have been constructed sometime between the 5th century and the latter half of the 6th century. In 1989, two clay figures of miko shrine maidens were unearthed there. Informational tours of the tombs' history are held on an irregular basis. The park is also a perfect spot to stop by when azaleas and other flowers bloom around the hills.
---
— How to get there
The nearest interchanges to the center of Kyotamba are the Tamba, Kyotamba-Mizuho and Kyotamba-Wachi on the Kyoto Transcontinental Expressway, each of which is roughly an hour to 1 hour 20 minute drive from Kyoto City. Mizuho Norin is not open for public factory tours.
---
Add TheJapanNews to your Google News feed.