8:43 JST, June 12, 2021
KYOTANGO, Kyoto — "I was surprised by how much the French respect silk."
So said Hideyuki Imai, chairman of the Tango Textile Industrial Association. Silk textiles from the Tango region of northern Kyoto Prefecture have 300 years of tradition as prized materials for kimono. But their makers are now looking for new markets overseas.
Tango Chirimen, or Tango crepe, features uneven crimps called "shibo," produced by using a hard-twisted thread for the weft. The textile accounts for 60% to 70% of the fabric used in Japanese kimono, produced through techniques such as Nishijin-ori silk fabric weaving and Yuzen-zome dyeing.
During Paris Fashion Week in January 2017, a model walked briskly on the stage of Paris City Hall wearing an outfit made of Tango Chirimen.
Several buyers at the show, which was themed on the Japanese sea, found inspiration in the fabric. One of them said, "We want to collaborate with Tango," while another said, "We want to introduce it to the fashion streets of New York." There was also the opinion that "Tango textile definitely has a future."
Production of Tango Chirimen peaked in 1973 and has been on a downward trend ever since. Amid the industry's efforts to survive, it found a way to expand overseas.
In 2005, the Tango textile industry was selected for the government's "Japan Brand Program," which helps Japanese products develop overseas sales channels, and it began to focus on promoting itself overseas.
The Tango Textile Industrial Association and the Nishijin Textile Industry Association showcased their wares at the Silk in Lyon festival, held in Lyon, France, in November 2019. Lyon has prospered since the Middle Ages in the manufacturing and trading of silk, and it is still the center of the silk industry in France.
"Our products were well received for their luster and texture, which go well with Western clothing. The fact that they were easy to add value to was also appreciated," Imai said.
Some businesses are now trying to expand overseas. British high-end fashion house and tailor H. Huntsman and Sons sells ties made by Kuska Co., a textile manufacturing and sales company in Yosano, a town in the Tango region.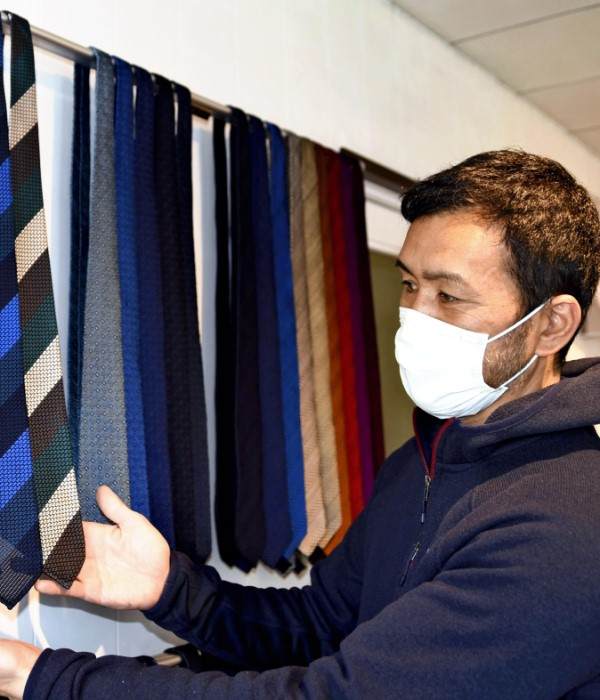 Yasuhiko Kusunoki, the president of the company, has introduced a production method using hand looms. The artisans make the most of the texture and the feel of the material to create the ties. One artisan can weave only three ties a day.
When he launched his products under the Kuska brand and exhibited them at a men's clothing exhibition in Italy, they attracted the attention of Huntsman buyers.
"We've been developing our brand by searching for what's best," Kusunoki said. "A brand is almost like art. It depends on how much effort is put into creating something beautiful."
"The traditional techniques are wonderful and Tango Chirimen is art indeed," said Jules Irrmann, French consul general in Kyoto, who visited the production area in Yosano in October 2020. "Really wonderful! People make beautiful products."
Jules also serves as director of the Kansai branch of the Institut francais du Japon, which promotes French culture. He said that Tango crepe is favored in his home country because France also has a long history of silk and is a manufacturing country similar to Japan.
"It is a very good thing to buy clothes and other products made of beautiful materials with technology that has a long history," Irrmann said. He recommended further promotion of the history and philosophy of the products to expand their possibilities.

Add TheJapanNews to your Google News feed.