9:19 JST, June 12, 2021
KOCHI — Is Kochi Castle "the only place where you can capture both an otemon main gate and a castle tower in one picture?"
It's a promotional phrase that people often use on Instagram when they post pictures of the seemingly unique shot. But when a letter arrived at my office, stating that this popular claim was false, I decided to launch into an investigation.
I began by searching the internet and found many similar descriptions, such as "This is the only place where you can take a two-shot photo of the otemon gate and castle tower!" and "Except for Kochi Castle, it is impossible to capture an otemon gate and a castle tower in a single photo."
I also found an article in which an official of the Kochi Prefectural Board of Education said under his own name, "Kochi Castle is the only place in Japan where you can see an otemon gate and castle tower in one picture."
But, according to Junya Shimazaki, 76, of a local historians' group, the same is true of another castle in a nearby prefecture.
"A few years ago, I went out to photograph Marugame Castle and realized that I could take similar pictures there, too," he said with a laugh.
I headed to Marugame in Kagawa Prefecture, in partial disbelief.
When I took my camera to Marugame Castle on a sunny day in April, the castle tower and the otemon gate were indeed in the same picture. When I expressed my surprise to some local elderly people, they gave me a cold response.
"What's the big deal?" they asked.
I hurried back to Kochi and showed the photo to a volunteer tour guide at Kochi Castle. The woman, who has been giving tours there for 10 years, seemed to have known about it.
"My senior colleague was told this by someone from Marugame. After I heard that, I try not to mention it when I show people around," she said.
Not all the tour guides had the same knowledge of the situation, however, as another guide said: "I didn't know. I'll never say it again."
In the tour guide's office, I found a guide book of famous castles. When I opened it, I saw the same description of the Kochi Castle's "unique" composition.
The publisher did not hide their surprise when I asked about it.
"When we published the third edition in 2015, we asked the author to check," said a person in charge. The company plans to contact the author and address the matter.
Yuya Higuchi, the Kochi Prefectural Board of Education official who had spoken under his own name in the above-mentioned online article, frankly admitted his mistake.
"It was something that had been said for a long time, and I just took my predecessor's word for it," he said. He also stated that he had received similar complaints in the past, and explained that he meant that the picture could be taken naturally and without difficulty.
However, according to the Marugame City Tourism Association, there has never been a case in the past where it was difficult to see the otemon gate and castle tower together, for example, due to overgrown trees.
The ote- of otemon at Marugame Castle uses the same kanji as the ote- in Tokyo's Otemachi — it is also written differently from the otemon of Kochi Castle, even though they have the same meaning. Still, it would be a poor excuse to say "only here" just because the notations are different from that of Marugame Castle. It is also something that would have been easy to verify.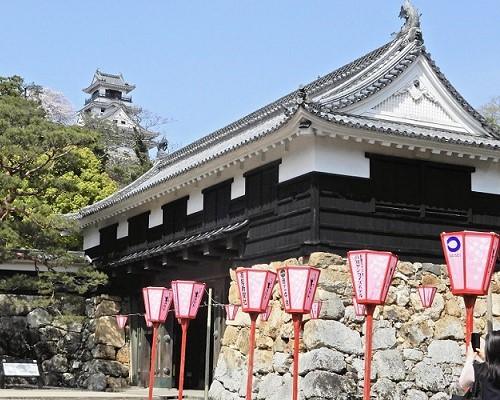 So how did this story take root?
"The composition of looking up at the castle tower from the gate has long been used in picture postcards," said Kazuhiro Yokoyama, deputy director of the Kochi Castle Museum of History. These postcards have been available since the Taisho era (1912-1926), he said.
"The image may have spread as Kochi became nationally known for such things as the Yosakoi Festival," he added.
Nevertheless, even if it isn't the only one, it's still a beautiful, Instagrammable castle. The historical weight of the castle tower and the otemon gate will forever remain.
Rather, I would be disappointed if people said they felt cheated by Kochi after visiting the two castles. There is no need to exaggerate in promotions.
National treasure or cultural property, what does it matter?
KOCHI — There is an old stone monument beside the Otemon gate of Kochi Castle, inscribed with the words "National Treasure Kochi Castle" in imposing letters.
This is not true, however — as if apologizing, there is a sign next to the monument reading, "Now a national important cultural property."
The monument is there for a reason. Kochi Castle was actually designated as a national treasure in 1934 under the old National Treasure Preservation Law. But after World War II, the Cultural Properties Protection Law changed the status of the castle from a national treasure to a national important cultural property.
This is reportedly because the castle tower is relatively new, having been rebuilt in 1749 after a major fire.
Matsue Castle in Shimane Prefecture, which also used to be an important cultural property, was newly selected as a national treasure in 2015, as a wooden tag was found indicating the year it was built.
The key point seems to be whether a castle was constructed around 1600, when castle building in Japan reached its zenith. A citizens group in Kochi has been searching for new materials to justify making Kochi Castle a national treasure, but it appears to be a difficult prospect.
I've heard there is no significant difference between national treasures and important cultural properties, except for slight variations in the amount of subsidies paid for repairs and the timing of those repairs.
Some people — even enthusiasts who like visiting castles across the country — are said to believe Kochi Castle is a national treasure. Although incorrect, this may be proof that the castle still holds a lot of historical charm.
Whether it becomes a national treasure or not, I don't think we should worry about it. Each person should decide for themselves whether this is a treasure for the nation, Kochi, or just themselves.

Add TheJapanNews to your Google News feed.