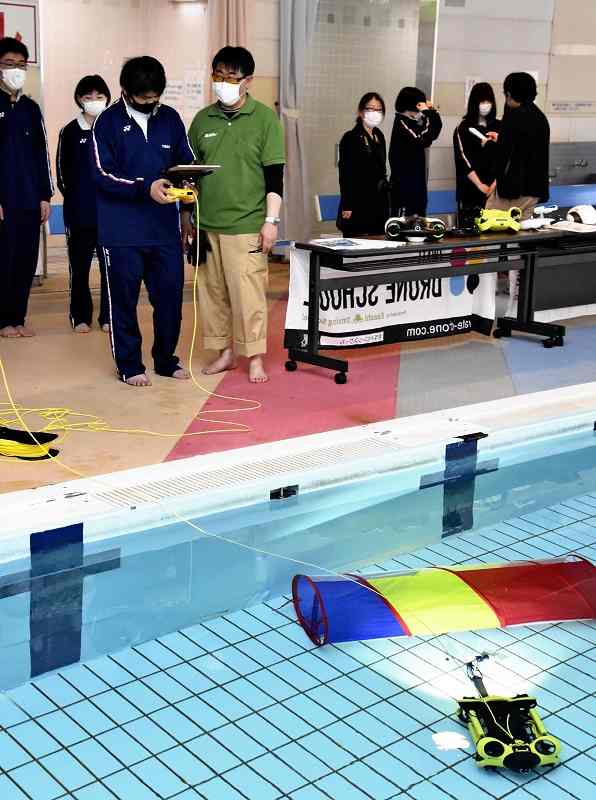 14:53 JST, May 11, 2021
OSHU, Iwate — An underwater drone school has opened in Oshu, Iwate Prefecture, to train future pilots of the small unmanned diving machines.
The drones are equipped with a waterproof camera and a power unit called a thruster that can be operated by remote control. Some are equipped with arms to use during diving operations, while others are capable of reaching a depth of up to 100 meters. In recent years, the use of underwater drones has been expanding to include data collection on fishing grounds and deep-sea exploration.
The prefecture's first school of this kind is expected to be used for disaster relief and smart fisheries.
On March 29, a hands-on underwater drone trial session was held at the Esashi Clean Park in a heated swimming pool in Esashiiwayado in the city.
Participants used a 4.5-kilogram drone measuring 38 centimeters in length, 26 centimeters in width and 16 centimeters in height.
Operators were able to move the drone intuitively by tipping the lever on the remote to the left to rotate the drone left, and tip the lever forward to move the drone forward. The images captured by the drone camera are simultaneously displayed on the screen of a smartphone in the operator's hands, making the scene look like a video game.
When the instructor asked me to "turn a little more to the right" or "turn [the drone's] head up," I could not help but want to turn my own body.
In the sea, getting used to operating the drones takes time because of the currents. However, the school teaches its students that no special skills are required.
"I was able to go faster than I thought I could, and I was able to make precise movements. I want to look into the bottom of the pond in the garden at my house," said Seiyu Kadowaki, 17, a third-year student at Iwate Prefectural Maesawa High School.
Classroom lectures and practical training are provided at the underwater drone school where participants can be certified as a safe underwater drone pilot by the Japan Underwater Drone Association. A total of seven-session course is being held through November.
Seiko Kuchiki, 55, president of Esashi automobile school, operator of the underwater drone school, said, "If underwater drones can be used at disaster sites, more lives can be saved. We hope that people will take an interest through the course."
Add TheJapanNews to your Google News feed.