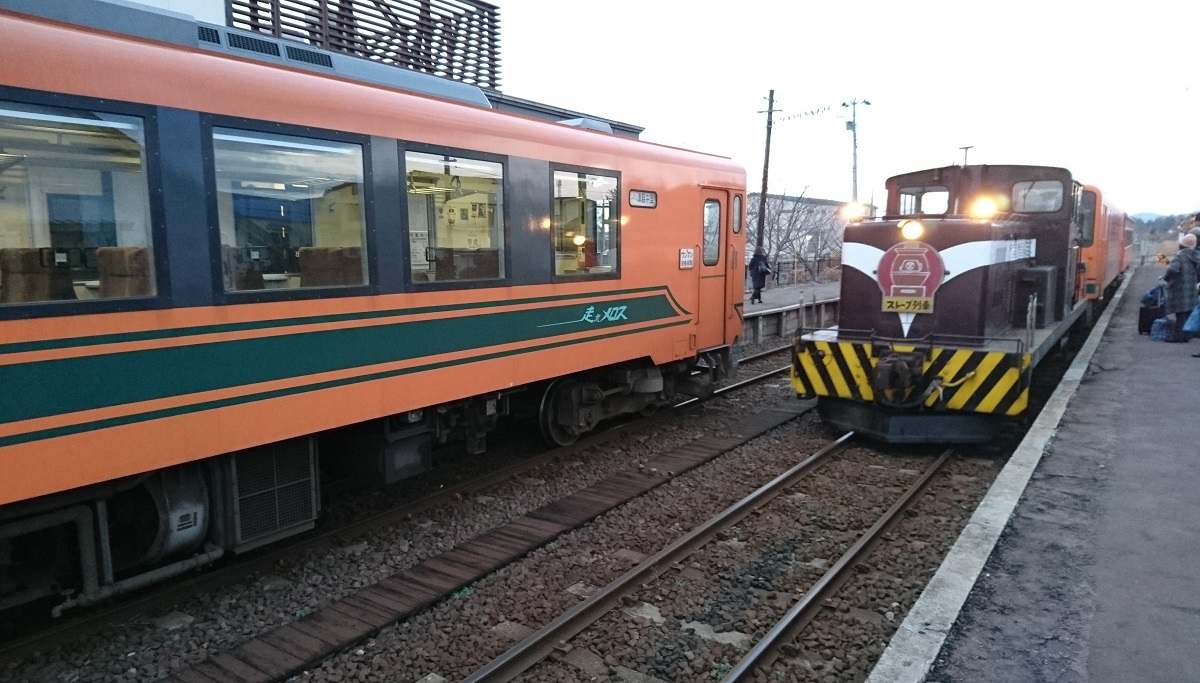 11:32 JST, March 5, 2021
There is a train that is perfect for the harsh winter of Tsugaru, on the Sea of Japan side of northern Aomori Prefecture. It is a stove train of the Tsugaru Railway Line, the northernmost private railway line in Japan.
It was a Saturday in December last year that I rode this unusual train, one where we could not only warm up around an old-fashioned potbelly stove, but also taste grilled surume (dried cuttlefish).
The following is how my day trip transpired.
Famous winter train
At 9:52 a.m., my train on the JR Ou Line bound for Hirosaki Station left Aomori Station on time. It was sunny, a perfect day to travel. Even though it was not yet time for the snow to start falling in earnest, the rice fields were already dusted in white. I got off at Kawabe Station at 10.30 a.m. and changed to the JR Gono Line bound for Fukaura Station, leaving Kawabe Station at 10.39 a.m.
The train passed by apple fields and at 11:08 a.m., arrived at Goshogawara Station. The JR fare from Aomori Station is ¥990. Although passengers can go directly to the platform of the Tsugaru Railway Line, I exited the ticket gate in order to buy a ticket at the adjacent Tsugaru Railway building.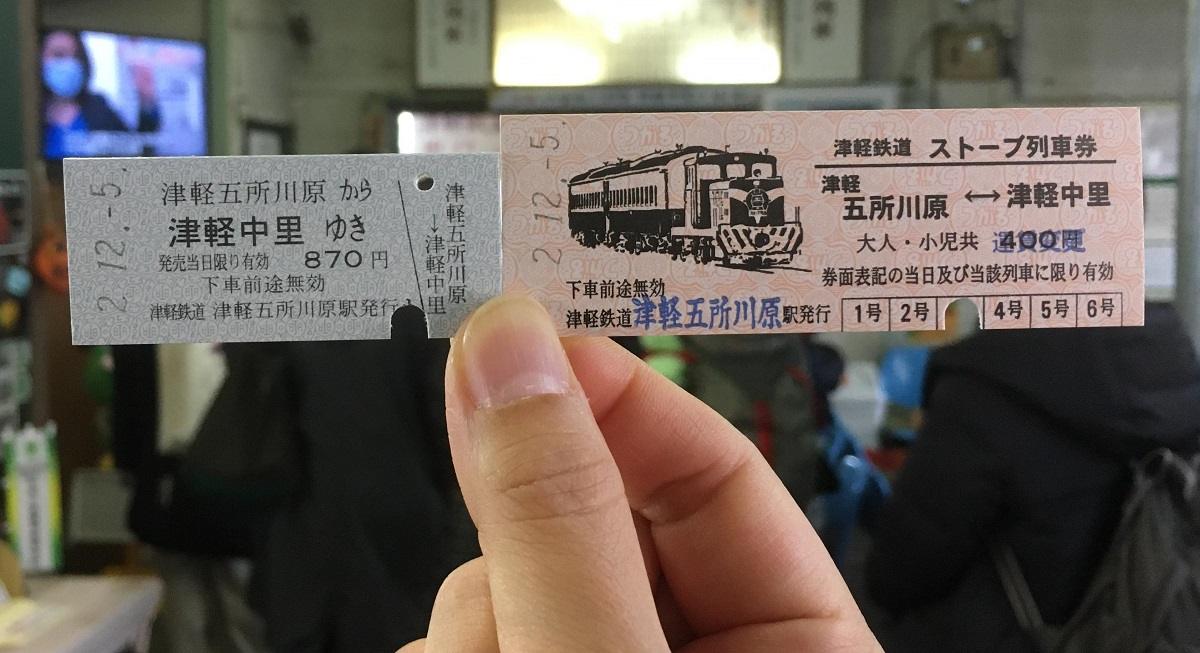 Nostalgic ticket
The Tsugaru Railway Line is a 20.7-kilometer, 12-station local line running between Tsugaru-Goshogawara and Tsugaru-Nakazato stations.
It opened in 1930, and stove trains began operating in the winter of the same year. The fare between the two stations is ¥870, but if you want to ride on a special stove carriage, you have to pay an additional ¥500 per ride, regardless of the section.
The tickets are made of old-fashioned material — hard cardstock. I went to the platform through the ticket gate. Four connected trains, including the exclusive passenger car, arrived, and I boarded. All the seats are unreserved, and I was lucky enough to sit next to an old-fashioned potbelly stove.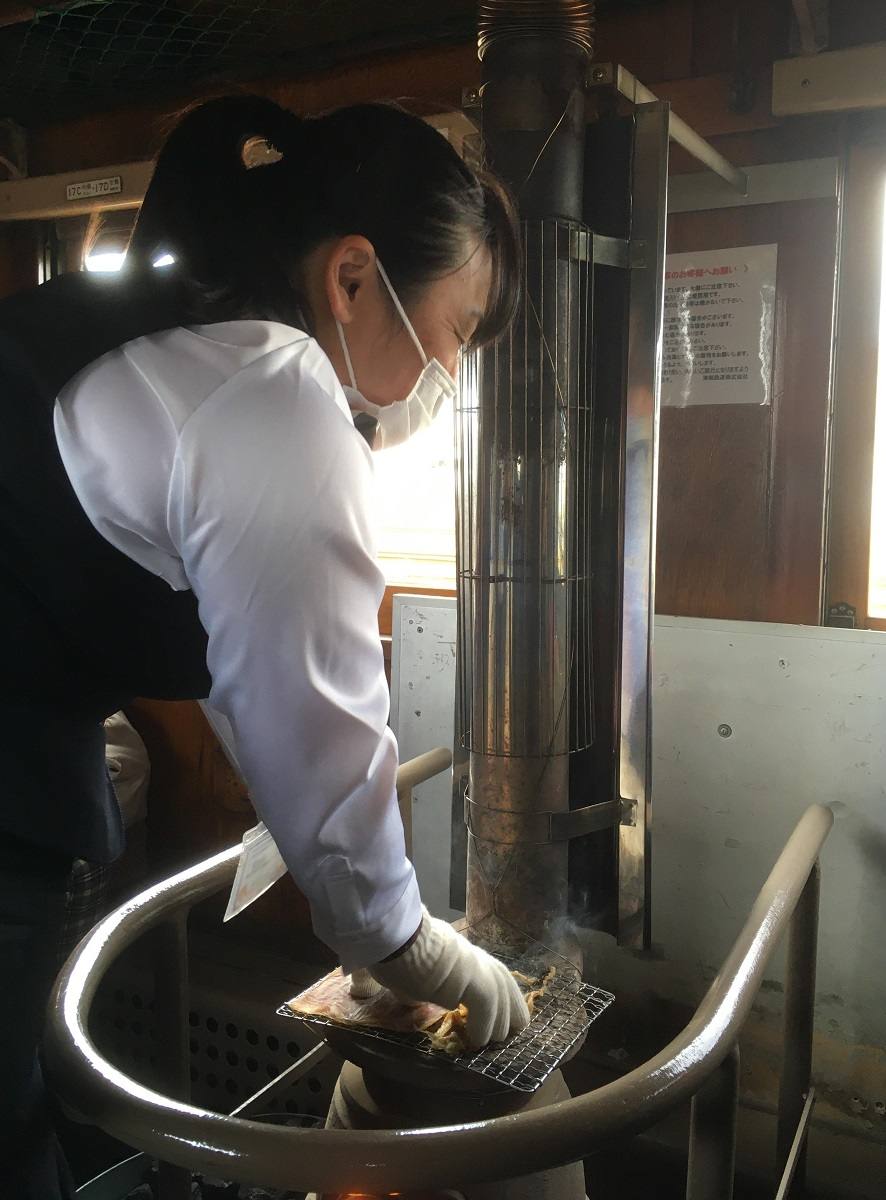 Grilled squid and local sake
My train departed Tsugaru-Goshogawara Station at 11:50 a.m. I could see the coal burning brightly in the stove.
Soon, surume (dried squid) began to be sold. The price for one piece is ¥500 including tax. One by one, passengers opened their bags of surume and waited for the crew to arrive. Wearing cotton work gloves, they will take a piece of surume from a passenger and cook it individually on a steel grill atop the stove.
When mine was ready, I ate it piping hot; the taste of it gradually spread in my mouth. I decided to wash this down with the local sake that is sold on the train for ¥350 a bottle. I was deeply moved by the combination of these tastes.
While this was going on, the crew introduced some attractions along the line over the speaker system.
The altitude of Mt. Iwaki, seen from the train window, is 1,625 meters. They say you can memorize this fact by reciting to a rhyme scheme about the 16-year-old twins, as Japanese word for twins, futago, is pronounced the same way as two and five in a row. And it is said that long ago, enka singer Yoshi Ikuzo left the Tsugaru Railway's Kase Station for Tokyo with a dream when he was a boy.
At 12:35 p.m., the train arrived at the Tsugaru-Nakazato Station terminus. There, I enjoyed bean sprout ramen in the restaurant and took a break before starting the return stretch.
I left Tsugaru-Nakazato Station at 1:37 p.m. and headed back toward Goshogawara. This time, I boarded an ordinary car.
Retro coffee shop
My train arrived at Ashino Koen Station at 1:49 p.m. I stopped over here because I wanted to visit a coffee shop at the station. The coffee shop, which is called Ekisha (station building), is in a building that was once actually used as a station building. The interior is full of Showa era (1926-1989) retro atmosphere. I tasted the coffee, wondering whether passengers once bought tickets and waited for the train here.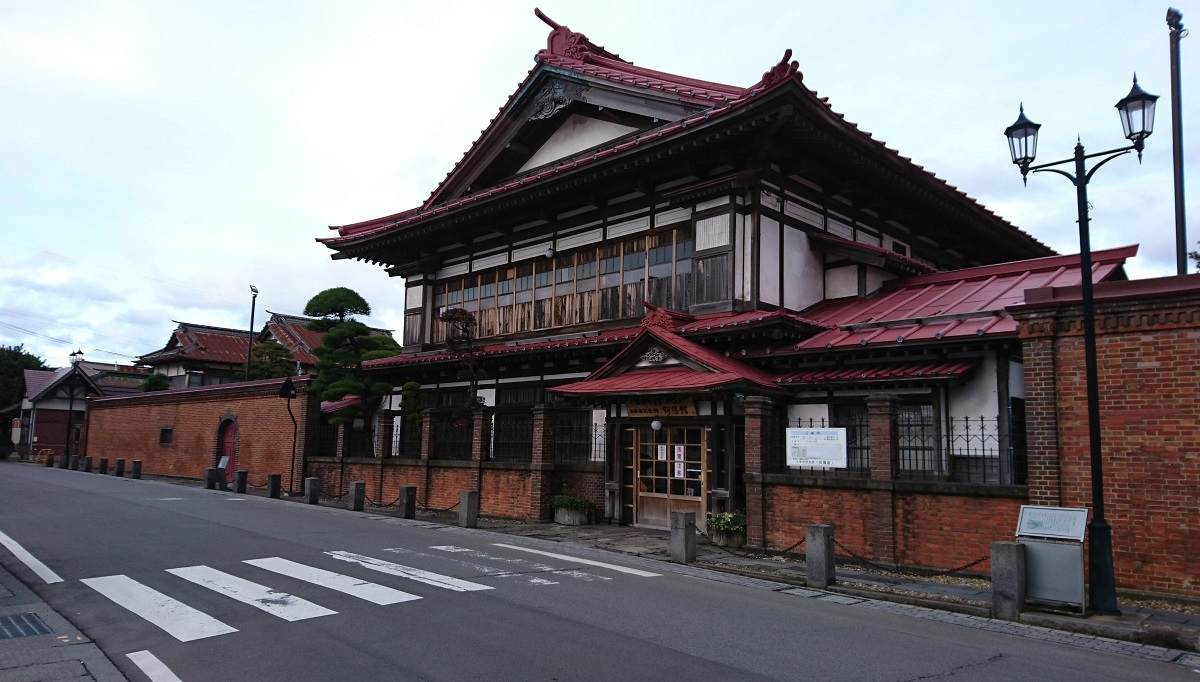 House where Dazai was born
Around 2:40 p.m., I walked for about 20 minutes from the coffee shop and arrived at the Shayokan, the memorial museum of writer Osamu Dazai (1909-1948). The building has an overwhelming air of grandeur. I thought this was a real mansion.
According to the pamphlet I received in exchange for the ¥600 admission fee, the residence built by Dazai's father, Genemon Tsushima, who was a large landowner in the Meiji era (1868-1912), was completed in 1907.
There are 11 rooms on the first floor and eight on the second floor, with a total floor space of about 1,300 square meters. From the outside, it looks like a long-established ryokan.
It is said that Dazai wrote: "Father built a very big house. [The house] has no style at all, it's just big." But it looked tasteful to my untrained eyes.
After World War II, the Tsushima family sold the house and it was turned into an inn called Shayokan, becoming a tourist attraction in the process. It was later purchased by the former Kanagi Town (present-day Goshogawara City).
I looked around the building, including the room where Dazai was born. Then I walked to Kanagi Station.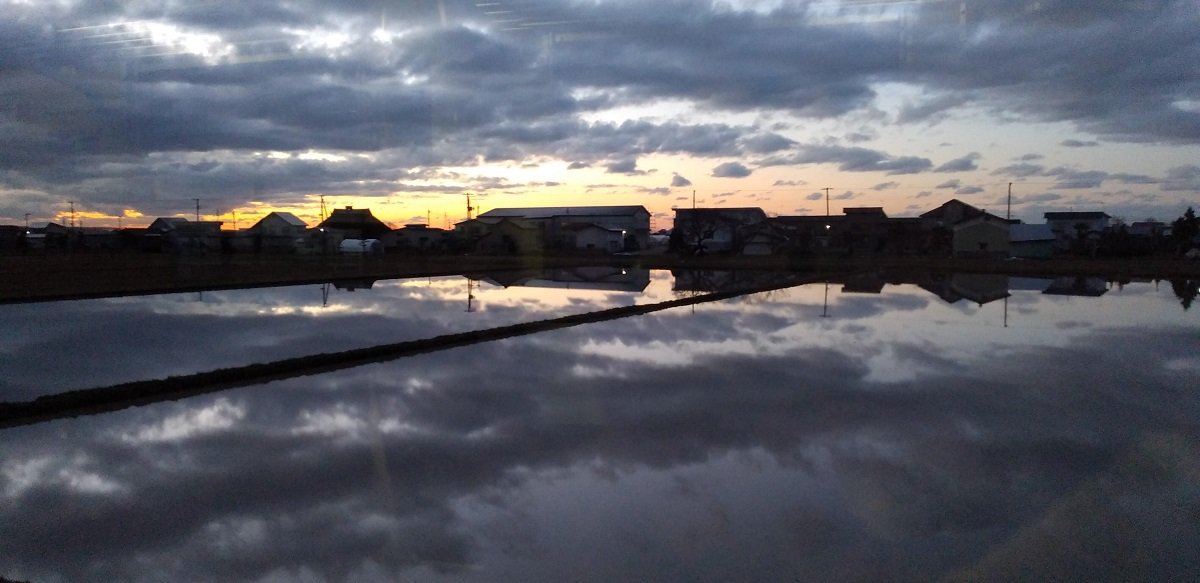 Rural landscape of the sunset
My train departed Kanagi Station at 4:12 p.m. and traversed the Tsugaru Plain at sunset, making a clickety-clack sound as it ran along. I felt like I had come all the way here just for this.
I transferred to the JR Line at Tsugaru-Goshogawara Station and arrived safely at Aomori Station at 6:22 p.m. via Kawabe Station.
Stove trains run until March 31 and make three round trips a day. Details such as the timetable can be found on the Tsugaru Railway website (https://tsutetsu.com/)
Add TheJapanNews to your Google News feed.