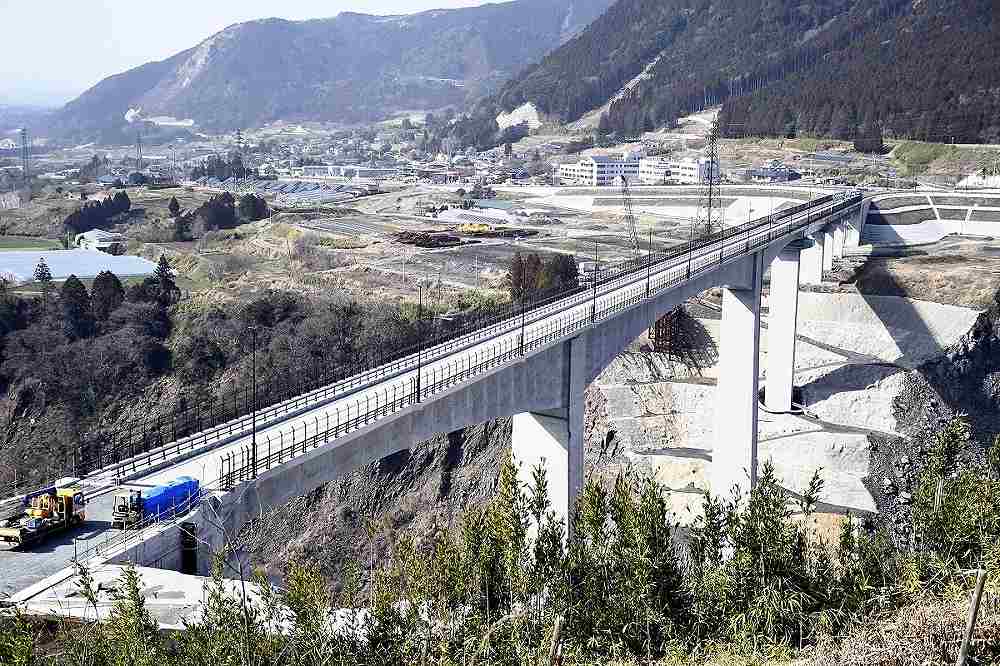 17:46 JST, February 12, 2021
MINAMI-ASO, Kumamoto — A bridge to replace the Aso Ohashi bridge, which collapsed during the 2016 Kumamoto Earthquake, is scheduled to open to traffic at 3 p.m. on March 7, the Land, Infrastructure, Transport and Tourism Ministry announced Feb. 2.
The new bridge is to be dubbed the Shin Aso Ohashi, or the new Aso Ohashi bridge, and will be part of National Highway Route 325, the main connecting road for the Kumamoto area and Minami-Aso. It was built in the hopes of revitalizing the area in terms of tourism and logistics.
The central government has been overseeing construction work in place of the Kumamoto prefectural government, the bridge's operator, because advanced technology was required for the restoration process.
The construction period is said to have been shortened by about a year and four months thanks to workers toiling around-the-clock. The project itself cost an estimated ¥16 billion.
The new bridge will feature an observation deck to be nicknamed the "Yo Myuru," which means "clearly visible" in the Kumamoto dialect.
The observation deck was built through the combined efforts of the Minami-Aso municipality and the Kumamoto prefectural and central governments. It will feature a parking area capable of accommodating about 50 vehicles and a rest area repurposed from an assembly hall that was part of a temporary housing complex for victims of the disaster.
On a clear day, the Tateno Gorge, the Kumamoto Plains and Mt. Fugen in the Unzen mountain range in Nagasaki Prefecture are visible from the deck.
"Upon this bridge's completion, all national highways and prefectural roads damaged by the earthquake will be open to traffic," said Kumamoto Gov. Ikuo Kabashima at a press conference on Feb. 2.
"The Shin Aso Ohashi bridge's completion is of symbolic importance," he emphasized.
Add TheJapanNews to your Google News feed.