Sweet shop hosts unique artistic combination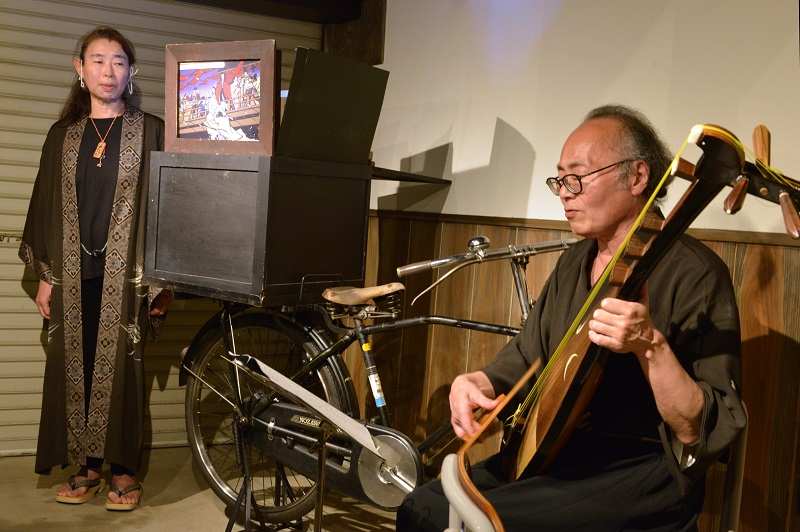 13:27 JST, May 24, 2022
A dagashiya candy store was recently host to a unique event in Mitaka, Tokyo — a combination of the biwa Japanese lute with a kamishibai picture-story show.
Kamishibai performer Senbei held the event on Sunday in the dagashiya she runs out of her home, a shop that is usually crowded with children. The collaborative event was performed for children during the day and for adults that evening.
The biwa came to Japan in the seventh century from the Chinese Silk Road, via the Korean Peninsula, and many biwa players have been born in Kyushu. The performer on Sunday was Yukihiro Goto, 62, who plays the traditional satsuma biwa of Kyushu, passed down from generation to generation.
Goto's playing can be heard in the animated film "Inu-Oh," which will be released in theaters on Saturday, and in the animated TV series "Heike Monogatari" (Tale of the Heike).
"People can better enjoy the live sound of the biwa without a microphone in a small venue like this, than in a large concert hall," Goto said. "Today is a very good day for me because I want people to experience biwa music in a place that's a familiar part of their daily lives."
Goto performed a well-known piece depicting a scene from "Heike Monogatari," and a popular humorous tune about a fight between sake and mochi.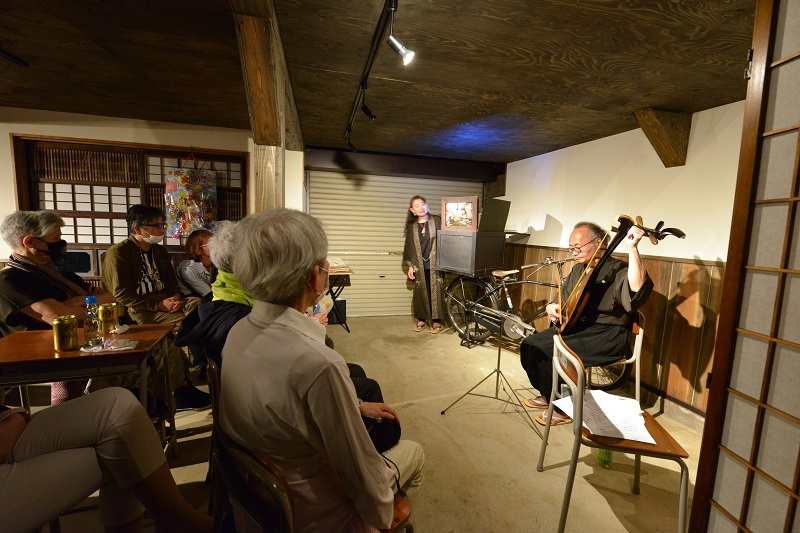 Kamishibai originated in Japan around 1930. It was a common sight after the war, with kamishibai artists traveling around the country with their equipment on the back of their bicycles and telling various stories to children on the streets. The stories progress as the pictures change.
These picture-story shows are known for the warm communication between the kamishibai artist and the audience. Recently, the positive aspects of kamishibai are gaining renewed attention in Japan and are beginning to spread to other countries around the world.
Senbei told a story Sunday using pictures by Shu Koide, a well-known paper cutout artist.
Goto and Senbei concluded their performance with the ghost story "Yuki-Onna" (The Snow Woman) by Lafcadio Hearn, an English language writer who was active in Japan under the name Yakumo Koizumi during the Meiji era (1868-1912). Audience members conveyed their approval with a big round of applause.