Morishita vows to dance for peace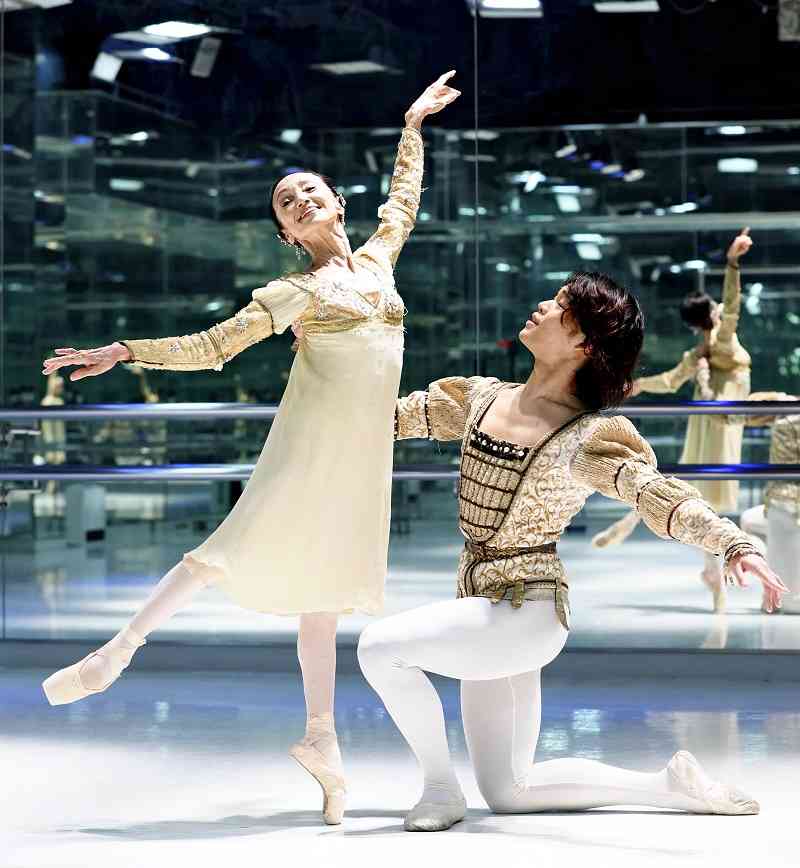 11:01 JST, April 21, 2022
Performers in an upcoming ballet production of "Romeo and Juliet" will dance for peace, according to Yoko Morishita, a veteran ballerina who said the conflict in Ukraine has given her a renewed sense of mission.
Morishita described watching news footage of children impacted by the war as "heartbreaking," especially scenes of a child overcome by emotion and hitting his father before being separated as well as another walking listlessly behind a parent.
The prima ballerina of the Matsuyama Ballet Company was born in Hiroshima shortly after World War II and many people close to her suffered in the aftermath of the atomic bombing of her hometown, including her grandmother.
As a result, Morishita said she has always danced with a resolve to "convey the preciousness of peace to people around the world through ballet."
The Matsuyama Ballet Company's production of "Romeo and Juliet" is based on William Shakespeare's play about young lovers who overcome family strife. Performing the ballet while the horrors of war are unfolding in Ukraine is "extremely significant," according to Morishita.
"God has given us this mission," she said. "As a company, we want to give it our all and show the audience that we are moving forward with compassion, courage and hope."
Tetsutaro Shimizu, the ballet company's general director and Morishita's husband, will direct the upcoming production, which was first staged in 1980. The original play by Shakespeare was written during a plague epidemic in the late 16th century.
When the Matsuyama Ballet Company staged the ballet last year, it was reworked to reflect the impact of the coronavirus pandemic on people's lives. Shimizu added a character wearing a beak-shaped mask and a black outfit to depict a world afflicted with anxieties. The Tokyo shows were postponed due to the infection situation in the capital.
Shimizu has reworked the ballet again for the upcoming production, depicting the hostility between the two families more intensely, with the characters adopting a reflective stance toward the end of the performance.
Asked how she prepared for the role of Juliet, Morishita said: "Pure, innocent and beautiful. The more I express these features [in the character], the sadder the portrayal."
She must find it challenging to make her presence felt on stage while surrounded by dozens of dancers delivering dynamic performances.
"I have to put everything on the line," Morishita said. "No matter how hard I try, it'll never be enough. If I give it my all when I practice every day, I just might be able to make it work."
Recently, there have been promising signs in the development of Masato Otani, Morishita's dance partner since 2020. "I must study what Ms. Morishita has in mind and work harder than she does," said Otani, 28.
According to Morishita, the plight of children in Ukraine will change the way she dances. Morishita and Otani continue to practice without compromise, striving to devise new ways of expression to bring life to Juliet and Romeo, characters that give audiences courage and hope.
Morishita has been delighting audiences for decades. She expressed her gratitude to her predecessors in the Japanese ballet world during celebrations to mark her 70th anniversary of ballet experience last year. That same year, she also mourned Mikiko Matsuyama, her lifetime mentor, and Asami Maki, who had taught her not only ballet but also cooking. "Without the support of so many people, I couldn't have made it this far," Morishita said. "Every day, after lessons and rehearsals, I make sure I'm ready to go again tomorrow. My goal is to keep doing it."
"Romeo and Juliet" will be staged at Orchard Hall in Tokyo's Shibuya Ward on May 3 and 4. A related performance will be staged on May 5.