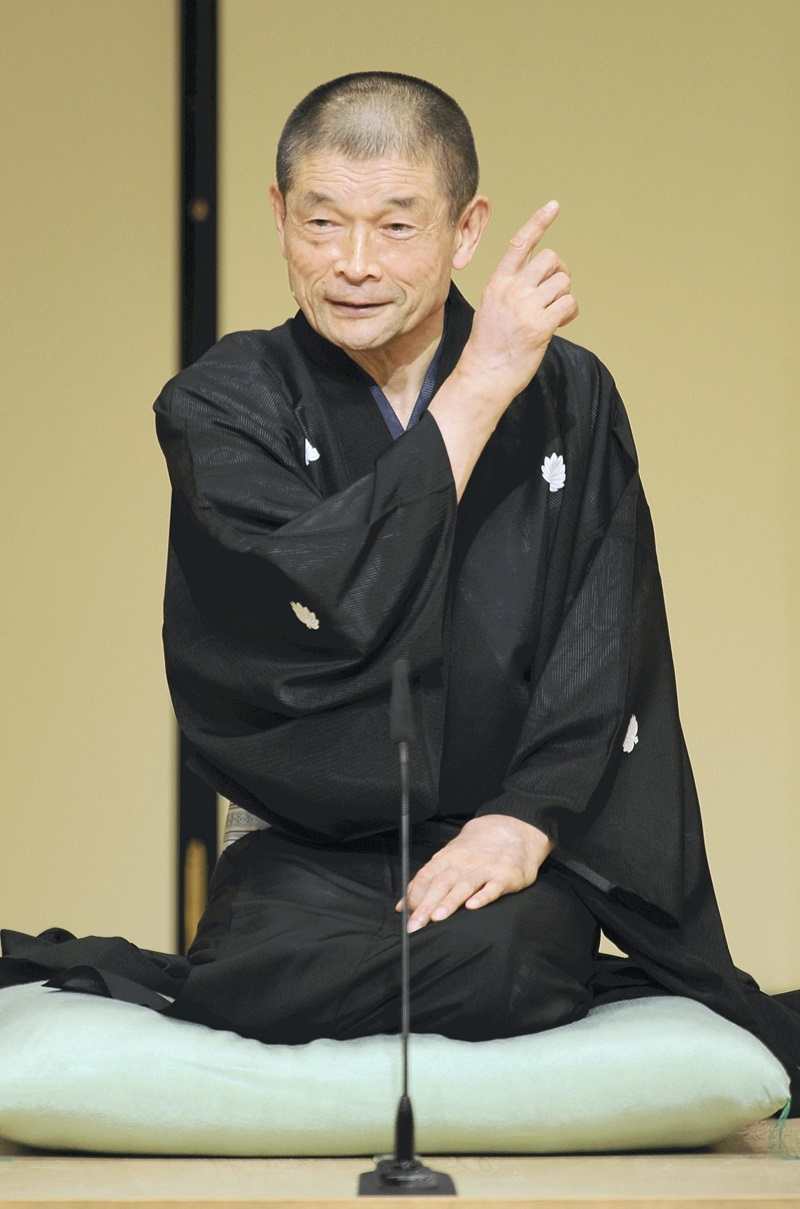 10:15 JST, October 17, 2021
Many rakugo storytellers and officials are mourning the death of Yanagiya Kosanji, a master of the art who died on Oct. 7 at age 81.
Kosanji, whose real name was Takezo Koriyama, was known for his carefree manner of storytelling and his low, beautiful voice. In 2014, he became the third rakugo master to be designated a living national treasure.
His career started in 1959, when he became a protege of Yanagiya Kosan V. Ten years later, he assumed the professional name Kosanji X.
Kosanji served as president of the Rakugo Kyokai storytellers association for four years from 2010.
"I envied him because he seemed to freely and naturally play with rakugo on stage. I pray for the repose of his soul," said storyteller Katsura Bunshi.
Shunputei Shota, chairman of the Rakugo Geijutsu Kyokai (Rakugo Art Association), issued a comment saying: "When I was young, I appeared on many TV shows with master Kosanji and he often talked to me. I think of those memories and his great achievements. I hope he is at peace now."
Tomomitsu Kyosu, a record producer who has been associated with Kosanji for nearly half a century, said: "When I met him at a rakugo event in July, he looked pale. But he dodged questions from reporters so well, I thought he was vigorous and would be fine for the time being.
"Over the past 10 or 15 years, it was the individual Takezo Koriyama, not Kosanji, who made rakugo characters talk about themselves. I don't know another rakugo storyteller who can do such a thing."
Incomparable presence
Rakugo audiences usually make some noise, like the rustling sound when someone opens a plastic bag of sweets or someone's coughing. However, whenever Kosanji appeared on stage, those noises would disappear and the audience grew quiet. Everyone held their breath and looked at the stage, trying not to miss a single word he said.
Of course, his stylish "makura" introductory talk before the actual rakugo story and masterful storytelling skills would soon make the audience laugh and applaud. Kosanji was a storyteller with an incomparable presence, uniting people's hearts just by being on stage.
From the time Kosanji was young, he was seen as a promising orthodox storyteller who brought the world of classical rakugo to life, without changing it.
Kokontei Shincho, who was one year older than Kosanji, died 20 years ago and Tatekawa Danshi, who was three years older, died 10 years ago. As a result, Kosanji became a symbol of Tokyo rakugo and continued to be a solitary master.
In his final years, however, Kosanji had been more relaxed and said whatever came to his mind. This natural performing style was appealing, and his winsome smile, which made him look like he had been released from a heavy burden, was endearing.
At a rakugo event at Kinokuniya Hall in Tokyo on Sept. 14, Kosanji started to tell an opening story called "Dokan," as the story first learned by members of the Kosan family.
However, he soon stopped and instead brokenly talked about the memory of Katsura Beicho, a member of the Tokyo Yanagi Kukai group.
Kosanji took long pauses of three or four seconds, and the silence seemed to reveal the movements of his mind. I was impressed by his masterful performance that drew the audience in by not speaking.
Kosanji had many hobbies and many friends. He could find the charm in things and people. Every time I heard him on stage, I felt comfortable, probably because his performance allowed me to directly enjoy the history of his rich life.
Add TheJapanNews to your Google News feed.