Agency aims to halt decline in traditional Japanese instrument player population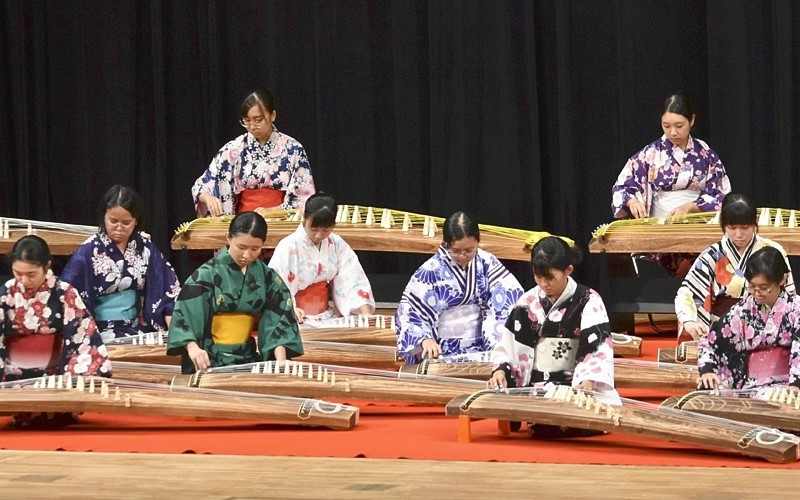 10:03 JST, April 19, 2021
The Cultural Affairs Agency is embarking on a project to stop the sharp decline in demand for traditional Japanese instruments, such as the shamisen and the koto, as the situation poses a risk to handing down the skills and art of playing the instruments.
The shamisen is a three-stringed instrument resembling a banjo, while a koto is a kind of multistringed zither.
The agency's support measures will include leasing out those instruments for extracurricular music activities at high schools, universities and other educational institutions starting this fiscal year, to help increase the number of people who can play the instruments. The agency will also designate traditional Japanese music as a genre of Japanese culture in need of protection and try to expand the ranks of fans of the instruments in younger generations.
According to a survey by the agency, in 1987 there were about 25,600 musicians who played the shamisen. That number halved to about 12,600 in 2020.
In the project set to be launched, support will be extended to selected school societies and other organizations that have delivered good results at competitions or regularly given concerts featuring the instruments. The agency will lease out instruments or dispatch professional instrumentalists to the institutions as instructors, depending on requests. The agency aims to select about 90 groups in three years from this fiscal year after screenings by experts.
In addition, the agency will seek the designation of the skills required to manufacture shamisen and koto as selected conservation techniques, which are recognized as necessary for the preservation of traditional culture. If such designation is granted, government subsidies will be available for improving such skills and training inheritors or the art.
The domestic market for traditional Japanese instruments has been dwindling on a constant basis. A nationwide industry group of traditional Japanese instrument business operators said that its membership decreased from about 330 in 2002 to about 180 at present. The number of shamisen sold by the group's member companies was about 18,000 in 1970, but the figure had dropped by about 80% to 3,400 in 2017.
"During the years of high economic growth, many people would take lessons for those instruments," said Keita Mitsuyasu, the chairman of the industry group. "Now hobbies are more diversified, and devotees of traditional instruments are getting old. Many of the manufacturers run family companies, and there are many examples of them closing the business."
Add TheJapanNews to your Google News feed.