88-Year-Old Okinawan Jazz Singer Teiko Saito Continues to Enchant Fans; Coming to Tokyo with Grammy Award Winner David Matthews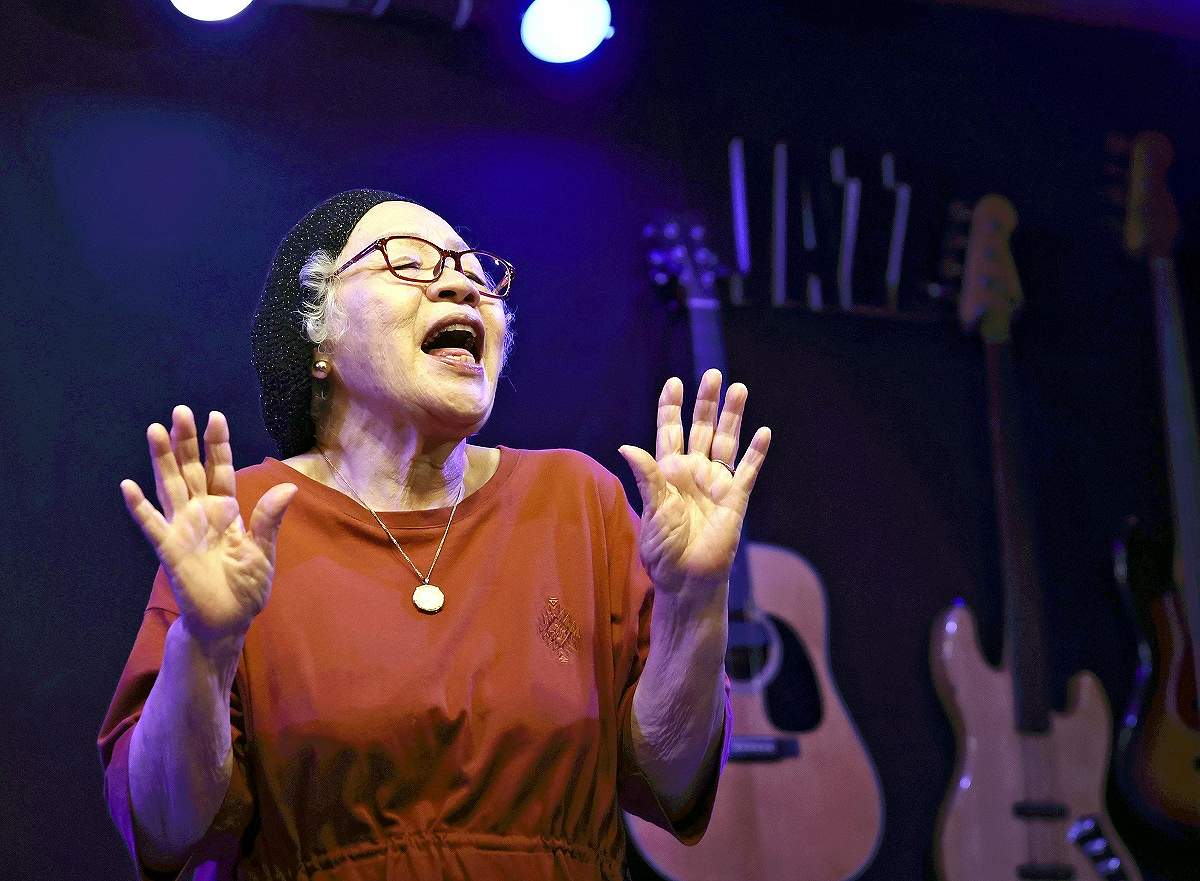 7:00 JST, November 18, 2023
ISHIGAKI, Okinawa — Teiko Saito, 88, from Okinawa Prefecture started singing in a jazz band soon after graduating high school and released her first album just two years ago.
When the United States was governing Okinawa, Saito had enchanted U.S. soldiers with her jazz vocals in Okinawa nightclubs. The loss of her beloved husband caused her to stop singing for many years, but she returned to sing professionally again at the age of 86. She is due to perform in Tokyo and Fukuoka starting at the end of the month.
"I want to sing as long as my voice lasts," Saito said.
Early on a mid-October morning, a powerful voice echoed around a park in Ishigaki. Saito was emitting the sound from her lower abdomen while constantly changing the position of her body.
It is a routine she follows in order to keep her voice loud enough.
"I won't skip this routine, because losing my voice is the scariest thing," she said.
Saito was born in the prefecture's Miyako Island as the third daughter of a grain wholesaler. At the time of the Battle of Okinawa, she was evacuated to Taiwan and returned to Miyako after the war. She was a tomboy who liked to go out to the beach and had no interest in music. Her turning point came when she moved to Naha to attend Naha Senior High School and met a teacher.
Having heard her singing voice in a music class, the teacher got excited about her future career in music and taught her classical songs. In 1953, the year she graduated from high school, the teacher told her about a jazz band from mainland Japan who were recruiting a vocalist as they were moving to Okinawa.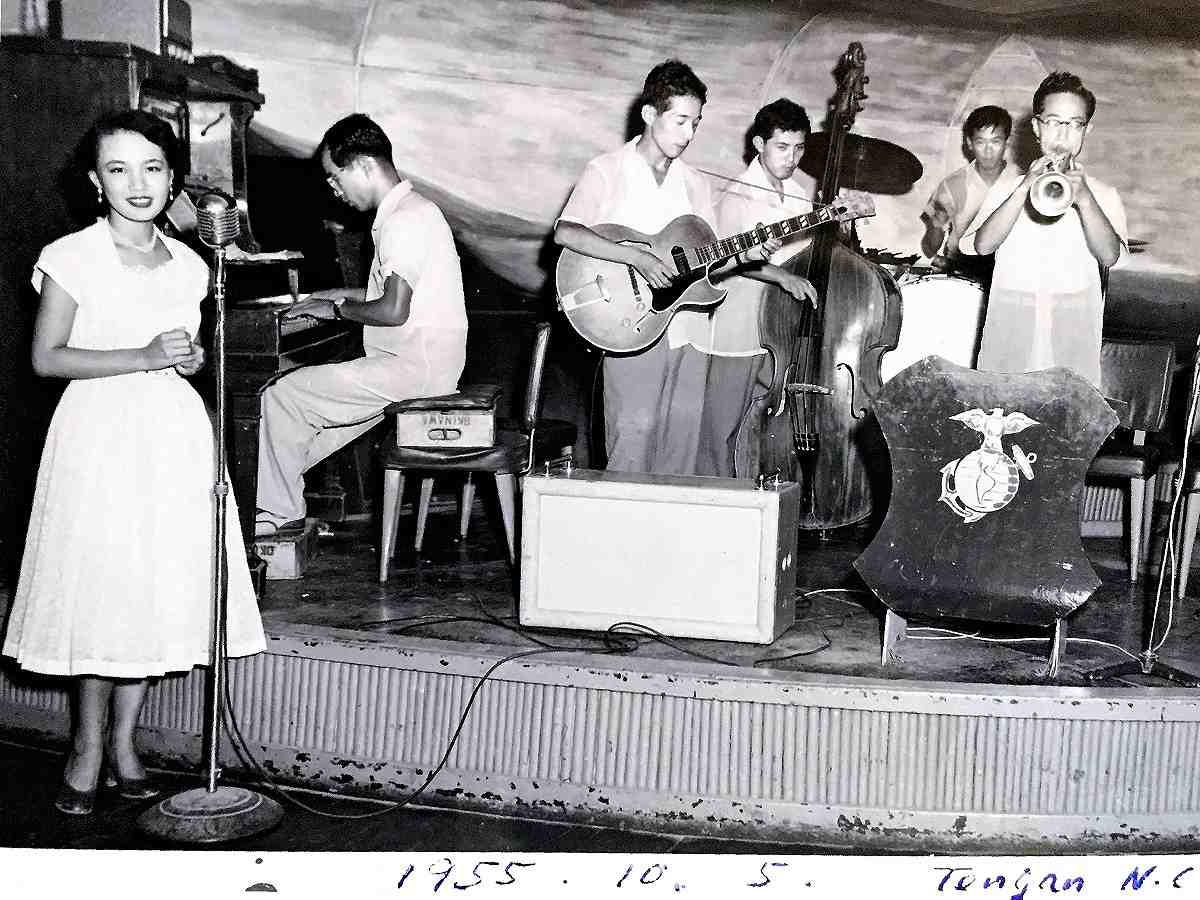 Saito knew neither jazz nor English but auditioned and sang "Ave Maria," a song she was good at, and passed the audition with flying colors.
The band played nightclubs in U.S. military bases and elsewhere. Saito practiced English songs desperately so she could take requests from American soldiers, and she had about 400 songs in her repertoire.
The band's leader Masaru — who later became her husband — taught her all the time. Saito's strong yet clear voice attracted audiences, and she even began to receive fan letters in English.
Saito particularly felt the power of music from "Danny Boy," a song of a mother worrying about her son who is going off to war.
When she sang the song at a military base, a young man listening to the song burst into tears in front of her. He was a soldier leaving for the Vietnam War. Saito's heart ached thinking of the unreasonableness of war that takes away the lives of many young people. The experience made Saito sing with the conviction that "War is absolutely wrong."
Saito married at 25, and moved to Masaru's hometown of Chiba City, where they had two children. After raising their children, the couple began singing together again. About 30 years ago, they moved to Ishigaki Island, which Masaru had fallen in love with, and played jazz at hotels and cafes there.
She had many happy days playing her favorite music with her favorite person until 1995, just before her 60th birthday. Masaru was diagnosed with cancer and passed away at the age of 65. After that, Saito stopped listening to jazz music as it "brought back painful feelings." She turned off the radio whenever she heard jazz being played.
After many years had passed, Saito stopped by a coffee shop and heard a jazz song playing in the background and felt an urge to "sing jazz again."
She became a frequent customer of the shop, playing the ukulele and singing jazz songs along with younger music fans. Word spread quickly that there was a "great female singer on the island."
Impressed by her mother who still sings powerfully even in her 80s, Saito's eldest daughter, Atsuko Higashiyamamori, 56, encouraged Saito to sing again.
Two years ago, Higashiyamamori, who is a farmer on the island, spoke to the owner of a jazz bar on the island about producing an album to "preserve the sound of my mother singing."
The owner liked the idea and called on people in the industry, who also showed interest. The recording featured a band, including Grammy Award-winning music arranger David Matthews.
In February, the band performed in Tokyo and is scheduled to play in Fukuoka later this month, and in Tokyo in December.
Saito often sings "Danny Boy" on stage. This is her standard song at gatherings for Okinawa Memorial Day on June 23 to commemorate the end of the Battle of Okinawa. She said she would sing her heart out especially at a time of ongoing conflicts in the world.
"When I receive applause, I am now able to remember the wonderful time I spent with my husband," she said. "Jazz is my reason for living!"
Saito hopes to continue singing until she reaches the age of 97, a commemorative age in Okinawa which celebrates one's longevity.
Add TheJapanNews to your Google News feed.