13:42 JST, April 22, 2022
A man dressed all in black came out and sat down at a gaudy piano. The man's garb and the colorfully painted piano could not have been a bigger contrast. He said nothing, adding to the suspicious air around him, but he quickly started playing with a ferocity and brilliance.
The location was Yokohama Burg 13, a cinema complex near JR Sakuragicho Station in Yokohama, where the piano was set up to promote the release of the animated film "DEEMO Sakura no Oto" ("DEEMO Memorial Keys") based on the rhythm video game.
The man, in fact, was the popular piano-playing YouTuber Yomii in disguise. Yomii, who goes by only one name, has played similar pranks in the past, dressing up as a shop assistant or a station attendant before dazzling a crowd with his playing. One time, he suddenly joined another person already playing a street piano to form a duet. He edits his videos to focus on the reactions of people in the crowd to enhance their appeal.
Yomii is making the most of street pianos, which anyone can play freely and are becoming more prevalent at train stations and in shopping places. Some are individually painted by noted designers.
His street piano videos have drawn millions of views for his brilliant skills, talent for arranging music, innovative project ideas and editing techniques. The multitalented artist is riding the wave to success.
"The crowd's reaction is an important factor when it comes to street pianos," Yomii said. "I'm always trying to come up with ideas." He does not elaborate on the effort he puts in behind the scenes.
Yomii now runs two YouTube channels. His main one, Yomii Channel, has 1.86 million subscribers, while his second, Yomii Piano Channel, focuses more on piano and has more than 510,000 subscribers. Combined, the two channels have gathered more than 700 million views.
"It makes me the happiest when someone who didn't know me subscribes to my channel. That feeling hasn't changed since I started posting videos," Yomii said.
Transformation of a gamer
Born in Hokkaido on Oct. 6, 1997, Yomii was in his first year of junior high school when he posted his first video on YouTube in 2011. He was ahead of his time, as the term "YouTuber" had not yet reached mainstream vocabulary.
At first, he uploaded a variety of videos, such as him playing the drum game "Taiko no Tatsujin" (The Drum Master!), providing play-by-play commentary on video games, or playing J-pop and anime songs on the piano.
The turning point came in 2019, when he came across a street piano.
"This will become a major genre," he thought back then. "I decided to put more energy into YouTube. It was around this time that I bought software to work seriously on video editing."
Yomii already had more than 100,000 subscribers at the time, but that number has since soared thanks to the prevalence of street pianos, along with YouTube becoming known to wider generations having to spend more time at home due to the pandemic.
"My game videos were by far mostly watched by teenagers. But since piano playing became the main content, they are watched equally by people from all age groups," he said.
"I once overheard a mother ask her child, 'Do you know a guy called Yomii who plays the piano while dressed like a store assistant?' The child answered, 'Yomii's the gamer, isn't he?'" That experience left a strong impression on him.
Friendliness is the key
The street piano has become the perfect tool for Yomii because it allows him to deliver music directly to a large, random audience. From the time he took piano lessons at an early age, he would listen to all genres of music and developed a flexible way of thinking.
"I learned the beauty of classical music and thought how nice it would be to convey it to others, but I also thought it's only natural that there would be people who have no interest in it," Yomii said.
That goes back to an incident during his elementary school days. He played Chopin's "Fantaisie-Impromptu" for his classmates, but only got a dull reaction. For that reason, he favors popular and easy-to-listen-to music, such as songs from anime and video games, when playing on a street piano.
It's not only the entertainment value behind his appeal. Yomii's fans, in comparing him with other pianists, appreciate the personalized tone of his music and his skills at music arrangement. "I like to listen to classical pianists, too," one fan said, "but it's only Yomii whose performance can bring me to tears." Said another: "I like that he looks like he's having fun when he's playing. I quit playing the piano because I hated to practice, but I started again thanks to Yomii."
His talent blossomed early. He could transcribe J-pop songs by ear and arrange them for the piano when he was still in elementary school, and at 15, he won a prize for his first original composition. In addition, he has a gift for improvisation and strong nerves. While waiting in line to play a street piano one day, he listened to "Cry Baby," a harmonically complex song by Official Hige Dandism, and played it on the spot without preparation.
Even though he spends his days creating fun videos, he has a lofty goal of contributing to the advancement of music culture. He approaches his activities as a sort of "piano evangelist." "Now, my activities are mainly carried out on YouTube, but I'd like to also search for new ways of expressing music in the future," he said.
Potential of AI-piano ensemble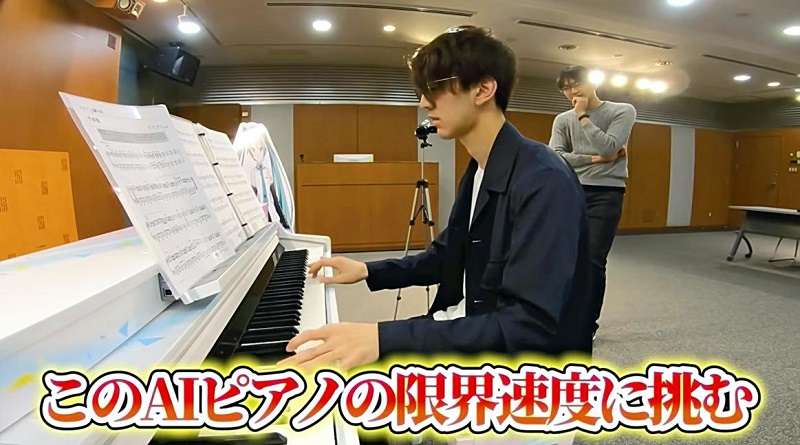 Yomii has a deep interest in the future of music. He is particularly intrigued by Yamaha Corp.'s artificial intelligence ensemble system, and is collaborating on a project. The system analyzes the performance of musicians and, while sensing the tempo and timing, adds accompanying instruments, voices or other aspects.
"We will someday be able to learn music from AI," Yomii said. "It would be great if that gets more people interested in music."
Yamaha's Akira Maezawa, who is in charge of developing the system, has appeared in several of Yomii's videos. He said the two first met at the Digital Content Expo in Tokyo in 2017, when Yomii played the piano accompanied by an AI ensemble.
"Just before going on, he played once with the system, and in about five minutes, he said, 'OK, I see how it works.' He had made the system his own. I still remember how in the performance later, the musical expression and the atmosphere changed dramatically."
Maezawa says Yomii has an acute sense of being able to precisely measure time, probably stemming from his original proficiency in playing rhythm games.
"Because of that, he can easily get a feel for the characteristics of our technology," Maezawa said. "He has a strong desire to control the technology, and likes the process of trial and error to achieve a goal. The fact that he also accurately grasps the characteristics of the technology and can verbally explain them is amazing."
Sometimes Yomii outsmarts the system and uses it in a way not anticipated by the engineers, allowing him to come up with interesting expressions like only he can, Maezawa said.
"For example, the moment he notices there is a range of musical notes that won't affect the system in the process, he will suddenly start fooling around in an impromptu performance. There are times he makes us aware of new ways to use the system.
"We are on the same page as far as wanting to do something fun by using new technologies," Maezawa said. "We expect great things ahead."
Staff writer recommends 3 videos and asks Yomii about them
Title: "Street piano series in the Tokyo metropolitan government building: Playing a super demanding jazz version of 'Lupin the Third' theme song in a duet with a foreign professional pianist, and drawing in a sick number of people" (posted December 2019)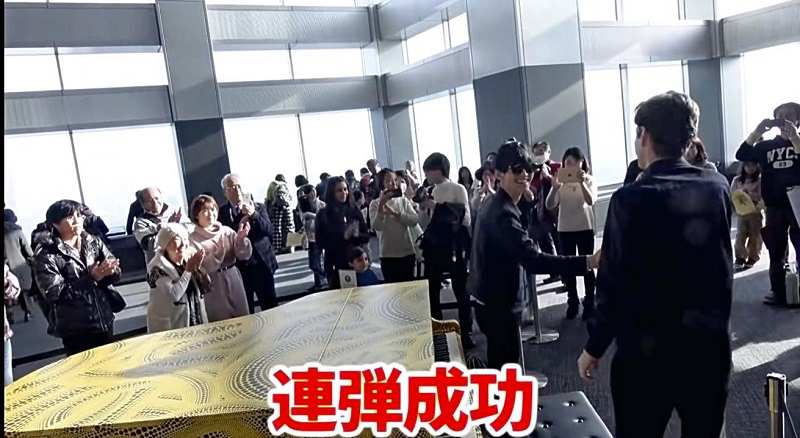 In this hot and thrilling piano duet with jazz pianist Jacob Koller, Yomii had only just met Koller when he dragged him into playing the street piano. "He told me that in the end, it was a good thing that I lured him into it," Yomii says. The video has been viewed more than 17 million times.
Title: "A Mega Donki store clerk plays famous songs live, but unnerved by the watchful eye of the manager, suddenly changes to the Don Quijote [discount shop chain] jingle." (posted January 2020)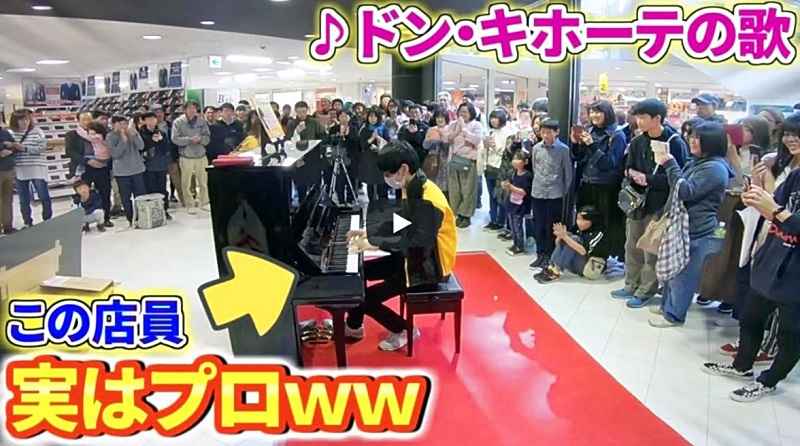 Yomii disguises himself as a store clerk and freely plays pop hits "Lemon" and "Pretender" as well as the music from the game "Super Mario Brothers." Then the manager arrives on the scene … A discombobulated Yomii, no matter which song he plays, gradually segues into the Don Quijote jingle. The whole video is like a comedy skit.
Title: "A five-piano merry-go-round in five cities" (posted April 2021)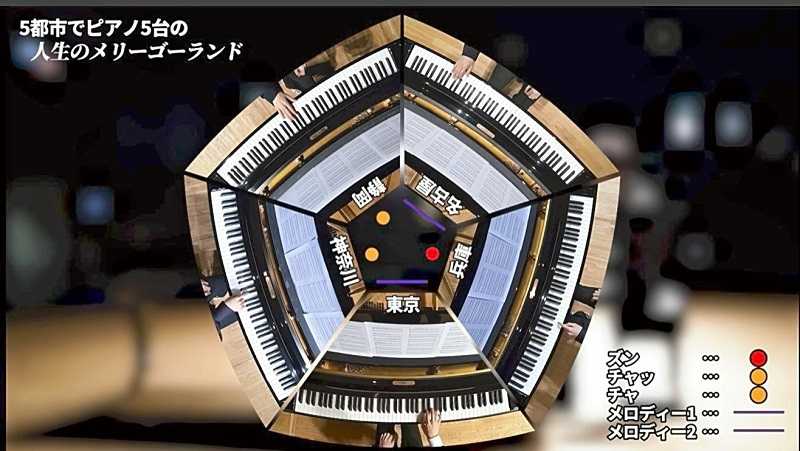 Yomii plays different parts from a waltz on pianos in five cities that he toured, then edits the recordings into one video. The screen shows the five pianos, each playing a different part from the piece. As the song progresses, the piano playing the main melody changes in turns. It is extremely complex work. "There was actually no need to do it in five cities," Yomii says. Watching it, one can only respect the effort when considering the vast amount of time and patience that went into editing it.
Add TheJapanNews to your Google News feed.