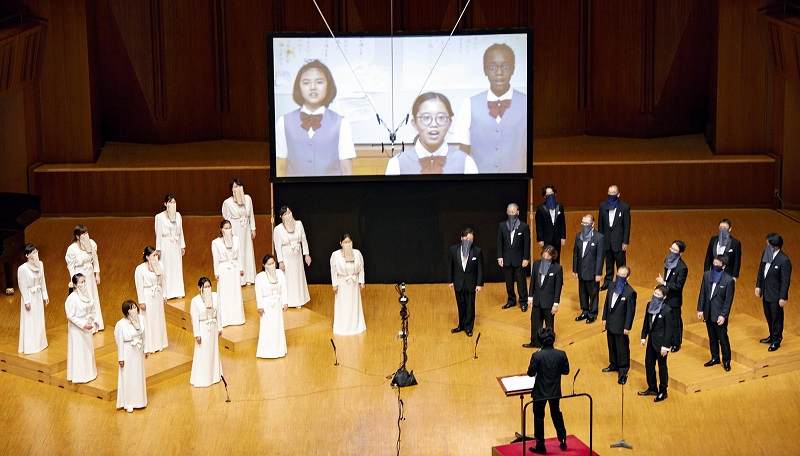 17:10 JST, August 28, 2021
The choral world has had an uncharacteristically quiet year, as rehearsal halls were shuttered and competitions canceled amid the pandemic. Yet faced with restrictions on in-person gatherings, some choral groups have been finding creative ways to safely continue sharing their beautiful music, in harmony with the socially distanced times.
The education ministry advised prefectural boards of education to follow social-distancing measures, recommending at least a 1-meter radius between singers, and ideally 2-meters where possible. The Japan Choral Association also created guidelines that factor in studies on the risk of infection by airborne droplets during singing.
"Face masks hide all the muscles around the mouth used to control tone," said Tomoya Iwafuchi, a 30-year-old English teacher and choir club director at Eimei High School in Koshigaya, Saitama Prefecture. "It's hard to provide instruction when I can only guess as to what shapes they're making with their mouths."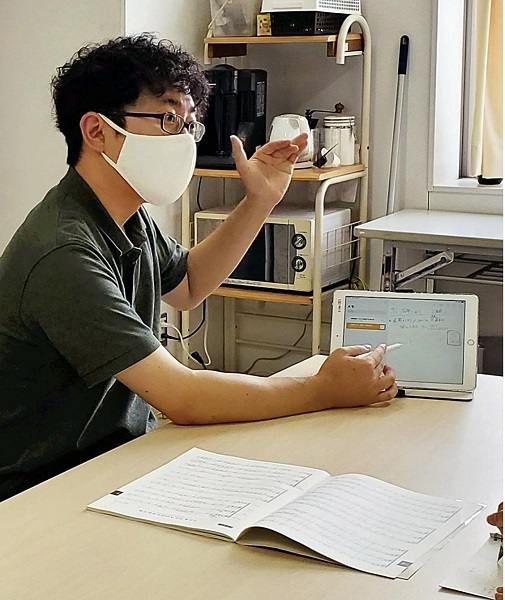 While Iwafuchi emphasizes the importance of proper mouth shape, the students' safety comes first, and he has club members wear masks even during rehearsals to mitigate the risk of infection.
During the pandemic, the school provided students with digital tablets to facilitate e-learning. Realizing the tablets could also be a useful diagnostic tool for his choir, Iwafuchi began asking students to record video of themselves rehearsing solo without masks, so he could check their enunciation.
Choral groups have increasingly been tuning in to such technology, even conducting entire performances remotely. A free app called "tuttii" enables vocalists to upload their individual parts, then edit and overlay submissions into a collective track. Developed by Harmorearth, a group of mainly choir-loving young engineers, the app was recently expanded with automatic sound mixing and other features in collaboration with music specialists.
New choral compositions have emerged from the online initiative. Harmorearth assembled a remote choir to record two new pieces composed by Noritaka Moriyama, arrangements of poems by Makoto Ooka including "Ongaku ga Boku ni Sasayaita" (The music whispered to me). Individual vocals were stitched together with tuttii and released online.
"By providing a platform for active collaboration between instructors as well as professional and amateur musicians, we hope to help further choral culture," said Harmorearth's 31-year-old director Kazuki Otomori.
In collaboration with the Japan Choral Association, confectioner Kanro Inc. crowdsourced the talents of vocalists to record "My Ballad" as part of a campaign to promote a new lozenge. The submissions were compiled into a video that is now available on the company's website.
KDDI Corp. has also uploaded clips of the Philharmonic Chorus of Tokyo performing set pieces from choral competitions recorded with 360-degree cameras and mics, as a uniquely high-tech reference for amateur choir groups across the country. The samples can be explored via an app developed by KDDI that lets users toggle between mics and isolate specific vocal lines for their own practice.
Of course, some people worry how the pandemic's modulations will alter the course of the nation's choir culture.
"Japan is home to an internationally recognized choir culture that has been supported by a large base of amateur vocalists," said 58-year-old musician Ko Matsushita. "[But because of the pandemic] some university choirs haven't been able to recruit new members. This could have a domino effect and hinder the cultivation of the future generation of talent for our nation's adult choirs."
Matsushita serves as artistic director of the Karuizawa International Choral Festival and the Tokyo International Choir Competition — both of which were canceled last year. The Tokyo International Choir Competition is scheduled to be held this year, albeit with pared-down rosters of participating choirs, prompting the event to solicit donations on the crowdfunding site "Campfire."
But Matsushita suggests that music may be more important now than ever.
"Precisely now that people are feeling so isolated, I hope that everyone can connect through music," he said.
Add TheJapanNews to your Google News feed.