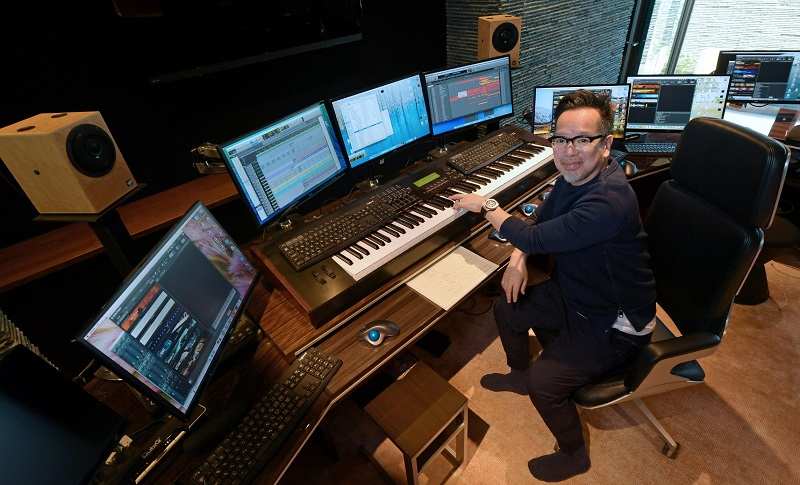 9:58 JST, August 19, 2021
Naoki Sato has been a sought-after composer for TV shows and films, including this year's NHK's historical drama series "Seiten o Tsuke" (Reach Beyond the Blue Sky). He has also written music for megahit films, such as "Rurouni Kenshin" and "Always Sanchome no Yuhi," for which he won the Japan Academy Film Prize for best music.
I visited his suburban Tokyo studio to get a peek at what fuels his creativity.
Sato said his workroom, which must be about 80 square meters, was added to his house four years ago. Thirteen computer screens are fanned out in the room, making it look like a spaceship's cockpit.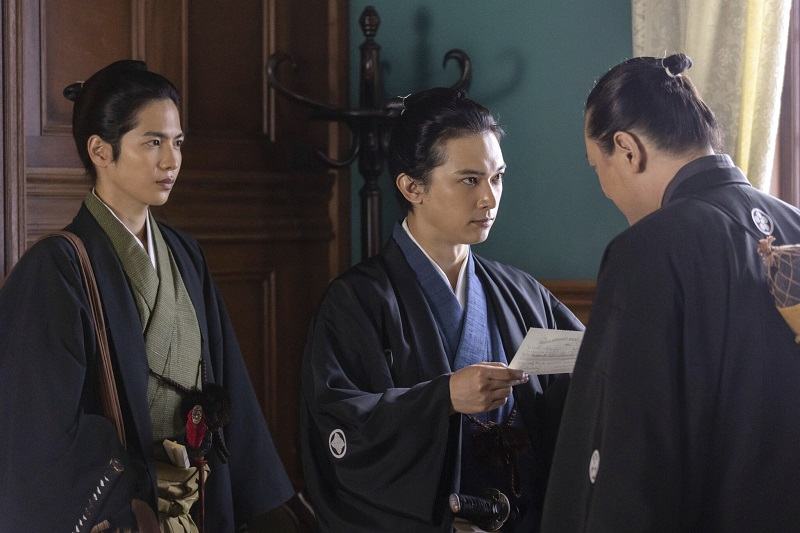 The atmosphere is fitting as a workstation that splashes colorful audio into star-studded films and television dramas.
This studio was also where he composed the elegant melodies for "Seiten o Tsuke," a biopic of industrialist Eiichi Shibusawa (1840-1931).
"The offer [to write the music for the show] came to me rather late, so I thought maybe it was after some other composers declined," Sato said.
After all, it was in February last year when Sato was contacted by the show's staff. Usually, it would have been difficult to accept the offer so late if he had another engagement, but "I happened to have left my summer schedule open so I could watch the Tokyo Olympics," he said. But then the Games were postponed due to the novel coronavirus pandemic.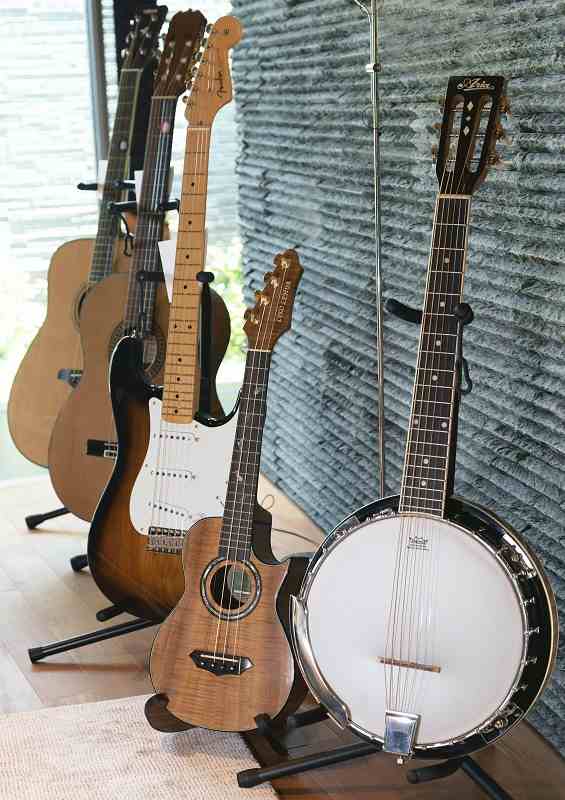 For composers of incidental music specializing in soundtracks for visual media, writing music for a taiga epic drama on NHK is an honor and lends them much attention. But it is no easy task to score a show that runs for a year.
"To compose at least 100 or so pieces for one show, you've got to have musical stamina to support your ability and versatility," he said.
Sato accepted the offer despite having some doubts.
"Seiten o Tsuke" is set in the bakumatsu period, the turbulent final years of the Tokugawa shogunate in the mid-19th century. And Sato is no stranger to composing music set in the period. He was also in charge of music for the NHK taiga drama "Ryomaden — The Legend" and the film "Rurouni Kenshin," both of which take place in the bakumatsu period.
"Even though they are all set in the same period, I've enjoyed taking a different approach each time," he said.
For example, the theme music for "Seiten o Tsuke" is completely different from the music he wrote for the other bakumatsu period productions. It also takes a stark departure from the music of other taiga dramas. Instead of being loud and bombastic, Sato employed soft sounds and tones.
"I wanted to write music that would embrace viewers," he said.
Sato was born in 1970 in Chiba Prefecture. He began taking piano lessons when he was in the second year of junior high school and had previous experience playing the guitar. It was around the time when synthesizers notably evolved and became very popular. He loved music by U.S. bands like TOTO and Chicago and dreamed of owning a DX7, the latest Yamaha synthesizer in those days.
"My [piano] teacher was just a music-loving middle-aged man in the neighborhood," he said. "That really worked for me. It would've been awful if I were told to play practice pieces when I was already in the second year of junior high school. But he allowed me to deviate from the score. He let me make changes so that it would be easier for me to play music in my own way."
Through those experiences, he learned the joy of creating music, and the piano lessons changed to composition lessons. He was subsequently taught by a teacher specializing in composition to prepare for entering a music college.
In 1989, he enrolled in the Tokyo College of Music's film scoring course, which was newly launched that year and taught commercial music, not artistic music. Many illustrious active musicians and other specialists taught the course as lecturers in diverse areas, from incidental music to pop and fusion. Their classes were practical and inspiring.
After graduation, Sato became an assistant to one of the lecturers, the well-known composer Shigeaki Saegusa, who provided him with further training. Saegusa would often say "No" to Sato about how he composed for film sequences. And Sato often worked through many sleepless nights.
"[Saegusa] told me, 'It's no good because it matches the scene 100%,' and I didn't understand at all what he was saying," Sato recalled.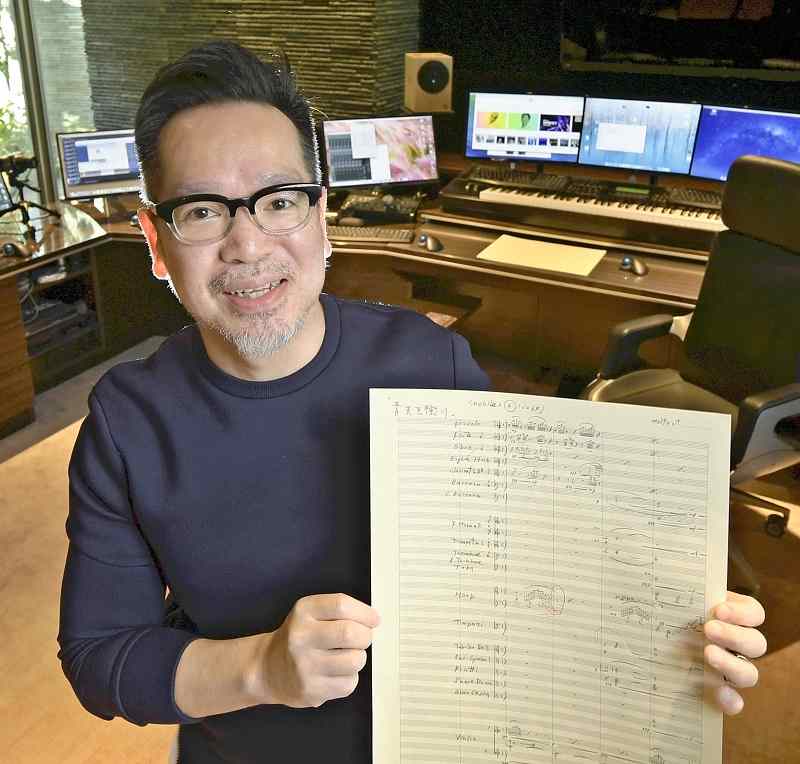 Avoiding cliche approaches
What Saegusa was asking for was not some cliched approach but a new kind of music that no one else had thought of.
"It's that you always have to take on challenges because it won't be interesting otherwise," Sato said. "Once you think, '[music for] taiga epic dramas is like this,' then it's a big no-no. Even now, I think I have to bear that in mind."
Sato always tries to update the way he approaches his job. To write music fitting for visual media, he used to focus on the script and the visual images, without delving too much into the original work and the backgrounds of the real-life characters.
To compose music for "Seiten o Tsuke," however, he visited Fukaya, Saitama Prefecture, where Shibusawa the industrialist was born. Sato then incorporated the nature he felt in the city into his compositions. He also observed how the drama was shot in Gunma Prefecture and watched the performance of Ryo Yoshizawa, who plays Shibusawa in the show. Through such methods, the composer was able to find a way to resolve an ongoing issue that had been aggravating him.
"There were various opinions from the director, the producer and other people regarding the development of the theme music's middle section. It was impossible to make everyone happy. And there were also elements that I wanted to include. But then while I was wondering who was I writing this for, I watched Mr. Yoshizawa and realized that I was writing for Eiichi [Shibusawa], played by Yoshizawa — for 'Eiichi Yoshizawa,'" Sato said.
Then he composed the section where the music suddenly becomes calm with a drifting melody, albeit embedded with the hardships, pains and failures of a great man whose life was never smooth sailing.
Sato feels that the level of music listeners has risen lately.
"They've become tired of cliched music, and they won't be happy with music that suggests, 'You will find it touching if it goes like this,'" Sato said. "This time, with commitment and belief, I took a step beyond music theory. I think the listeners today will find it moving if I'm serious enough to cast at them what I genuinely want to convey."