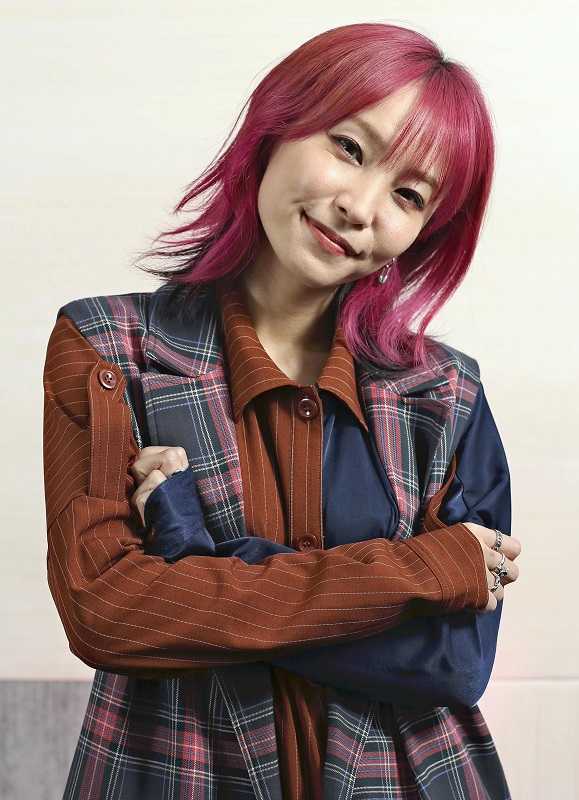 10:00 JST, June 18, 2021
Singer LiSA is celebrating her 10th year in the music industry on a high note after her 2020 mega-hit song "Homura" climbed the charts, went viral and won the Japan Record Award.
And with her new release "Ladybug" — a mini-album of all new songs — it appears as if she's in no mood to slow things down. "I'm going to keep on going," she said.
When she won the Japan Record Award on Dec. 30, she teared up after her name was called. She went on to deliver an emotional rendition of "Homura," displaying to the audience her enthusiasm for music.
"The memories of all the people working hard to make the song happen flashed before my eyes," she said. "I was very glad that people were there to support me and that I could share my happiness with them."
LiSA first started attracting major attention after she provided the singing voice for a band in a TV anime. In the spring of 2011, she released a mini-album as a solo singer and since then she has gone on to sing theme songs for many anime series.
Her 2019 release "Gurenge" was used as an opening song in the "Kimetsu no Yaiba" (Demon Slayer) anime series and her energetic and emotional voice was widely appreciated at home and abroad.
"I think I can now be objective and enjoy singing," she said.
Her new mini album features some industry heavy hitters.
"I can now reach out to the musical greats after 10 years," she said.
Tak Matsumoto of legendary rock band B'z wrote the music for the mini-album's "Another Great Day!!"
"I was about 98% doubtful that he had written a song for me," she said and smiled bashfully.
The song's catchy rock-guitar hooks blend with LiSA's beautiful singing voice and dynamic range.
"A godlike legend from the world of rock gave me a great song," she said. "It sounds hard, but actually I found the chorus easy to sing."
Yujin Kitagawa of the duo Yuzu contributed "Non Non," a bubblegum pop-rock tune about love, and LiSA sings it in brilliant and bright tones. "GL" was offered by Avu, the vocalist of the Japanese band Queen Bee. Listeners can get a taste of LiSA's envenomed vocals rapping over the tricky song filled with unpredictable turns.
LiSA wrote the lyrics and music for the song "Letters to Me." LiSA said she wrote the song for the person she was 10 years ago. "At that time, I was always nervous and felt like I was losing to something. I was just glaring harshly at whatever was in front of me. Now I want to tell my past self that the future wouldn't be so bad, it would be OK."
Since making her debut, she has remained firm in her commitment to "become something for someone." LiSA said that she has been able to keep singing thanks to the people who enjoy her music as well as those who are delighted and encouraged by it.
"Those supporting me have helped make my dreams come true and then some," she said. "From now, I'm looking forward to where I'm going next with those who are coming with me."
Add TheJapanNews to your Google News feed.