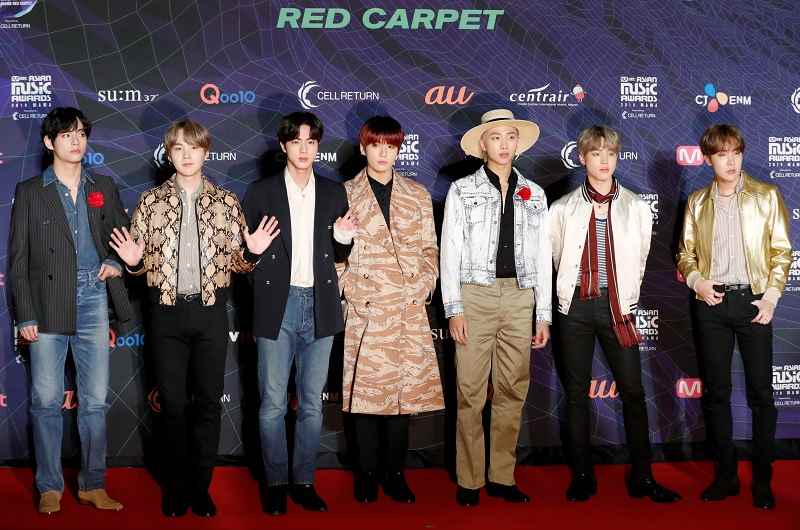 11:00 JST, June 11, 2021
BTS is unstoppable. The global popularity of the South Korean boy band knows no end. Their songs have reached No. 1 on popular music charts not only in Japan but also in the United States where they earned a Grammy Award nomination in March. What is the secret behind the group's success in spreading their music beyond Asia's shores?
BTS made their debut in 2013. The K-pop group debuted in Japan the following year and subsequently reached No. 1 on the Oricon hit music rankings both for albums and singles. Their albums and singles reached No. 1 on the Billboard charts as well. And last year, Time magazine selected BTS as Entertainer of the Year.
Pundits say the seven members excel in every aspect — music, singing, dance and good looks.
Music critic Reiko Yukawa, 85, said she noticed that the members worked as a rap group in the beginning, and rappers require both a good sense of rhythm and quick wit to improvise lyrics.
"[They are] talented boys who went through a rigorous selection process, practiced extremely hard and mastered agile dance techniques," she said. "They also gradually changed their music to a more entertaining style. It is to their strength that they took enough time to grow up."
In general, South Korean boy bands and girl groups train very hard before making their debut. They are a finished product of sorts when they finally appear in public.
Not BTS though. The group was still a diamond in the rough at the time of its debut.
"Showing their growing-up process struck a chord with fans," said Kwon Yong Seok, 50, a Hitotsubashi University associate professor in international relations, who is well-versed in Japanese and South Korean pop culture.
After coming onto the scene, the members of BTS grew in sophistication, improving their performances little by little, and they dared to show the process to the public. BTS stands for Bangtan Sonyeondan, meaning "bulletproof boy scouts." It is not a particularly fashionable name for pop idols, but they have the respect of their fans.
BTS did not belong to a big artist management company, and none of the members came from Seoul. In essence, they were not a part of the mainstream in any aspect.
In their songs, they have criticized bullying, violence, competitive school entrance exams and other social problems; questioned what is a fair society; and revealed their inner selves, including their weaknesses. And they did so without getting on high horses.
"That's why their fans, who are called 'Army,' connect with them, feel proud of them and get excited that these underdogs have reached the top of the world," Kwon said.
Buoyed by YouTube, social media
BTS sprinted through the 2010s, when YouTube and social media became widespread. The group began to release elaborately produced music videos online one after another. And as the world became more virtually interconnected, with people having access to more diverse information through the internet, many people started to watch their videos with an open mind and without prejudice.
"BTS performs hip-hop songs and dance, which boast global popularity and are accepted regardless of the performers' race or language if the performance is of a top-notch level. So there was already an environment where their popularity could grow," Shoichi Ota, 60, a sociologist who is well-versed in pop idols, said. He added that the relatively small size of South Korea's domestic market nurtured an urge for international exposure.
In addition to music videos, if the members release videos of their rehearsals, meal breaks or doing various things in their dressing room, the Army voluntarily mobilize to add subtitles to the videos in many languages.
Kwon thinks the COVID-19 pandemic has spurred their popularity since last year.
"Everyone had to stay home, and people in many countries watched the cache of BTS' high-quality videos. While there are artists whose popularity suffered because they could not perform, the popularity of BTS went up thanks to loyal and united fans," he said.
What about Japanese pop idols?
It seems boy bands in Japan are trailing behind BTS in terms of global popularity. What are the differences between them and BTS?
"Pop idols in Japan today are characterized by the concept of being 'ordinary,'" Ota said. They are not perfect, they make mistakes and they use TV, which is a common medium, as their main activity base. While there is still an aspect of them being dream boyfriends for fans, fans feel close to contemporary pop idols rather than adore them. Their fans come from all generations. Pop groups SMAP and Arashi are perfect examples.
"A pop idol is your life's partner who lives in the same sphere as you and always gives you encouragement. This is an aspect of Japanese culture that has been created over 50 to 60 years," Ota said, adding that even if they garner a certain level of popularity throughout Asia, they are still essentially domestic stars.
Add TheJapanNews to your Google News feed.