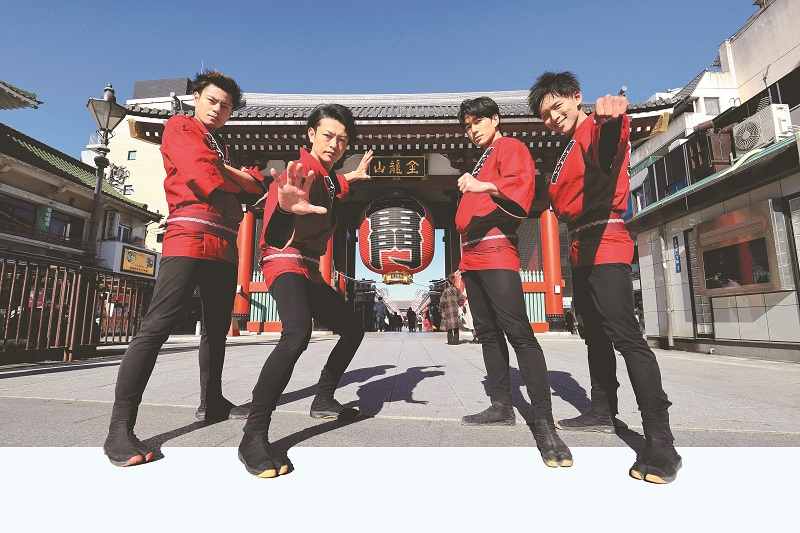 11:00 JST, April 2, 2021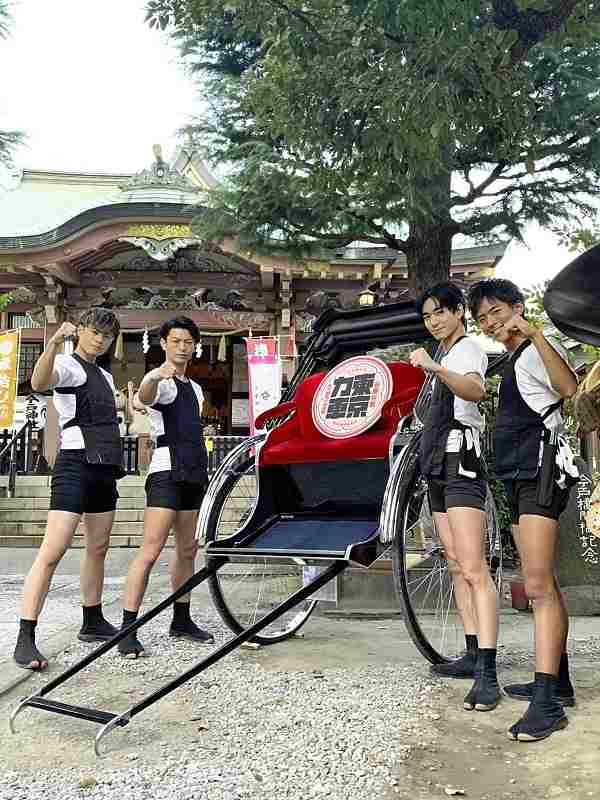 A group of rickshaw men not only offer their hospitality to tourists, they also have a hit single that reached No. 1 on the weekly Oricon hit single rankings in the enka and kayokyoku Japanese pop song category. With muscles, smiles and hospitality, the members of Tokyo Rikisha, or Tokyo-Rickshaw, sweat on stage and the streets as the local pop idols of Asakusa, Tokyo.
The unit's four men — Yuichi Tai, Takuya Ishibashi, Zeo Watanabe and Kazunari Shiragami — all belong to the rickshaw operating company Tokyo Rikisha. Ishibashi joined the unit through an audition held in 2017, after the initial members left. Watanabe passed an additional audition in the same year, followed by Shiragami and Tai in March 2018.
The new single featuring two songs, "Tenka Gomen no Dateotoko" (Free-wheeling dandies) and "Kizuna — Nakama e" (Bond — to our friends), was released on Nov. 18 last year and quickly climbed to the top of the Oricon rankings.
The Yomiuri Shimbun interviewed the quartet.
The Yomiuri Shimbun: So you took part in auditions for the vocal unit while continuing work as rickshaw men?
Ishibashi: When I was 23, I found out about the audition for Tokyo-Rickshaw. I had never seen a rickshaw in my life back then, but I always had the dream of being a singer in the back of my mind, so I applied on impulse and came from Shizuoka to Tokyo.
Watanabe: I wanted to perform in front of others, so I had no problem going on stage while also working as a rickshaw man.
Shiragami: I learned about the audition after working as a rickshaw man for about six months. I originally wanted to work in the music industry, so I felt connected to the group's concept of spreading Japanese culture through rickshaws and music.
Ishibashi: Many other rickshaw men are actors or comedians. They are also dream chasers. It's a job that lets you interact with other people. It's also OK even if you work once a week.
Tai: At the audition, I was asked to show off whatever skills I have, so I played the guitar. When I was working as a wedding planner, I appeared on a TV romance variety show, on which I played the guitar and performed a song to which I wrote the lyrics and music. I went overseas for that show and rediscovered all the great things about Japan, which is another reason I applied to become a Tokyo-Rickshaw member.
Q: If the audition recognized your star quality, what does being a rickshaw man do for you?
Ishibashi: I found it physically very tough even though I was a pitcher for my baseball team in junior high and high school.
Watanabe: I had a hard time learning and remembering the history of Asakusa.
Tai: There are so many things we need to do for this job. Driving techniques, knowledge about the Road Traffic Law, guiding people around Asakusa, as well as conversation skills. We must often guess what the client wants, whether it's photos, information, food, or whatever else.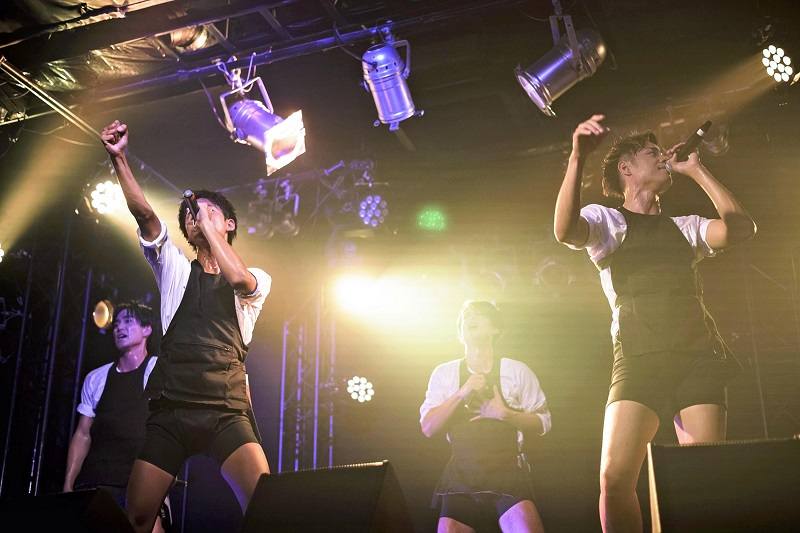 Juggling shows and rickshaws
Q: What do stage performances and rickshaw work have in common?
Shiragami: We need to make plans to entertain our clients for both. A while ago, I took a married couple to the Matsuchiyama Shoden temple, a spot believed to have spiritual power, where I witnessed the husband surprising his wife with a new wedding ring after she had lost hers. Rickshaw men are like handymen. I felt like I had received a piece of their happiness,
Ishibashi: I don't speak English, but when I guided foreign tourists with my Japanese soul and the samurai spirit, they were delighted and thanked me with hugs and handshakes, which is a good memory. It was the moment when I overcame the language barrier.
Q: Can we still ride on your rickshaws?
Watanabe: It makes me happy when people make reservations. Of course, we can give you a ride without a reservation, too.
Shiragami: People tell us, "You really do exist."
Q: Isn't it difficult to balance stage performances and working as rickshaw men?
Tai: During the Golden Week holidays in spring, we sometimes run 20 to 30 kilometers in one day, and we also had to do two shows then. We were just gasping for air.
Ishibashi: It's all that adrenalin running through you, though! When we finish our rickshaw jobs in the early evenings, we start rehearsing the dance, the songs and acrobatics. It's tough, but we are driven to deliver good shows to the audience. We call our audience our company. We really owe them so much.
Watanabe: The first show I did was at the Japan Expo in Paris. We practiced every day for three months.
Shiragami: We were both excited and nervous, thinking "Are we really performing overseas right off the bat?"
Watanabe: The audience response [in Paris] was crazy.
Tai: Rickshaws really stood out. Actually, there are rickshaws in France, too, which are called pouse-pouse, so rickshaws are familiar to the French people.
Ishibashi: Asakusa is pretty well-known, too.
Watanabe: One audience member who bought our tenugui cotton towel we sold in Paris later came to our show in Asakusa, and they put the tenugui on their head.
Ishibashi: People overseas tell us they like rickshaws because of the way we dedicate ourselves to the work. We are also rediscovering good things about being Japanese.
Mutual support
Q: How has the pandemic impacted you?
Tai: People are disappearing from town, and I'm feeling that a lot. Shops are closed, then they become vacant. We have no work unless there are tourists, so we'd like to lead the way to revitalizing Japan.
Ishibashi: In that sense, our single "Tenka Gomen no Dateotoko" is a song that makes you feel like you're at a festival.
Shiragami: The lyrics of the song "Kizuna — Nakama e" on the same single has a line that goes, "Hanaretetatte, aenakutatte, sasaeraretenda" (Even if we are apart, even if we can't meet, we feel supported). I can sing that line feeling that's about me. It makes me realize that line's true when we're supported by people who watch our shows online, for example.
Watanabe: Entertainment is essential to our lives. We keep on going because we want Japan to be in great shape again.
Add TheJapanNews to your Google News feed.