Taiwan Mangaka Shares His Thoughts on Visit to Fujio A's Japan Hometown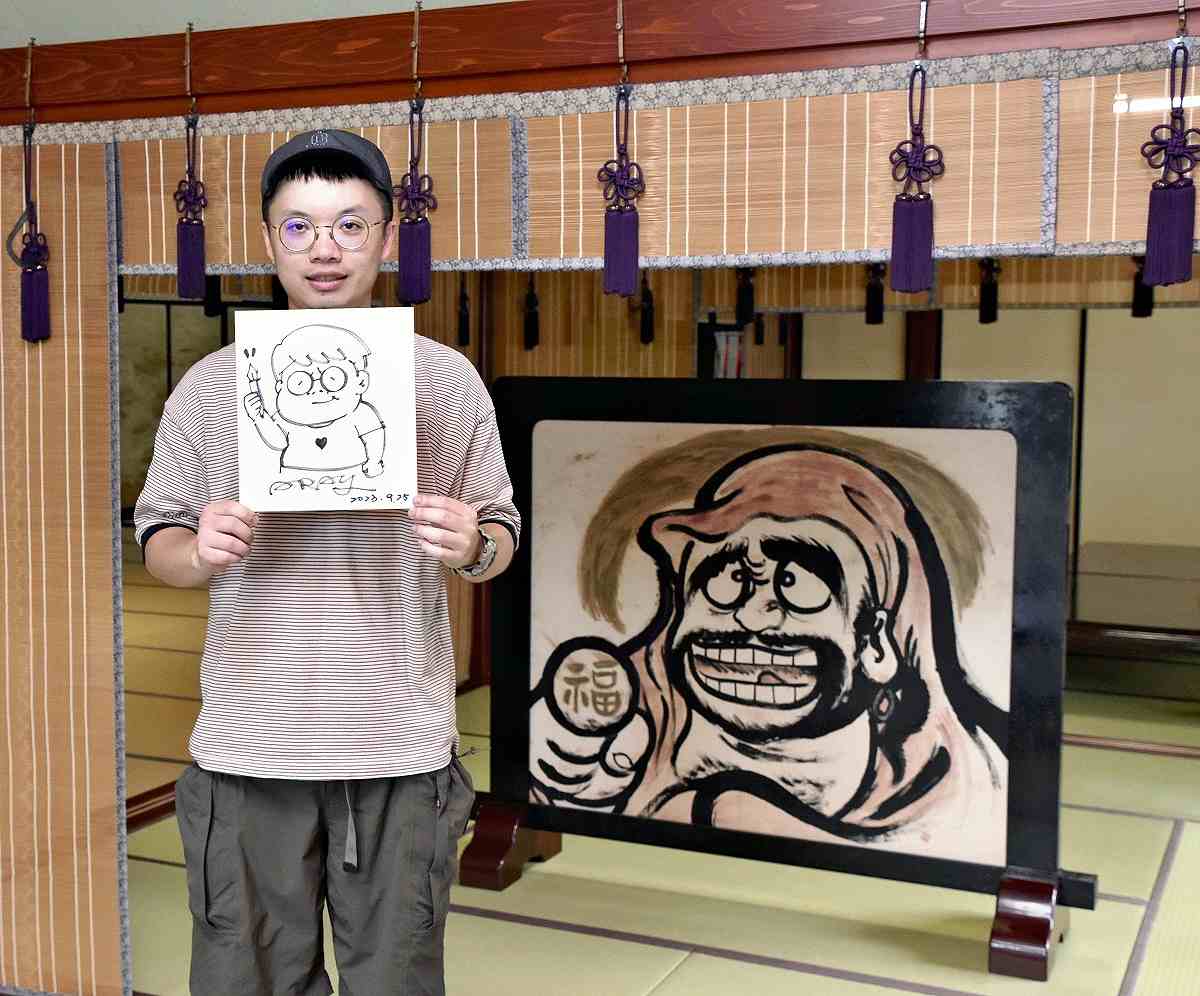 6:00 JST, October 19, 2023
HIMI, Toyama — Popular Taiwan mangaka A Ray recently visited the port city of Himi in Toyama Prefecture. The 38-year-old creator was invited by the local government in connection with one of his works that referenced Himi-native mangaka Fujiko Fujio A, who passed away at age 88 in April last year.
A Ray's manga creations, which are known for putting a satirical spin on social situations, have helped him attract more than 800,000 followers on social media.
He stayed in the city from Sept. 21 to Oct. 7 and is planning to release a work about the area sometime in December.
The following are excerpts from A Ray's interview with The Yomiuri Shimbun:
***
The Yomiuri Shimbun: How did you learn about Fujiko Fujio A?
A Ray: Works by Fujiko Fujio A and Fujiko F. Fujio, such as "Ninja Hattori-kun" and "Doraemon," are popular in Taiwan, too. I first encountered their creations while attending junior high school and high school. I hold [Fujiko Fujio A] in high regard as a manga artist, not only for his works for kids, but also his originality and ability to clearly express his intentions in works including "The Laughing Salesman."
Yomiuri: What was your impression of Himi during your stay?
A Ray: I've been to Japan before as a tourist, but it was the first time for me to actually live in the country. I felt as though I was in a movie because I was so close to the sea. Kozenji temple, where Fujiko A was born and raised, was particularly impressive. I saw the desk that Osamu Tezuka gave him, and Fujiko's handwritten manuscripts. A priest asked me for my autograph, and it was truly an emotional experience to be able to draw my manga in the temple, albeit fleetingly.
Yomiuri: What did you find attractive about the city?
A Ray: I saw yellowtail [a fish commonly associated with Himi] and characters from Fujiko A's works everywhere across the city — from manhole covers to lampposts. Fujiko seems to be the pride of all Himi residents; I was surprised to learn of the city's love for him. I've never seen such love from a community before.
Yomiuri: What was your favorite food and scenery?
A Ray: The yellowtail sashimi was great, even though it wasn't in season. I definitely want to come back during the winter and try it again. I also enjoyed Himi udon noodles, and the view of the Tateyama Mountain Range from Toyama Bay was amazing. I visited the same spot every day and the view was always different, depending on the weather.
Yomiuri: Can you tell us something about your plans for your upcoming manga?
A Ray: I'm still mulling various ideas, but I'd like to craft a number of four-frame comic strips — my specialty — to introduce Himi to people in Taiwan, and promote the charms of the city through a variety of themes.
Add TheJapanNews to your Google News feed.