Life-size Gundam in Yokohama reboots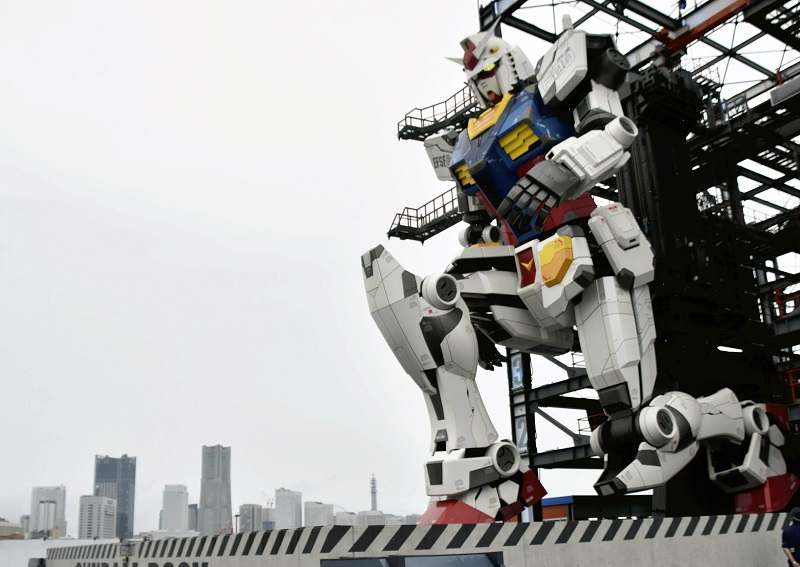 15:28 JST, July 17, 2022
YOKOHAMA — The Gundam Factory Yokohama (GFY) reopened Saturday following a two-month closure for required maintenance. The facility, located at Yamashita Pier in Naka Ward, Yokohama, displays a full-scale movable replica of the robot character.
GFY opened in December 2020 to commemorate the 40th anniversary of the start of the TV anime series, "Mobile Suit Gundam." The Gundam robot on display weighs about 25 tons and is about 18 meters tall, the same size as featured in the story. The robot can move its arms and legs in a striking performance accompanied with sound effects.
The huge robot's exhibition was due to end in March, but has been extended by an additional year. The GFY has also scheduled events until July 31, including a showing of the "Prologue" episode of the latest TV series, "Mobile Suit Gundam: The Witch From Mercury," which is to start in the autumn. Limited versions of Gundam plastic models are also on sale. A GFY Summer Fair event, in which food trucks and cafes will sell new collaboration goods, will begin on July 30.
A 37-year-old man from Imabari, Ehime Prefecture, said he traveled to Yokohama on a Shinkansen bullet train for five hours to visit the GFY site. "I had no other choice but to come, when I knew the extension of the period was decided. Now I feel rewarded for my long trip after I could see the dynamic Gundam replica from a close distance," he said.