Popular Japanese manga series 'Golden Kamuy' shines at special exhibition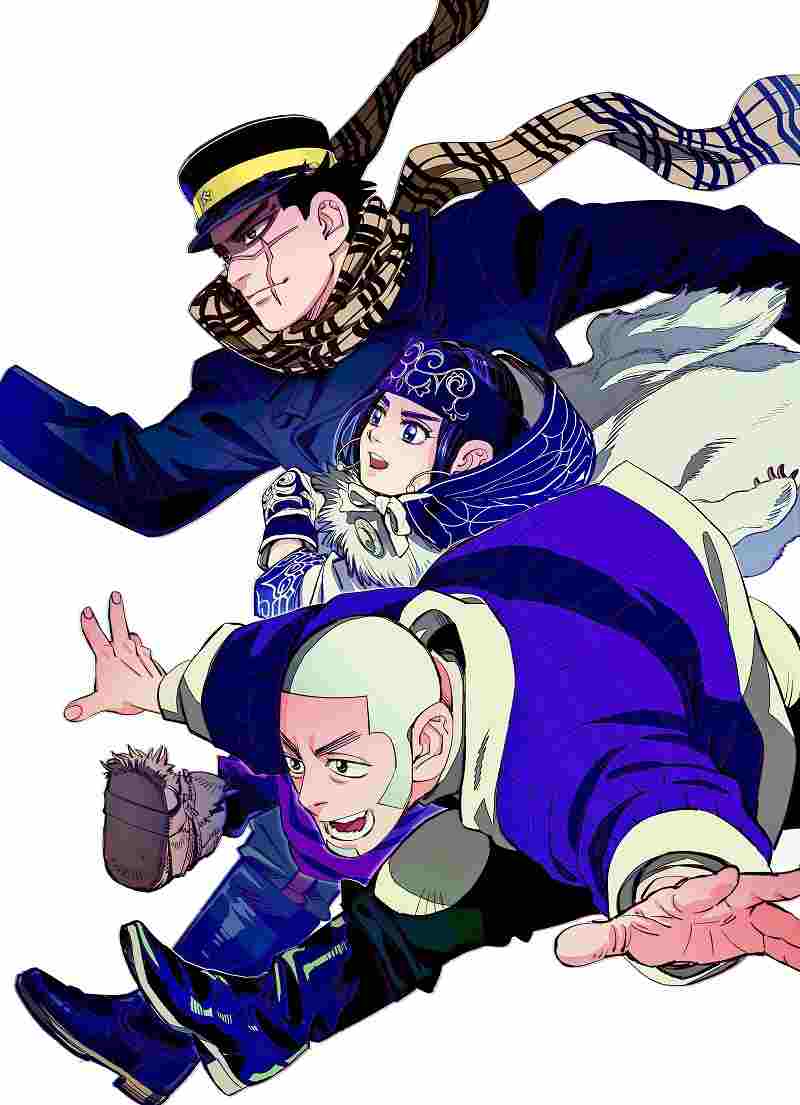 12:15 JST, June 17, 2022
Fans of "Golden Kamuy" are likely feeling a little down after the popular manga series recently ended following an eight-year run.
All is not lost, however. The recently opened "Golden Kamuy Special Exhibition" — featuring the characters, history, adventures, cuisine and comedy elements of the series — could help put a smile back on followers' faces.
Satoru Noda's "Golden Kamuy" revolves around Ainu culture. The Ainu are the indigenous people of Japan's northernmost prefecture Hokkaido and surrounding areas. The story follows Russo-Japanese War veteran Saichi Sugimoto and Ainu girl Asirpa and their endeavors to track down hidden hoards of Ainu gold. The treasure, the location of which is encrypted and tattooed on 24 escaped prisoners, is also being sought by other groups, including one led by 1st Lt. Tokushirou Tsurumi of the Imperial Japanese Army's 7th Division.
The tale unfolds in Hokkaido and Karafuto — present-day Sakhalin in Russia — at the end of the Meiji era (1868-1912).
To date, the comic series has been collected into 30 volumes. As of April, more than 19 million copies of the books had been published.
Asirpa, the main character from the series, served as the lead image for "The Citi exhibition Manga," held at the British Museum in London in 2019.
Strange coincidence
The current exhibition kicked off April 28 in Tokyo, when the last episode of the story appeared in Weekly Young Jump, a comic magazine published by Shueisha Inc. The very last page of the series can also be seen at the exhibition, in addition to other illustrations.
According to Noda, it was "pure coincidence" that the show opened the same day that the final episode was published.
"I decided how to end the story years ago," the mangaka confessed. "I didn't want to end it quietly in a safe way, nor did I want to give it a bad, twisted ending. I felt I should tackle readers' [emotions] head-on, but at the same time create something that gives them a good laugh. I believe it's a satisfying ending for many readers."
The discovery of the gold foreshadows the tale's conclusion. Sugimoto, Asirpa and their friend Yoshitake Shiraishi finally crack the mystery of the tattooed map and are showered with gold dust at the bottom of a well. This scene evokes a famous verse from "Ainu Shinyoshu," a collection of Ainu deity songs compiled and translated by Yukie Chiri.
©Satoru Noda / Shueisha


Gold dust falls like rain onto the protagonists. ("Golden Kamuy," Vol. 29, Episode 287)
"From the earliest days [of writing], I'd pictured an image of gold dust falling like rain," Noda said. "I wanted to make the discovery scene dramatic."
This emotion-packed moment makes the story's denouement even more intriguing. "Golden Kamuy" is a masterpiece of the Heisei and Reiwa eras, and its eventual outcome beautifully lives up to readers' expectations.
Surprisingly real
Upon viewing some of the items on display at the exhibition, I began to feel as though Sugimoto, Asirpa, Tsurumi and the Ainu characters in the manga existed in real life.
The exhibits include a military cap resembling Sugimoto's trademark headgear, an Ainu matanpus headband similar to that worn by Asirpa, and an intricately carved makiri knife akin to those carried by Ainu characters in the manga.
A dolman military jacket with a rib-like pattern — evoking Tsurumi's attire — also can be seen.
©Satoru Noda / Shueisha


A small makiri knife, left, produced by Mitsuo Kaizawa, and a matanpus headband, both owned by Satoru Noda
Many of the exhibits come from Noda's vast personal collection of artefacts, which he gathered over the years to use as reference points in his work.
"Golden Kamuy" has been highly acclaimed by many Ainu for the meticulous depiction of their culture. This fastidious level of detail in the stories is due to Noda's in-depth research, interviews and use of reference materials.
Ainu culture
"We have to preserve our culture by passing it on to new generations of Ainu," Asirpa declares during the final episode.
Noda notes: "Through my work on the series, I learned that the Ainu people have created a unique culture and passed it on to their descendants, and I became aware that many wajin [the term for non-Ainu Japanese] including scholars, have studied, documented and helped to preserve the culture. 'Ainu Shinyoshu' was jointly compiled by linguist Kyosuke Kindaichi and Yukie Chiri.
"I met many Ainu people who were involved in cultural preservation and researching their folk items, and many Ainu craftspeople who make traditional folk tools, as their predecessors have done for generations, passing the items on to their descendants. Everyone was happy to cooperate with me.
"Many of the knowledgeable researchers and museum curators involved in preserving Ainu culture that I was able to interview were wajin. The first volume of my manga depicts the persecution and discrimination of Ainu by wajin, and the Ainu gold, which is central to the work's plot, is a fund to resist exploitation and persecution by wajin. I also depicted stories of ethnic minorities who were persecuted by Japan and Russia. I included depictions that could be uncomfortable for wajin.
"However, I was very keen to convey the positive reality that Ainu culture is being passed on to future generations through the joint efforts of Ainu and wajin. I wanted to make these points known at the end."
The "Golden Kamuy Special Exhibition" runs through June 26 at Gallery AaMo in Tokyo Dome City, Bunkyo Ward, Tokyo.
Hours: 9 a.m. to 8 p.m. on weekdays, 11 a.m. to 8 p.m. on weekends (Last admission at 7:30 p.m.)
Admission: ¥1,800 for adults and university students, ¥1,500 for junior high and high school students and ¥1,000 for elementary school students. Tickets for Saturdays and Sundays are sold out.
The exhibition will move to Kyoto this summer and Fukuoka this autumn, respectively.
For more details, visit
https://goldenkamuy-ex.com