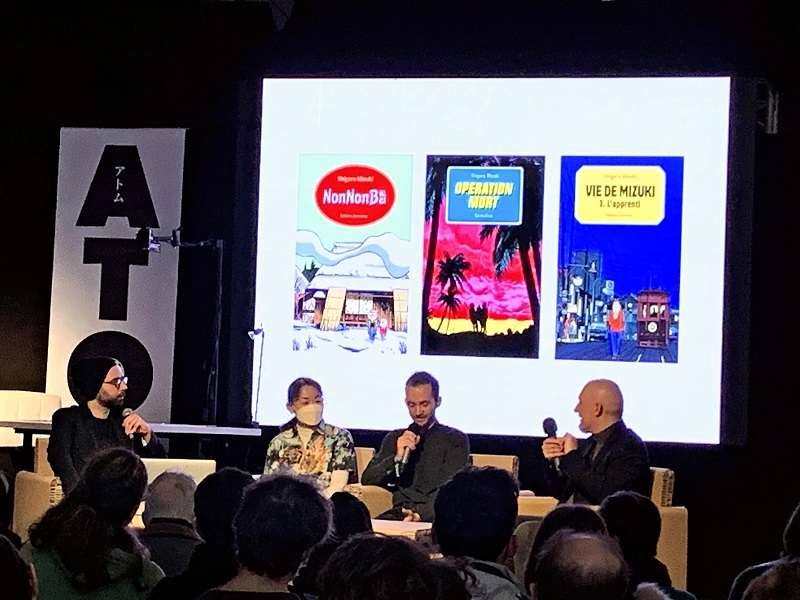 16:50 JST, May 26, 2022
A retrospective commemorating the centennial of Shigeru Mizuki's birth was held in Angouleme, France, where a collection of original drawings by the prominent postwar mangaka was exhibited.
It is said to be the first time a collection of Mizuki's original drawings has been shown overseas. Mizuki died in 2015.
"Shigeru Mizuki, Contes D'une Vie Fantastique" (Shigeru Mizuki's fantastic life), which ran from March 17 through April 3, was held in conjunction with the Angouleme International Comics Festival.
The exhibition consisted of three parts: Mizuki's philosophy on drawing, his biography and autobiographical adaptations into manga, and the world of yokai ghosts and goblins.
About 200 original paintings and other items were selected from a broad perspective, including works on the autobiographical essay "Nonnonba," war chronicles and the famous manga "GeGeGe no Kitaro."
The festival's Mizuki catalogue sold out in two days.
"The booth selling his catalogue had the longest line at the festival," said exhibition curator Leopold Dahan, who is also a translator. "Many people in France wanted to see Mizuki's original drawings. They were interested in viewing his work, which shows us the invisible world."
Mizuki Productions' director Naoko Haraguchi, who is Mizuki's eldest daughter, flew to France and participated in a talk with two curators.
"I was expecting to be asked about yokai and Mizuki's personality," Haraguchi said. "But, the audience showed interest in his drawings, which are characterized by a combination of fine lines and simple characters. I learned the difference of interests between Japanese and French audiences."
The Angouleme Festival held an Osamu Tezuka exhibition in 2018, and since then has exhibited work by Taiyo Matsumoto and Yoshiharu Tsuge.
"Tsuge pursued his inner life more than art, while Mizuki made his own life into manga," said Dahan. "I wanted the audience to experience the whole picture of postwar Japanese manga, which is not limited to commercial works."
Add TheJapanNews to your Google News feed.