Mystery manga reveals contradictions in society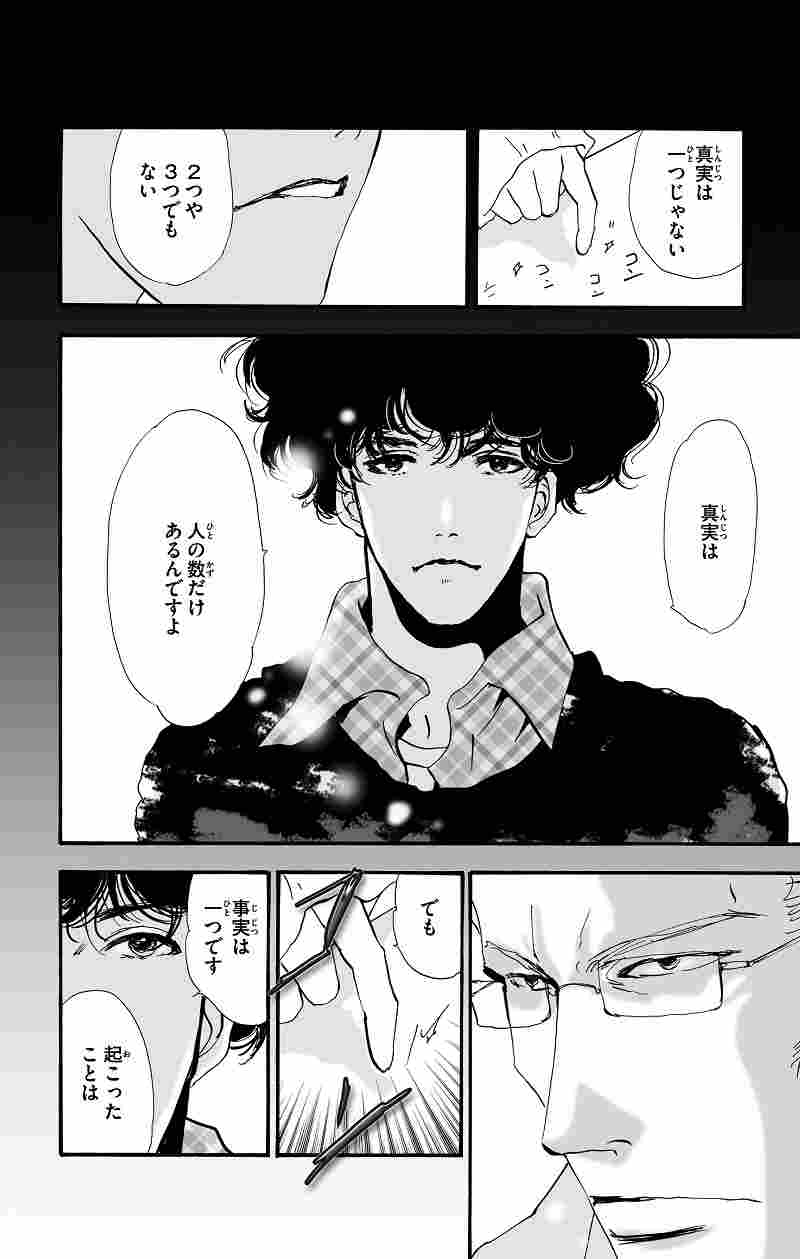 12:30 JST, April 8, 2022
The manga "Misuteri to Iunakare" (Do not say mystery) has been attracting attention for the straightforward and insightful way the protagonist tends to calmly and matter-of-factly state things in the middle of a case.
Totonou Kuno's words reveal contradictions in everyday life that are hidden in society, and reflects the doubts and theories of author Yumi Tamura.
Totonou, who has excellent insight, does not hesitate to voice any questions he has. He also points out facts and people's feelings, which they themselves are not unaware of, to save their soul or solve a case.
"I decided on the manga title because I didn't mean to create a mystery manga," Tamura said. "It's not my style to present materials in the manga to allow readers to deduce a case, either. I don't think Totonou himself intends to deduce a case."
Exchanging lines
The manga was first published in the January 2017 issue of the monthly comic magazine Flowers as a one-shot comic. It has been serialized in the magazine since 2018. So far, there have been 10 volumes published.
In the conversation-based story, Totonou gets involved in various cases, including a kidnapping incident and an inheritance problem, but he does not actively try to solve them. While talking with the people involved, he finds out the truth or brings to light distorted relationships, or the cruelty and foolishness of mankind.
"Totonou often prevents an incident from occurring or a worst-case scenario from happening," Tamura said. "But they are the results, not goals. I think the manga's central theme is that Totonou talks about various facts and interpretations with people, makes observations, sticks to words and thinks."
Tamura chose the conversation-based style for the manga because she enjoyed the exchange of lines in a play she saw. For Tamura, who was running the science fiction and survival manga "7SEEDS" in a magazine when she started creating "Misuteri to Iunakare," it was also a challenge to try a new manga style. "7SEEDS," which depicts young people living in a future where Japan has been destroyed, was in the final stages of its serialization at that time.
Societal bias
"Misuteri to Iunakare" reveals various social biases, too. Among the people depicted in the manga are a female detective who is stressed out because she isn't allowed to do actual detective work and is assigned menial tasks in a male-dominant police society, a woman neglected by her family because she cannot bear a child and a woman who was forced to quit her job to raise her child.
What Totonou tells these people reflects the doubts or anger Tamura herself has toward a society where people cannot live freely or easily. Totonou says in the manga: "Don't be fooled by so-called woman's happiness" or "It's a spell invented to fit women into a mold," for instance.
Tamura said she strongly decided to become a mangaka during high school after she felt anger toward the words of a male trainee teacher. According to Tamura, when she'd asked for career advice, he'd said that she can choose her career as she likes since she is a woman, but men can't decide their future in such a way.
Tamura said "Misuteri to Iunakare" is also "a manga in which Totonou studies how the system should be, to make things a little easier for people, regardless of gender, who are in a difficult situation now."
Over 14 million copies sold
Next year marks the 40th anniversary of Tamura's debut as a mangaka. In "Misuteri to Iunakare," she changed the style of drawings, too, compared with "7SEEDS" and "Basara," both her representative works. Having already sold more than 14 million copies of "Misuteri to Iunakare," Tamura said she feels like the manga has been nurtured by her fans and readers.
"Some people call this manga a mystery, others say it isn't," she said. "I think there should be as many impressions as there are people. I hope people will get a feel for the manga freely."