'JoJo's Bizarre Adventure' creator still paving the way with 'JoJolion'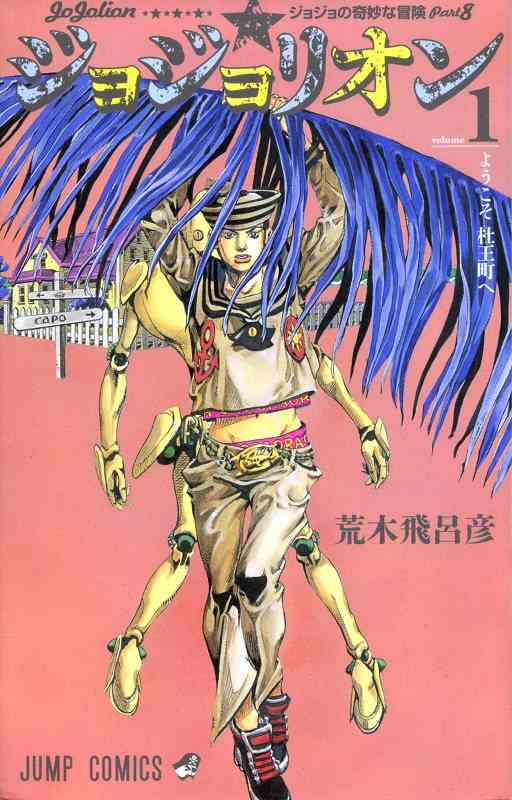 10:27 JST, October 15, 2021
This installment marks the 200th edition of the Kanta on Manga column. It may have gone unnoticed, but in deciding which manga to take up, I have followed a humble rule of choosing only one work per mangaka. I took up one anthology in my 77th column about "Tanizaki Mangekyo," so strictly speaking, I have introduced 198 works by 198 authors, plus several others. In the beginning, I wasn't sure how long I would be able to continue with this rule, but so far, over the past 6½ years, I've seldom had any trouble selecting a manga work to write about. On the contrary, I still have not written about a few big names in manga.
So, I will use this opportunity to introduce you to one such ace figure, Hirohiko Araki, and his manga "Jojolion," which completed its run in September with its 27th volume.
Araki is already a world-renowned creative artist who has had his work displayed at the Louvre Museum in Paris. He is best known for "JoJo no Kimyona Boken" (JoJo's Bizarre Adventure), which was originally serialized in 1987 in Shukan Shonen Jump weekly manga magazine. The story is about the Joestar clan, which has ancestral roots in Britain. They are confronted by various enemies, such as vampires born out of the curse of a stone mask and other superhuman beings from the past, and the Joestars fight them through the generations, transcending time and space. The series' appeals and charms are too numerous to list — but a few include an idiosyncratically warped posture of the characters, lines that are like wise sayings and the use of games of wits in battles. Perhaps Araki's biggest invention may be the concept of "Stands."
In manga, psychokinetic power and other supernatural energies are usually drawn as invisible phenomena. Examples famously abound in "Akira" (serialized 1982-1990) by Katsuhiro Otomo.
Araki, on the other hand, visualized supernatural powers in the form of characters. A muscular warrior suddenly springs out from behind the protagonist, for instance, and begins to beat up the enemy, shouting "Ora, ora, ora!" (Hey, hey, hey!). These power avatars are called Stands, illustrative expressions of human psychic energy — with each Stand's shape and ability differing from character to character.
This artistic inspiration has brought about a revolution in battle manga involving supernatural powers since the beginning of the Heisei era (1989-2019). In fact, it would not be an exaggeration to say that all recent hit manga in Shonen Jump magazine are basically under the influence of Araki. This is why he is respected and admired by mangaka and manga fans of the younger generation.
"JoJolion" is Part 8 of the nine-part JoJo series. The story is about a battle between rock humans and the Higashikata family over a miraculous fruit that can cure any and all illnesses called "the nut of locacaca." Rock humans, who live a completely different mode of life compared to human beings, and the Higashikata family, who are descendants of the Joestars, fight each other using their Stands. The story is set in a city modeled after Araki's hometown of Sendai. Called Mori Oh Cho, the city has an extraordinary backdrop that was brought about by a great earthquake.
Part by part, the Stands become more and more bizarre. The Stand of the enemy boss that the protagonist Josuke Higashikata faces last is, surprise, surprise, a disaster. Our ability as humans to fight something that seems too overwhelming to handle is the central theme — which is most likely a strong reflection of Araki's earnest hope and desire: Recovery from the quake disaster.
It has been officially announced that the JoJo series will be completed with Part 9. That means there will be only one more part to go, as "JoJolion" is Part 8. Even after the series run of 34 years, there is no hint of stereotypical repetition from this mangaka. Thanks to his skills and genius, we can always get excited with anticipation, wondering what he will come up with next.
Add TheJapanNews to your Google News feed.