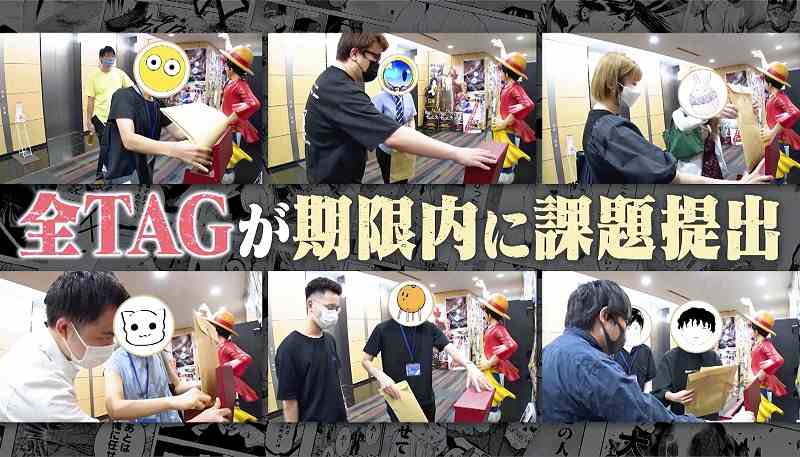 11:00 JST, October 8, 2021
Promising mangaka and skilled editors form duos to compete with other teams for the chance to have their manga become serialized in an online magazine and be adapted into an anime. The three-month-long competition is chronicled in a YouTube show called "Million Tag."
The competitive reality show can be viewed on the Jump Channel, which is the YouTube channel for Shonen Jump and other Jump magazines published by Shueisha Inc. The publishing company teamed up with Netflix to produce the show with the aim of finding new mangaka talent and promoting manga and anime worldwide.
The show follows six editors, who each choose a mangaka they want to work with, out of about 200 applicants. Each team develops its own manga, and they are given challenges that gradually become more difficult. The challenges include having to draw a four-page manga, making a storyboard and character design. The winning mangaka will receive ¥5 million and their manga will be published in Shonen Jump+, Shueisha's manga smartphone app, as well as having a hard copy published by the company. Furthermore, Netflix will produce the manga's anime adaptation, which will stream in more than 190 countries.
Cameras are set up in the studios of each mangaka to record the team's progress over the three months, including any meetings and prototype sketches. The finale was streamed on Aug. 20, and after hours of deliberation, the judges, including Yuji Kaku, who created the popular manga "Jigoku Raku," declared Naoki Fujita the winner.
"Million Tag" was created by the editing team of Shonen Jump+.
"When I thought about the branding of Shonen Jump+, I was convinced that the best way was to show how good our editing team is," said Shuhei Hosono, the app's editor-in-chief, adding that streaming would be the ideal way to let viewers see what meetings between a mangaka and their editor are like.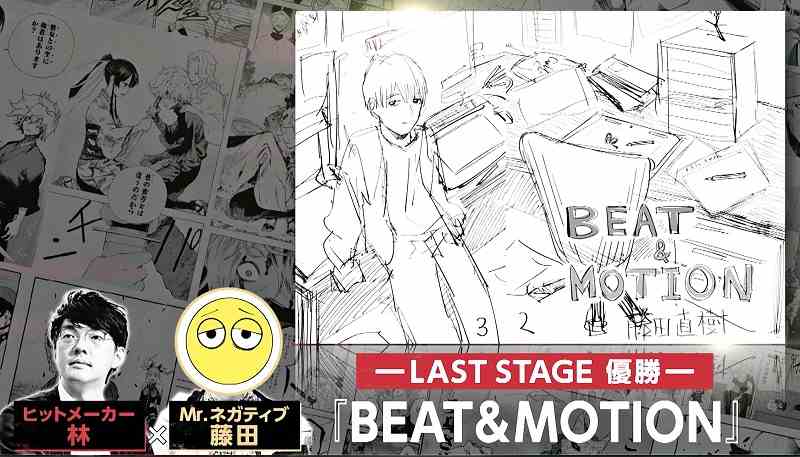 As expected, the scenes about the manga-making process showed heated exchanges between mangaka and the editor as they went back and forth from arguments and reconciliations. It is a good show as it lays out the professions of mangaka and editor in an easy-to-understand manner.
Even though their faces are all hidden in the show, it is clear the mangaka are all very different, such as being good at creating battle manga or drawing women.
Anime adaptations are usually based on manga that are already popular. However, this time, the anime will be adapted from a fresh series with an unknown future.
"It's a challenging project, but Netflix has made its name by introducing works that are neither famous nor adapted from existing works," said Kohei Obara, Netflix's anime producer. "It's not about whether the work is well-known or not, it's more about how to make something interesting."
Said Hosono: "By collaborating with Netflix, the work will be able to reach anime fans overseas. Making an anime adaptation is important in that respect, too."
Hosono said the project received positive feedback from viewers.
"Perhaps it gave those aspiring to become a mangaka an honest glimpse into the job," he said. "I'm hoping to use the show to promote Shonen Jump+."
Winning creation

The Yomiuri Shimbun


Naoki Fujita draws manga in his studio.
"Beat & Motion," the winning manga created by Fujita, depicts an animator's and a musician's thoughts on their creative processes as well as their relationships with those around them. Fujita said he got the idea from his own experiences in junior high and high school.
"I chose what I can draw from my cache of ideas," he said.
He was paired with editor Shihei Lin, who worked on "Chainsaw Man," a popular manga by Tatsuki Fujimoto. It was Lin's idea to make the protagonist an animator.
"[Lin] gave me many ideas, including some about the core parts of the story," Fujita said. "I was impressed that the commercial approach to making manga focused on minute details such as the title."
Fujita was humble about the anime adaptation and said he felt a huge sense of responsibility.
"I want to draw pictures and storyboards that will allow animators to have fun, even just a little," Fujita said. "I want to do a good job so a lot of people will watch the show."
Add TheJapanNews to your Google News feed.