Japanese anime company, Netflix open school to train next generation hand-drawn animators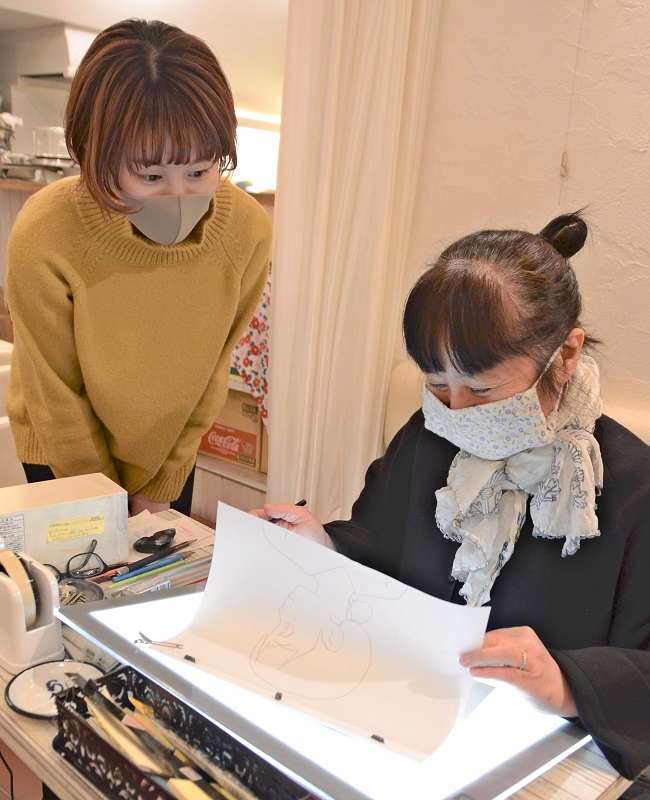 11:13 JST, July 8, 2021
In an effort to preserve the art of hand-drawn anime, a Japanese anime production company and Netflix have jointly opened a school to teach the skills and techniques required to become a successful animator.
The global animation market is expanding, but there has been a chronic shortage of people who can hand-draw anime in Japan. The school is referred to as "animators' juku" (a cram school for animators), and aims to nurture animators and help Japanese animation companies become more well-known overseas.
The school is located in Nishi-Ogikubo, part of Tokyo's Suginami Ward. It is managed by anime production company Wit Studio, Inc., anime training institute Sasayuri Doga Kenshujo and Netflix.
Out of about 400 applicants, only 10 students have been selected to take a six-month course that will teach the skills and techniques required to hand-draw characters in motion.
"To draw [characters] in motion is the foundation of anime," said instructor Hitomi Tateno, 60, of Sasayuri Inc. "Once the animators learn that skill, it will be easier for them to master other techniques."
Tateno has worked on animated movies by Studio Ghibli Inc., including "My Neighbor Totoro" and "Spirited Away."
Most anime produced in Europe and North America uses computer graphics, but Japanese anime, which is characterized by its fluid motion, is primarily hand-drawn using paper and pencil. Japanese anime is internationally acclaimed, but the animators who raised the bar during its golden age are growing older.
"In an industry where animators develop their skills by observing a senior animator's techniques, it's difficult to properly train newcomers," said George Wada, 42, president of Wit Studio. "We want to create a system in which we can develop and train new animators."
Wada said that certain techniques can be learned at places like vocational schools, but many students have not developed the level of skill required to work at an animation studio after graduating, creating confusion at workplaces.
"We want to show people at home and abroad that the world of anime production in Japan is a place where someone can achieve their dreams," said Taiki Sakurai, 44, a chief producer at Netflix.
Netflix provides financial support by covering living expenses and tuition for select students. After completing the six-month course, they will be able to work as contractors with Wit Studio or another animation studio.
In the future, the school also plans to develop a training program for other positions in the industry besides animators.
Most animators in Japan are freelancers, according to the Association of Japanese Animations, so the exact number is unknown. An industry report released by the association showed that combined sales of anime production companies in Japan have been setting new records for 10 years straight.
In 2019, sales totaled ¥301.7 billion, up 13% compared to a year earlier.
Theaters have been hit by the COVID-19 pandemic, but orders from abroad for anime production have increased. As a result, the Japanese anime distribution business is expected to remain brisk.
Add TheJapanNews to your Google News feed.