'Miraijin Saijo' a time travel saga that ponders the contemporariness of manga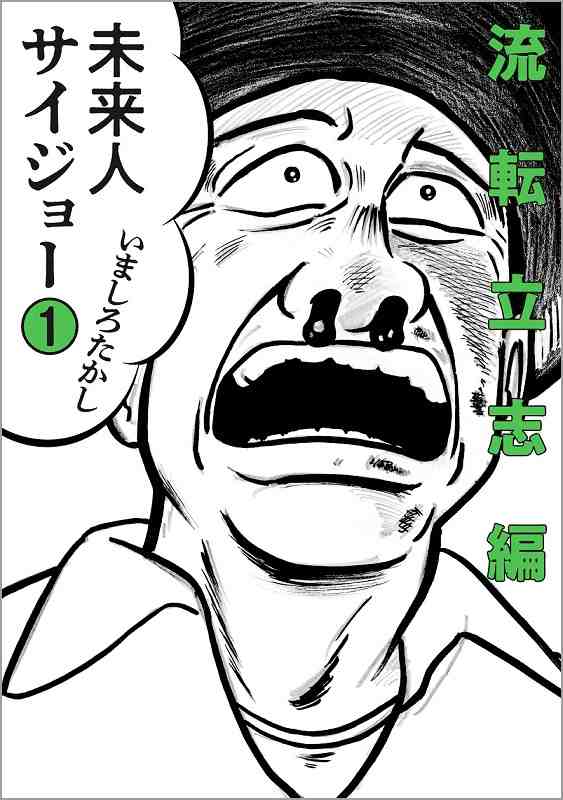 10:30 JST, June 18, 2021
In the autumn of 2020, amid the COVID-19 pandemic, Hiroshi Saijo is 50 and without a wife or child. The protagonist of "Miraijin Saijo" has been working for the past 30 years as an assistant for Tetsuro Maki, an old-time B-grade mangaka. One day, Maki suddenly dies while taking a bath. Saijo finds himself out of a job and decides to go back to his hometown.
On his way, however, Saijo is beaten up by a drunk in Osaka. When he comes to, he has somehow slipped back in time to the year 1970. There, he meets Susumu Kitagawa, a young man aspiring to become a mangaka. Taking on the role of mastermind, Saijo plots to organize Susumu's professional debut.
Time travel stories never disappoint — or so I would have declared several years ago. But, with so many time travel manga nowadays, it has become a mixture of wheat and chaff. I was afraid that "Miraijin Saijo" might be more chaff, but it turned out to be splendid wheat. I would say this is one of the best manga in the first half of 2021.
Kaiji Kawaguchi once drew a manga based on an original story by Tetsuo Fujii about a Japanese Beatles cover band that slips back in time before the Fab Four's debut and releases Beatles covers before the real Beatles. In "Miraijin Saijo," Saijo makes Susumu draw a complete copy of none other than the great masterpiece "Hokuto no Ken" (Fist of the North Star). This idea alone made me laugh out loud.
However, "Miraijin Saijo" goes on to take an unexpected turn. Even with the knowledge of the future as well as more than 30 years of manga expertise, Saijo cannot help Susumu attain as big a success as they hope. The real "Hokuto no Ken" was not serialized in the Weekly Shonen Jump manga magazine until a decade later. And Saijo eventually comes to realize the importance of timing and context for a manga to become a big hit.
At the beginning of the manga, an editor wearing a mask says to Saijo, "We're in an age when most people have no time for manga." These days, the manga industry is showing growth due to an increase in digital copy sales, but only a handful of mangaka can rely solely on their craft. Many of them end up becoming assistants to other mangaka for life, just like Saijo. In the 1970s, manga was not yet recognized by the public as a form of culture. Yet the manga industry was full of dreams, hopes, ambitions and a sense of "anything goes." How did all that passion and energy disappear? It becomes apparent, slowly but surely, that this indeed is the true theme of "Miraijin Saijo."
Imashiro made his professional debut in 1986 and has drawn "Hard-Core Heisei Jigoku Brothers" (Hard-Core Heisei Hell's Bros.) based on an original story by Carib Marley, among other works. But I'm sorry to say Imashiro is not a big-name artist. His drawings are rough around the edges and look like old-time gekiga (serious manga for adults). In "Miraijin Saijo," however, this old-fashioned style perfectly fits the subject, to a moving, almost sentimental extent.
All three volumes of "Miraijin Saijo" were released at the same time, which is unusual, but they definitely deserve to be read in one sitting. It is a time travel story with a unique twist. Did Saijo change the history of manga, or not? Those who read this work will probably come to their own conclusions, and I'd really love to discuss this manga with them.
Add TheJapanNews to your Google News feed.