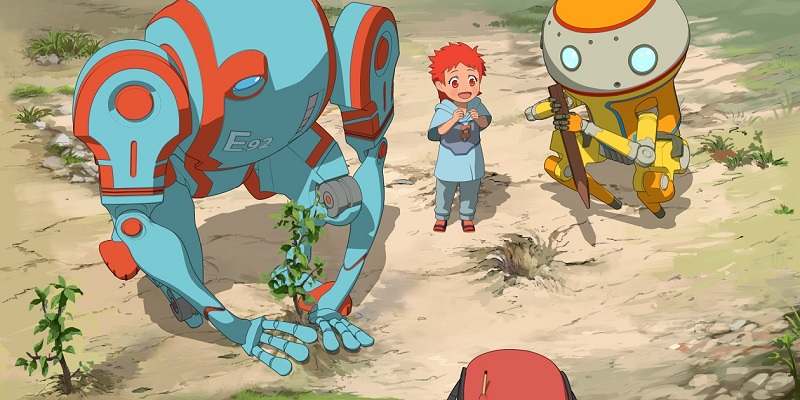 11:00 JST, June 18, 2021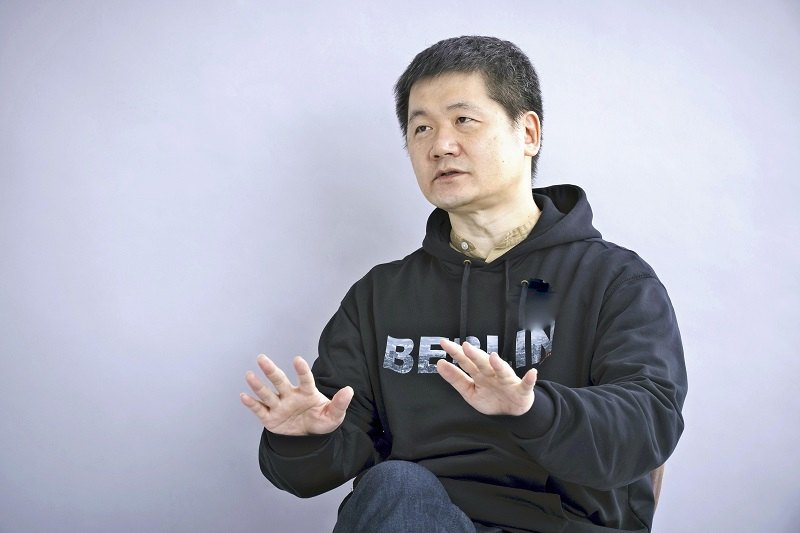 "Eden," a new Netflix-exclusive animated series that debuted on May 27, depicts the life of Sara Grace, a young human girl growing up in a world inhabited solely by robots. The series, consisting of four 25-minute-long episodes, was born from the collaborative effort of talented creators from around the world.
"We've created a very uplifting piece of entertainment," said director Yasuhiro Irie. "We were able to intricately express the deep emotional bonds between [the characters]."
The story begins when two agricultural robots, designated E92 and A37, come across a capsule containing a baby human with the name Sara written on it. Because humans are considered evil in this world called Eden, the two begin to secretly care for the child as her foster parents.
Sara, who grows into an inquisitive young lady, begins to delve into Eden's mysteries, such as why are there no other humans besides her and why humans have been deemed to be evil.
The series was planned by American producer Justin Leach, who sent Irie an enormous amount of information. "The robots' code of ethics and character outlines were laid out in such detail," Irie said of the information he'd received. "The fact that this could become a challenge unlike any I'd undertaken before was a huge draw [to become involved in the project]."
With the 3D computer graphics handled by Taiwanese staff, the backgrounds created by Chinese staff and the music composed by a team in Australia, the production team boasts quite an international vibe. Staff from Japan, including character designer Toshihiro Kawamoto, also took part in the series' production, which took about two years.
"At first I was worried that there might be a language barrier, but there was absolutely no problem at all," Irie said.
Although Irie has directed many popular series, such as "Fullmetal Alchemist," this was his first experience with creating a series using 3D computer graphic animation. "I didn't do anything special. I used the same expression techniques I use for hand-drawn animation," he said, adding, "I was sure that [using 3DCG animation] I would be able to create intricate characterization and dynamic movements that I hadn't been able to achieve by hand until that point."
Irie said he was particularly surprised by the robots' smooth movements created by the Taiwanese production company.
While the robots in the series are expressionless, they convey their emotions through gestures. It's funny and heartwarming to see robots wishing each other a "Good charging" instead of a "Good night." On the other hand, the robots are diverse, and those of hostile forces are portrayed as inorganic, emotionless soldiers.
Irie wasn't just particular about the way the characters moved, but also the way they felt and thought. "How does one feel when they lose someone precious? I directed it in such a way as to give people the sense that these twisting and conflicting feelings the characters experience also exist in the real world."
For the series' Japanese version, he selected Marika Kono to serve as the voice actor for Sara, and cast veteran Koichi Yamadera as Zero, her biggest rival, in order to "express complex emotion."
Irie said: "There are various themes including family and society. I hope viewers will enjoy coming to understand just what sort of girl Sara is."
Add TheJapanNews to your Google News feed.