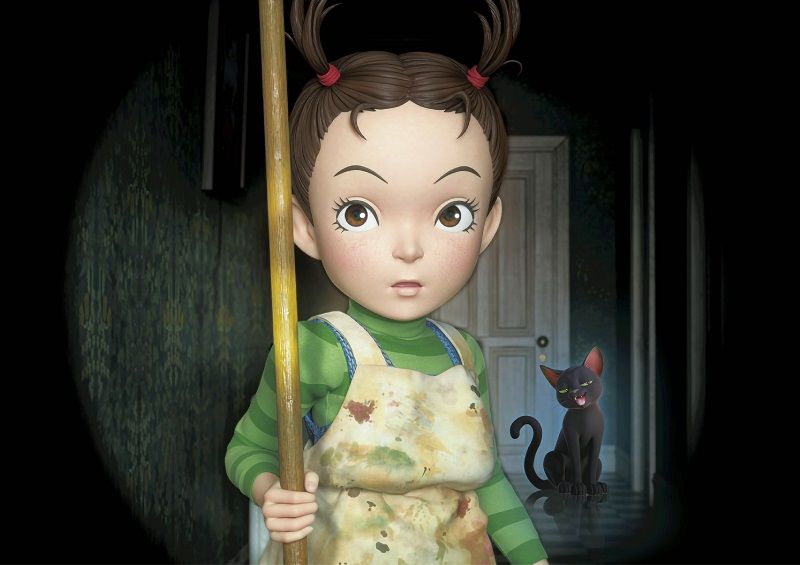 11:00 JST, May 28, 2021
When Studio Ghibli's animated film "Aya to Majo" (Earwig and the Witch) was broadcast on TV in December last year, its tough main character created quite a stir.
Earwig, or Aya in the Japanese version, is a 10-year-old girl who grew up in an orphanage. She gets into a bad situation when she's adopted by the mean witch Bella Yaga and the strange man The Mandrake, who force her to do all the household chores and make magic potions. But Earwig is a strong girl who never cries.
After all, her real name, given to her by her mother, means "to manipulate." Earwig used to do whatever she wanted at the orphanage and skillfully manipulate the head teacher and other adults. Now she's ready to make her new housemates obey her.
Based on a novel by Diana Wynne Jones, the film is now slated for a theatrical release, although the COVID-19 pandemic has delayed the start date. It was directed by Goro Miyazaki, known for the Studio Ghibli animated films "Gedo Senki" (Tales from Earthsea) released in 2006 and "Kokurikozaka kara" (From Up on Poppy Hill) in 2011.
He was puzzled at first when his father, Hayao Miyazaki, gave him the book "Earwig and the Witch," asking, "What do you think of this?"
However, the more he learned about Earwig, "The more I could see that she shared so many traits with today's children," the younger Miyazaki said.
"Unlike the old days, the population of children today is very small [in Japan]. They're surrounded by adults, whom society prioritizes over children. Even looking at my own son, I feel that he's at a disadvantage. They have no way to escape the situation," he said.
The same goes for Earwig. Surrounded by shady adults, she's alone and can't run away. That's why she uses her wits to make herself comfortable.
Earwig has the strength to think hard and take action, and the resilience to keep going no matter what.
"I thought if I could emphasize those points through Aya, it could be a fight song for children living in difficult times," he said.
After watching the first preview, his father told him: "It was interesting!" giving his stamp of approval to the film.
"That was the first time that Hayao Miyazaki told me that," the younger Miyazaki said.
The film has a total of 1,063 shots and took more than 3½ years to produce. It was chosen as one of the 56 films in the Official Selection 2020 for the 2020 Cannes Film Festival, which could not be held in its conventional form due to the pandemic.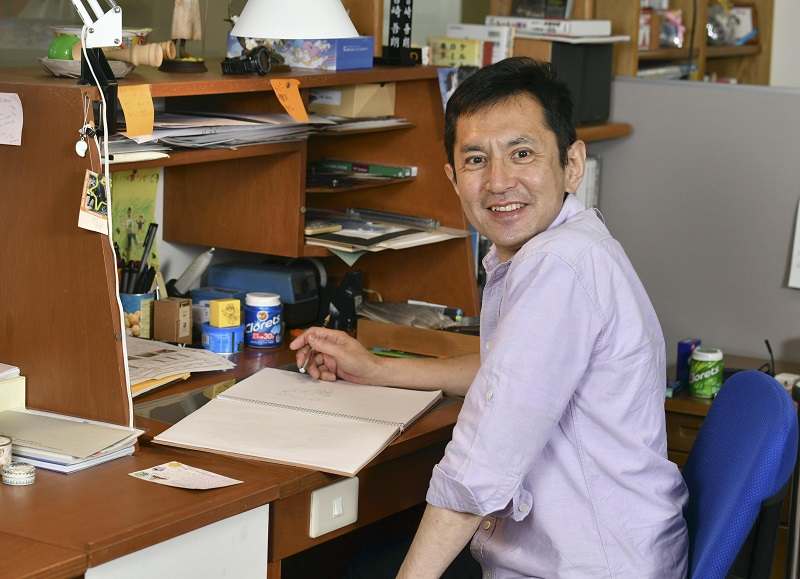 The new challenge
Born in Tokyo in 1967, Goro Miyazaki worked as a construction consultant involved in park design and urban green planning before joining Studio Ghibli in 1998.
After completing "From Up on Poppy Hill" about 10 years ago despite his father's "fierce interference," producer Toshio Suzuki told him, "If you don't do anything, you won't be able to be free from Mr. Miya's [Hayao Miyazaki's] influence. Why don't you go and train somewhere else?"
Suzuki added, "From now on, you should use CGI [computer-generated imagery] instead of hand-drawn pictures."
And so, despite his reluctance, he left Ghibli and worked on the TV anime series "Sanzoku no Musume Ronja" (Ronja, the Robber's Daughter) together with a digital animation production company. With this story about a girl growing up in an old castle, he unexpectedly discovered the great potential of digital animation.
"Making pictures move requires a high level of skill. It's very difficult. Using CGI allows us to smoothly show casual gestures and acting in everyday life. I prefer to express daily life in a way that's similar to a live-action film, as in 'From Up on Poppy Hill,' rather than stories with lots of jumping and hopping. [CGI] is a method that suits my nature."
After completing the 26-episode series, he returned to his old studio. At the time, Studio Ghibli was gradually reopening its production department, which shut down after the 2014 film "Omoide no Marnie" (When Marnie Was There). Then Miyazaki met Earwig in 2016.
The hardships of being a director
This film is the first full-length 3DCG film by Ghibli, which has been a leader in hand-drawn animation in Japan.
Animators from Malaysia, Indonesia and other countries participated in the 3DCG production. Some animators from Taiwan participated remotely even before the novel coronavirus pandemic.
"I used to think it was impossible to have meetings online, but now I know it can be done. I never imagined it would become the norm," Miyazaki said.
It wasn't easy to follow in the footsteps of his father and become an animated film director, especially when he started treading that path in his late 30s.
"I felt like I was sitting on a bed of nails," Miyazaki said with a bittersweet look, referring to the time when he announced that he was going to direct "Tales from Earthsea."
For other staff members, he was just an inexperienced employee who suddenly appeared. Just because he was Hayao Miyazaki's son, did not mean he knew how to direct. "It was natural if they doubted my directing ability. I had no choice but to try to dispel [their animosity]," he said.
His father also harshly opposed the idea, saying: "There's no way you can do it. A film director becomes a director once a film is made. It doesn't matter if you've made many films or just one. Do you understand how hard and painful it is?"
His son remembers that he made a desperate reply on the spot, "No, I don't!"
No matter how hard it is, he had a story to tell.
"Even if there's only more turmoil in the future, I hope that people won't be trapped by the desperate feeling of 'This is the end.' To put it simply, this is how we can stay happy," he said.
Keeping his sense of mission within him, Goro Miyazaki will continue to search for stories that will make children and adults feel a bit more optimistic after watching them.
Add TheJapanNews to your Google News feed.