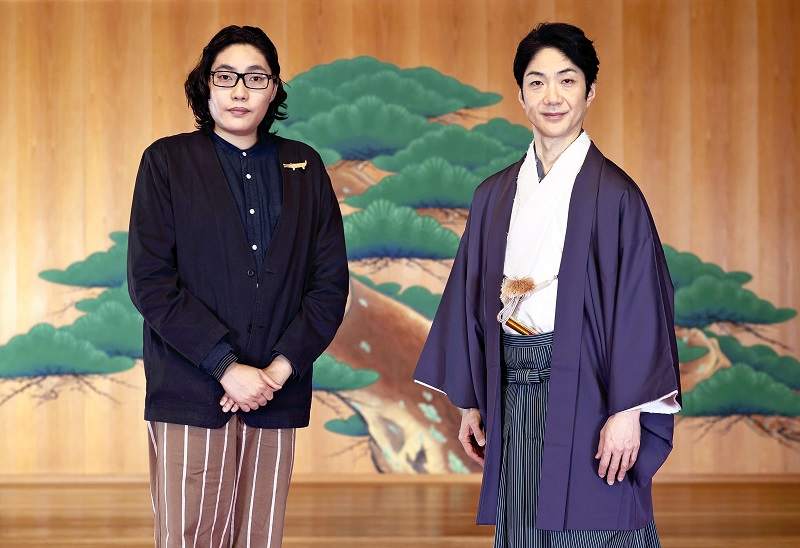 12:21 JST, May 26, 2022
The popular manga "Demon Slayer: Kimetsu no Yaiba" by Koyoharu Gotoge will be adapted for the traditional theater genres of noh and kyogen and can be seen at noh theaters in Tokyo and Osaka later this year.
The director of the production, Mansai Nomura, is a performer from the Izumi school of kyogen. The writer for the stage adaptation is Yuichi Kinoshita, head of the Kinoshita Kabuki troupe. The troupe is known for performing traditional kabuki plays, but from a different perspective.
Nomura and Kinoshita have been working to blend the traditional aspects of the theater with modern ideas.
The manga, often referred to as "Kimetsu," was serialized in Shonen Jump, a weekly magazine by Shueisha Inc., from 2016 to 2020. When the TV anime adaptation aired, its popularity skyrocketed and it became a pop culture phenomenon.
The story follows a boy named Tanjiro Kamado, whose family was killed by demons, as he joins a group that works to eradicate demons. He also tries to find a way to turn his demon-turned younger sister Nezuko, who survived the attack, back into a human. Together with his fellow slayers, Zenitsu and Inosuke, Tanjiro has to fight Muzan Kibutsuji, the main antagonist and originator of the demons.
In the stage adaptation, Tanjiro and Nezuko are both played by Yuichi Otsuki, Zenitsu is played by Yuki Nomura, Inosuke is played by Taichiro Nomura and Muzan Kibutsuji is played by Mansai Nomura.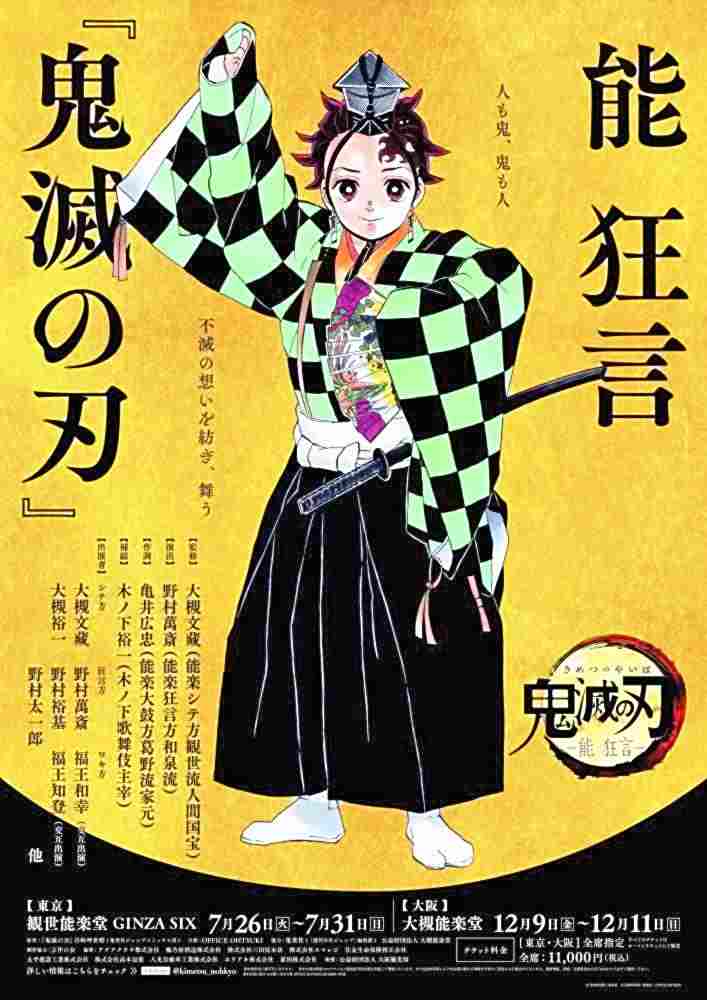 Due to the anime's immense popularity, it has been adapted in other ways, including a novel and a video game. In consideration of the fans, these works are usually faithful adaptations of the original.
In this respect, it seems difficult to adapt "Kimetsu" into noh and kyogen, which have distinctive performance styles.
Nomura said it is very challenging for him, even though he is known for performing works outside of kyogen, such as Shakespeare adaptations.
"I will show the audience a unique take [on the material] that cannot be seen in other genres by using everything I have learned so far," Nomura said.
Noh and kyogen do not rely on stage settings or props, but instead, encourage the audience to use their imagination.
"For example, on stage, we use a fan to represent a sake cup, a vase, a sword or other objects," Nomura said. "It's not a realistic representation of the object, but it can be said to be an aesthetic of subtraction, meaning that less is more beautiful."
"I want to utilize various techniques that will push the audience to use their imagination, as well as create a world that is new and unexpected for them, while still being appropriate for noh and kyogen productions," he added.
The script is based on Nomura's plans, but Kinoshita uses the writing skills he has gained through trying to expand the possibilities of classical theater.
Kinoshita said the manga has many attractive elements, such as the growth of the protagonist, the generational war between humans and demons, and family bonds.
After carefully reading the manga, Kinoshita decided to use the "goban date," which means "five-play program" and is a traditional performance structure of noh and kyogen.
Noh and kyogen are said to be twin performing arts. Noh plays are usually tragedies, while kyogen plays are generally comedies and often performed as an interlude of noh plays.
Depicting demons
In the five-play structure, five noh plays — each from one of the five categories of noh — are performed in order. Each noh category has a different type of protagonist and a different mood.
"To show the audience the appeal of noh and kyogen, we will organize chapters from several volumes of the manga into five plays as an omnibus edition," Kinoshita said. "It will move pretty quickly during the about 2-hour performance."
He said he boldly reorganized the story to follow noh and kyogen styles while being respectful to the original work.
"We will show flames and waves on stage without the use of computers," Kinoshita said. "It is important for us to create a world that will come to life through the imagination of both the performers and the audience."
The final category of noh, called "kiri-noh," usually features non-human lead characters, such as demons and other supernatural beings.
The stage adaption will include Rui, a boy demon played by Bunzo Otsuki, a living national treasure and a performer from the Kanze school of noh.
In the noh and kyogen repertoire, there is a group of plays in which demons are the protagonists called "onimono." These demons can range from frightening ones, who wish to harm humans, to more humorous ones, who are more amiable.
"Depicting demons is the forte of noh and kyogen," Nomura said. "In some plays, demons are depicted as having more human characteristics than actual humans."
The "Kimetsu" manga goes into the background of some demons and shows how they were when they were still humans. Although they are evil and are destined to be eradicated, demons in "Kimetsu" are depicted as being very human. The ability to make demons empathetic characters is something it shares with noh and kyogen.
Noh often focuses on the emotions of those who lost in battle, appearing as ghosts in many noh plays expressing their frustrations with people and their regrets, Nomura said.
"In the play, I want to act as a mirror, reflecting the sadness of the demons," he said.
The tagline, "Hito mo oni, oni mo hito," meaning humans are demons, demons are humans, is meant to express that thought, Nomura said.
Kinoshita said the message that stood out to him after reading the manga is: "We have to live for those whose lives were cut short. We are able to live because many people died before us.
"We should think about how we can accept those who have died, including in recent natural disasters and conflicts," he added. "I want to make a play that'll suit the people of today who are living in a peaceful time."
The tickets for the Tokyo performance scheduled for July 26-31 at the Kanze school's noh theater is sold out. More information regarding the Osaka performance at Ohtsuki Noh Theatre on Dec. 9-11 will be released on the Lawson ticket website in early July.
Add TheJapanNews to your Google News feed.