More chances for youngsters to try traditional arts in pipeline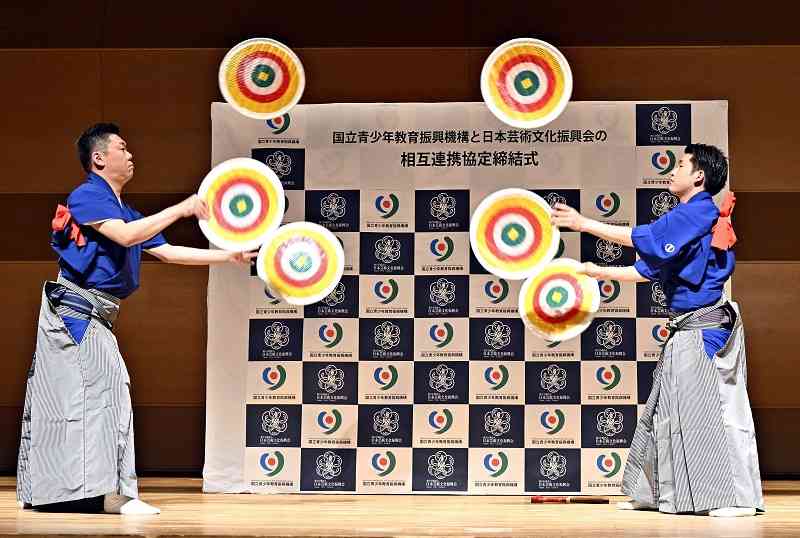 12:00 JST, April 25, 2022
The National Institution for Youth Education and the Japan Arts Council have signed an agreement and announced they will work closely together to give young people more opportunities to experience – and become familiar with – Japanese traditional performing arts.
The signing ceremony, which was held in Tokyo on Thursday, featured a traditional juggling act performed by Senshiro Kagami and Sennari Kagami as part of the celebrations to the mark the occasion.
The institution operates 28 facilities across Japan, including the National Olympics Memorial Youth Center in Shibuya Ward, Tokyo, where people can experience and practice various activities. The council runs venues such as the National Theatre in Chiyoda Ward, where traditional Japanese arts are performed on stage, and trains artists and personnel involved in performing arts.
The ceremony included the release of a plan to provide chances for people to experience traditional performing arts at facilities operated by the institution. In addition, kabuki actors and other performers will train at a facility in the youth center while the National Theatre is being rebuilt from autumn 2023.
Institution President Kazu Furukawa and council President Junko Kawamura said they would also consider ways to provide users of the center with opportunities to meet and interact with people training in traditional performing arts.
Arrangements are being made to provide chances to try traditional performing arts at an event for children to be held at the center and other venues on May 28. Advance registration is required to participate in this event.
Add TheJapanNews to your Google News feed.