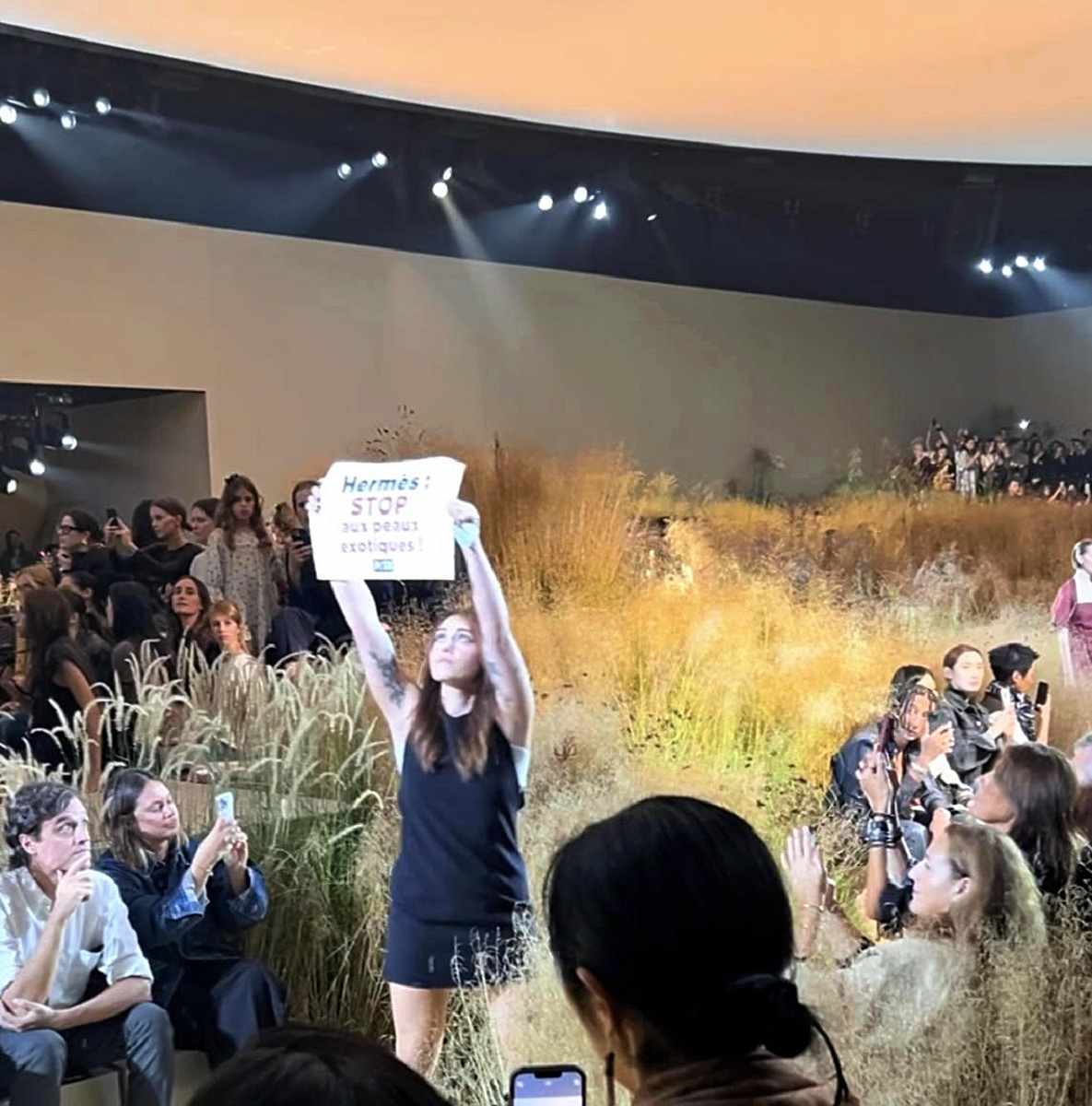 7:00 JST, November 19, 2023
At the latest Paris Fashion Week that ended in October, a woman caused a scene by crashing the show of French luxury brand Hermes and holding a sign overhead that read "Hermes: Drop Exotic Skins."
The woman is an activist from the global animal rights group PETA, which opposes the use of "exotic leather" such as crocodile and snake skins. The group made similar protests this autumn at shows by Coach in the U.S., Gucci in Italy, and Burberry in Britain.
Exotic leather had come into vogue following an intense campaign against mink and other furs, which had long been the symbol of luxury fashion.
As they did with furs, the major brands are rethinking their use of exotic leather made from rare creatures in response to growing awareness among consumers of the importance of protecting animals and conserving nature.
Crocodile and alligator skins are particularly popular as exotic leathers, and are used by a number of luxury brands to make wallets, bags, belts, and other products.
According to the World Conservation Monitoring Centre of the U.N. Environment Programme, an annual average of 1.42 million alligator or crocodile skins were distributed worldwide from 2012 to 2021. Of that, 90% were from animals farmed for their skins and meat.
Animal rights groups have worked to inform consumers through social media of the appalling conditions of alligator and crocodile farms. They have also bought stock in Burberry, Ralph Lauren and other brands, using their power as shareholders to demand a ban on the use of the skins.
The efforts have paid off. In 2018, Chanel announced it would cease the use of alligator and crocodile skins, and Burberry followed suit in 2022.
Attitudes among consumers are also changing. A 60-year-old homemaker in Tokyo, who has a history of purchasing leather bags, said: "Recently, I feel that I don't want to be fashionable if it means animals have to suffer."
Tokai University Prof. Shuichi Ito, a specialist on animal welfare, said concern for animals is beginning to spread worldwide.
"Since the 2000s, laws have been established in Europe that require businesses to take into consideration the stress on animals being raised," he said. "The idea of putting importance on animal welfare is a global movement."
It is no longer rare for investors to inquire about a business' stance on animal welfare when considering making an investment in the firm.
Setting their own standards
The products have a quite loyal fan base. A 53-year-old self-employed man in Tokyo, who has been using a crocodile bag and similar products for a decade, said, "As they are rare and luxurious, I feel inspired when I have them."
Some brands have established their own standards in the procurement of alligator or crocodile skins.
Luxury brand conglomerate LVMH, which includes French brand Louis Vuitton, established procurement standards for such skins in 2019 as a show of social responsibility. The criteria stipulates that efforts must be made to help preserve the species by doing business with farms that properly raise the animals.
The company also set up new workshops for exotic leather products in February last year in France.
Hermes similarly asserts that it uses leather from alligators and crocodiles raised with full consideration of the farm environment and the working conditions of farm workers.
Aiming to produce sustainable items, some brands have started to use new types of artificial leather that rely neither on animals nor petroleum.
British brand Stella McCartney is among several firms that use a mushroom-based artificial leather developed by a U.S. company for its bags and other products.
"There is an increasing number of consumers stating their views through social media," said Komazawa University Prof. Yuko Nishimura, author of the book "Hikaku to brand" (Leather and brands). "If a brand is judged to lack empathy for workers, the environment or animals, it could lead to a boycott campaign. We're in an era now in which brands need to place importance on ethical issues."
Add TheJapanNews to your Google News feed.