12:00 JST, July 7, 2023
Japan's first convenience store is thought to have opened in Toyonaka, Osaka Prefecture, in 1969, as part of a chain that no longer exits.
Nowadays, the domestic convenience store industry is led by Seven-Eleven Japan Co., which, as of the end of May, boasted more than 21,400 stores nationwide, followed by FamilyMart Co., with about 16,500 shops as of the same date, and Lawson, Inc., which had about 14,600 outlets as of the end of February. These three operators dominate the "conbini" landscape, accounting for about 90% of all convenience stores in Japan.
The Japan Standard Industrial Classification defines convenience stores as self-service stores that sell food and beverages and have a surface area of between 30 square meters and 250 square meters.
According to the latest Preliminary Report on the Current Survey of Commerce by the Economy, Trade and Industry Ministry, there were 56,232 convenience stores in Japan in 2022, with sales amounting to almost ¥12.2 trillion. The bursting of the bubble economy in the early 1990s signaled a sweeping change in Japan's retail industry, with a switch away from department stores, general merchandise stores and supermarkets to shopping malls and convenience stores. Now, following the impact of the novel coronavirus pandemic, e-commerce appears to be becoming the primary force in the industry.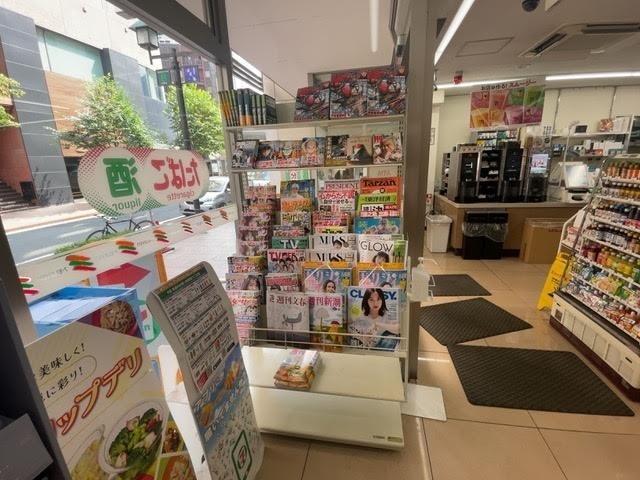 Looking ahead, convenience store operators face two considerable challenges. Firstly, magazine sections could eventually disappear from convenience stores. Such sections created new sales channels for print publications as convenience stores gained popularity in the 1990s. However, young people have become less and less dependent on magazines, and those who buy magazines at convenience stores these days tend to belong to older generations. With the easing of the pandemic, overseas tourists have become a staple in convenience stores. However, non-Japanese tourists do not tend to buy Japanese-language publications. Resultingly, some convenience store outlets have begun removing magazine racks to make space for other merchandise in line with demand from overseas tourists.
The other noteworthy issue can be traced to FamilyMart, which since March 2021 has been selling basic clothing. The codeveloper of the Convenience Wear brand is up-and-coming designer Hiromichi Ochiai, who was born in 1977. Ochiai has participated in fashion weeks in Tokyo and Paris with his brand, Facetasm.
The Convenience Wear lineup includes ribbed socks, no-show socks, various T-shirts, boxer shorts and eco bags, among other items. Items are sold in transparent packages and generally cost from about ¥400 to ¥2,200. The quality of the products is a notch or two above the usual "emergency" clothing sold by convenience stores, such as shirts or underwear.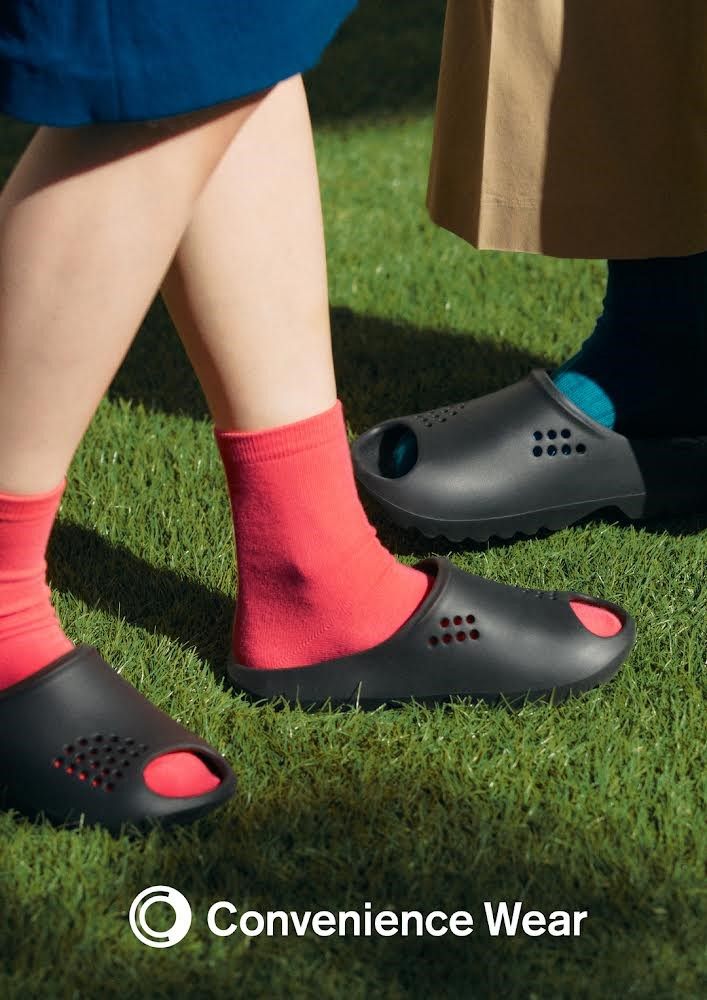 Two years on, the Convenience Wear brand has won many new fans and become a fixture in FamilyMart outlets, which, as of Aug. 4 2022, boasted seven times more domestic outlets than Uniqlo's 2,394 store presence globally.
Ochiai has worked with FamilyMart in realms other than clothing, too. In November 2022, the company began using colorful Ochiai-designed packaging for mobile phone accessories, combining practicality and visual appeal.
In March 2023 — shortly before the opening of the professional baseball season — the chain store operator began selling Convenience Wear products, including towels and socks, in collaboration with the Hiroshima Toyo Carp baseball team at about 720 FamilyMart stores in Hiroshima and numerous other cities in the Chugoku region.
In addition to small towels and boxer shorts jointly produced by Hawaii Aloha shirt brand Reyn Spooner, the Convenience Wear brand has also launched its first line in footwear — a pair of sandals costing ¥2,990.
Sooner or later, the Convenience Wear brand may have its own brick-and-mortar stores.
---
Akira Miura
Miura is a journalist and a former editor in chief of WWD Japan.
---
Add TheJapanNews to your Google News feed.