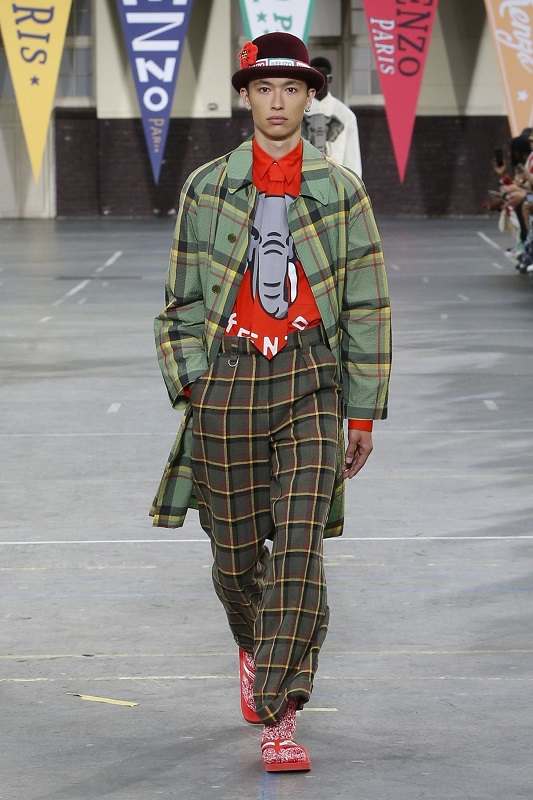 12:00 JST, January 6, 2023
A new year has begun, and with it a new chapter in the history of Japan's fashion industry. To think about where we are going, it helps to remember where we have been. So here is a look back at major developments in 2022 that will likely continue to shape the fashion landscape in 2023. Newsmakers include big-name designers, fast fashion companies and Japanese trading firm Itochu.
The torch is passed
The deaths in 2022 of Hanae Mori and Issey Miyake, two of the most iconic Japanese designers to have won international fame, were big losses for the fashion industry in Japan. But last year also saw Nigo, who got his start as a popular designer on Tokyo's "Ura-Harajuku" (backstreet Harajuku) scene, present his first collection as the artistic director of Kenzo, a brand under LVMH, in Paris in January.
I really felt the changes of the times as I saw Nigo become the first Japanese designer to win the artistic director post for a LVMH-managed brand as legends like Mori and Miyake passed into history.
Looking abroad, Gucci announced in November that Alessandro Michele, who expanded Gucci to become a $10 billion brand, was stepping down as its creative director, a position he held since 2015. In the same month, Tom Ford, who established the position of artistic director of a luxury brand with Gucci in the 1990s, said he would sell his own brand, Tom Ford, to the licensee of its cosmetic brand, Estee Lauder. The deal was valued at $2.8 billion.
Also in November, Raf Simons, the co-creative director of Prada alongside Miuccia Prada, revealed he would no longer be making collections for his namesake Raf Simons brand. I was surprised to learn that Simons, one of the most creative designers today, would focus on being a mercenary for a luxury brand. Such news drives home the changes in the role of fashion designers.
Currently, the fashion industry is eagerly awaiting news of who will succeed Michele, creator of a never-before-seen Gucci boom. Meanwhile, the post of men's artistic director for Louis Vuitton, held by Virgil Abloh, who died suddenly in November 2021 at 41, remains vacant as well.
Who will take these two major posts? This is probably the industry's biggest concern as it heads into 2023.
Shein's fast fashion impact
It was shocking that H&M Group, which placed second in industry rankings for the SPA (speciality store retailer of private label apparel) business — also known as fast fashion — said on Nov. 30 it would make 1,500 employees redundant.
Among the four major SPA brands, which are led by Zara, GAP was the first to begin slowing down, even before the pandemic started. Now H&M is likely to follow suit, meaning that only two of the big four have successfully weathered the pandemic: Inditex, the main brand of which is Zara, and Fast Retailing Co., the main brand of which is the third-place Uniqlo.
And now there is Shein, a rising star in the SPA market. The brand is managed by Roadget Business Pte. Ltd., a Singapore-based Chinese company. Since the company is unlisted, its details are shrouded in mystery.
Shein has an aggressive strategy for Japan. In 2022, the brand participated in Tokyo Girls Collection in March, opened a pop-up shop in Osaka in October and launched a showroom on Cat Street in Harajuku, Tokyo, in November.
Shein is a thoroughly D2C (direct-to-consumer) brand. This means that at the showroom, customers wishing to buy a Shein product must do so online through a QR code. It has been said for some time that the next leader of the SPA market will have a D2C system, and that shift has already begun in Japan. Watch for its effects in 2023.
Itochu's challenges
Three years have passed since the pandemic started. In Japan, Itochu Corp. is the company that took proactive action more than any other in the past year, with an eye on the post-COVID days ahead. The trading company made particularly aggressive moves in the field of sportswear. In April, the company acquired a majority stake in Dome Corp., which represents Under Armour in Japan, and formed a joint management system with the U.S. sports apparel company. Itochu also obtained the marketing rights and license rights to Reebok in May. In 2019, the company took over Descente Ltd. and improved its management.
This successful experience seems to have given Itochu the belief that there are sales to be had in sports, encouraging the company to go for more brands in that field. It will be interesting to see whether Itochu can break the dominance of Nike, Puma and Asics in 2023.
Courtesy of seventietwo.com


Above: Items from the spring and summer 2023 collection for Forever 21, which will return to Japan with Itochu Corp. as the master licensee and Adastria Co. as the sublicensee
Last year, Itochu also acquired master license rights to many other brands, including Eddie Bauer, L.L. Bean and Forever 21.
Of those, Forever 21 and Eddie Bauer are coming to Japan for the second time. It is a common belief in the fashion industry that second-time comers cannot succeed. Will they be able to break that pattern? Following acquisition of Forever 21's master license rights, Itochu sublicensed Adastria Co., and American Rag Cie is now operated by Leon International Inc. on Itochu's behalf. In addition, Itochu also set up a joint venture corporation with Mash Holdings Co. after obtaining the distribution rights to British lifestyle brand Barbour.
In any case, Itochu made quite a buzz in the fashion, apparel and sports gear industry in 2022. The result of the challenges the company has taken on will become apparent from 2023.
---
Akira Miura
Miura is a journalist and a former editor in chief of WWD Japan.
---
Add TheJapanNews to your Google News feed.