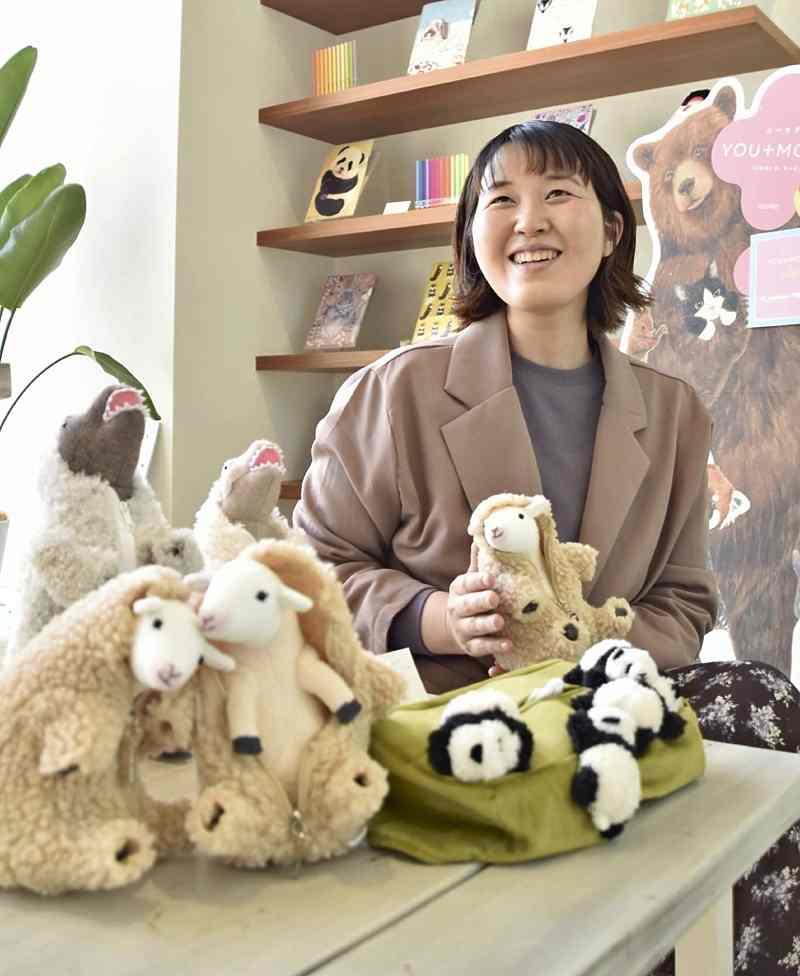 12:16 JST, June 24, 2022
KOBE — Leading mail-order company Felissimo has a brand called You+More!, which sells unique products for everyday life. Some of its more interesting items include a stuffed animal sheep that can be "sheared," a pillow in the shape of a gorilla with its arm out and a freshly molted Japanese spider crab stuffed animal.
"We create goods that make everyday items seem more fun and enjoyable," said Sayo Toyokawa, 39, who heads the creative team of You+More! at the Kobe-based company.
The ¥2,750 stuffed sheep, a collaboration with Rokkosan Pasture in the city's Nada Ward, can be "sheared" with the pull of a clipper-shaped zipper. Toyokawa's team spoke with sheep farmers numerous times to re-create the color and texture of the wool and the sheep's skin.
Courtesy of Felissimo


A freshly molted Japanese spider crab stuffed animal
The You+More! creative team was established in 2014, comprises six women and mostly makes products with animal motifs.
"We study the biology of the animal as well as look for what makes them cute and interesting," Toyokawa said.
The ¥6,380 Japanese spider crab stuffed animal was made to show how much larger the crabs can be after molting. A ¥2,420 king penguin pouch shows the molting process of the birds as they mature from chicks to adults.
Shabani, the western lowland gorilla at Higashiyama Zoo and Botanical Gardens in Nagoya who went viral for his good looks, was the model for the gorilla-shaped pillow.
"We want to show the charming aspects of animals that aren't that well-known," Toyokawa said.
Courtesy of Felissimo


A Shabani pillow
A memorable moment for Toyokawa occurred several years ago when she was making an otter bag that is no longer on sale. She remembers how appreciative she felt for all the help the staff at the Osaka Aquarium Kaiyukan gave her by telling her about physical characteristics that would not have been noticeable had she only looked at photos, such as the otters' furry elbows and flat heads, which makes them more hydrodynamic. Everything she learned was brand-new information for her.
Toyokawa said she cherishes the feeling she had of being able to introduce others to this fascinating animal through her work.
New ideas for products come from talking about random things.
"We have a sumo fan, a fan of marine life and a collector of socks," she said. "Each member of our team talks about what she likes, and the others will say, 'That's interesting,' and that's where our creative process begins."
Felissimo has received an increasing number of requests from zoos and aquariums, which are looking to promote the animals in their care. As a result, the company makes about 50 products every year.
Toyokawa said: "Some customers tell us they are soothed by our products. It's rewarding to know that our creations have meant something to someone. We want to continue producing goods that will make people smile in everyday life."
Add TheJapanNews to your Google News feed.