Dolce & Gabbana charts new ground with collaborations featuring distinctive colors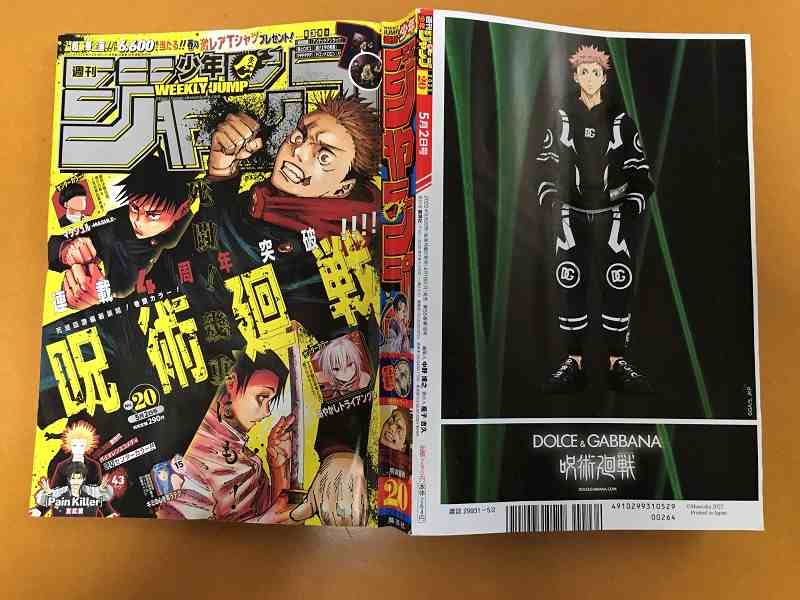 12:00 JST, June 3, 2022
The back cover of magazines in Japan almost always carry an advertisement. With a fashion magazine, it's only natural for a Dolce & Gabbana ad to appear there. But if the luxury fashion house places an ad on the back cover of Shukan Shonen Jump weekly manga magazine, well, that creates a sensation.
The back cover of Shonen Jump's May 2 issue features an illustration of Yuji Itadori, the protagonist of the popular manga "Jujutsu Kaisen," sporting a stylish outfit designed in a collaboration between the manga and Dolce & Gabbana. It might be part of a project they are working on together, but this may be the first time a major fashion brand has placed an ad on the back cover of a manga geared toward boys.
Nevertheless, half of its readers are men aged 19 or older. Even though Shonen Jump claims to be a manga magazine aimed at boys, the truth is that adults are the target audience.
I suspect that Dolce & Gabbana green-lighted the ad thinking it would be effective when taking into consideration Shonen Jump's readership.
By the way, according to the media guide page, the advertisement fee is ¥3.5 million plus tax for the back cover, ¥3.2 million for the inside front cover and ¥3 million for the inside back cover.
In the Italian fashion industry, Armani and Versace were the leading brands from the 1980s to the early 1990s, but they have lost momentum since 2000. Ferre and Missoni remain so-so, and Fendi, Ferragamo and Valentino have a persistent image of being women's brands.
It is understandable to say that Gucci and Dolce & Gabbana are consistently popular, particularly among young men. In fact, they rank surprisingly high in surveys on brand recognition by university students.
All things considered, the collaboration with "Jujutsu Kaisen," including the ad on the back cover of Shonen Jump, is a solid strategy when taking into account future customers, even if the current project does not lead to immediate sales.
A kettle from the "Sicily is my love" series by Dolce & Gabbana and Smeg
Dolce & Gabbana has also collaborated with Italian home electrical appliance maker Smeg. Their kitchen appliance collection, called "Sicily is my love" and featuring traditional Sicilian designs and motifs, has recently gone on sale.
Smeg is a high-end home electrical appliance maker founded in the Emilia Romagna region in northern Italy in 1948. Dolce & Gabbana collaborated with the company for the first time in 2016. A toaster, a blender, a kettle and two types of refrigerators, which are colorful and artistic, have recently been on sale at IDC Otsuka Ariake Showroom in Koto Ward, Tokyo.
The toaster has a characteristically Smeg style, being covered with colorful paintings such as a terracotta jar, a rooster spreading its wings and yachts sailing on the Mediterranean Sea. It costs ¥165,000.
The blender, priced at ¥198,000, is painted with a picture of the holy temple of Agrigento in Sicily, where there are still ancient Greek ruins. The base color of yellow evokes the flowers of orange trees that blossom all over Agrigento in spring.
The kettle costs ¥176,000 and features traditional Sicilian designs in blue, green and red.
The refrigerator has two designs: Maiolica and Carretto. The former is inspired by a Sicilian kitchen, and the latter features a colorful Sicilian carriage. Both are priced at ¥2.2 million.
Italian luxury brands are closely associated with the places where they were founded. Gucci and Ferragamo are based in Florence, Prada in Milan and Valentino, Fendi and Bulgari in Rome, for example.
Dolce & Gabbana, which is aiming to become the luxury brand of the next generation, is going all-out with Sicilian designs in its Milan collection of late, and the Smeg collaboration doubles down on the appeal of those designs.
Recent collaborations by Dolce & Gabanna are charting new territory, and I've got my eye firmly focused on this brand.
---
Akira Miura
Miura is a journalist and a former editor in chief of WWD Japan.
---