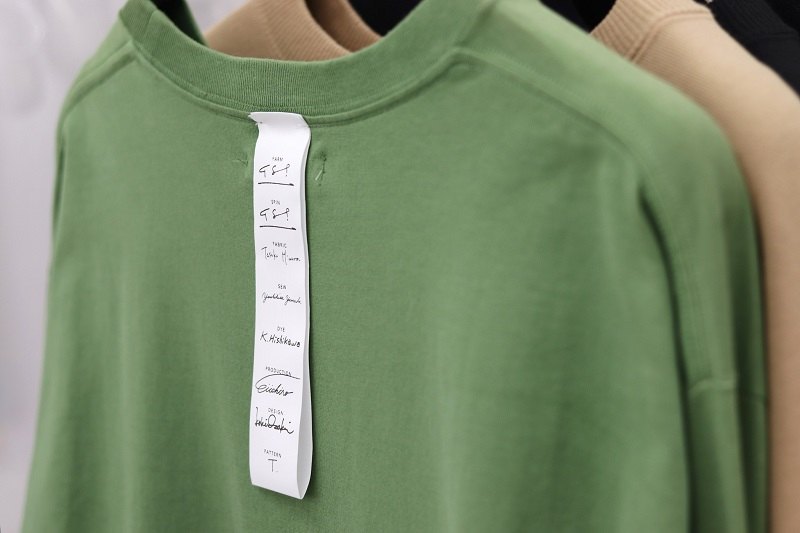 18:24 JST, May 31, 2022
TOKYO (Jiji Press) — Apparel makers are increasingly creating products in ways that take into consideration the human rights of those involved in production and the environment.
Such moves are aimed at raising brand value by tapping demand among people looking for such products in so-called ethical consumption.
Ethical consumption is expected to present opportunities for tackling issues such as human rights violations and environmental destruction.
Equaland Trust and Intimate, a brand that uses natural materials, attaches a "tag of trust" to its products. The tag, inscribed with the signatures of cotton producers and designers, certifies that the brand is determined to reduce its environmental impact and that it protects the human rights of its producers.
The 2013 collapse of a garment factory in Bangladesh triggered a global movement in the apparel industry to review poor working conditions. Last year, allegations of forced labor surfaced in China's Xinjiang region.
Equaland's tag is a reflection of its commitment to tackling such dark legacies of the apparel industry.
"Those who made clothes have been oppressed and not been able to express their anger," said Shinichiro Kose, one of the brand's founders. "The tag also shows respect for the makers."
The U.N. Conference on Trade and Development in 2019 called apparel the second most polluting industry after oil, taking issue with overproduction and massive waste stemming from the rise of low-cost fashion.
In the apparel industry, the production of materials and products requires massive amounts of water, while the incineration of waste emits large amounts of carbon dioxide.
Efforts to improve the industry's environmental impact are slowly taking root. Goldwin Inc., the creator of outdoor gear brand The North Face, plans to release fleece and denim products that use artificial protein yarns made from plants this autumn.
The clothing maker plans to produce artificial yarn made from discarded cotton clothes in the future.
Ryohin Keikaku Co., a lifestyle goods company that operates the Muji brand, is collecting used clothing produced by the company and dyeing it to sell again at 18 select stores in Japan.
Ethical consumption has taken root in the United States and Europe. In Britain, the market for such goods, including foods, is calculated to have reached some ¥19 trillion in 2020.
On the other hand, a survey conducted the same year by Japanese advertising agency Dentsu Inc. found that 76% of respondents in Japan did not know the phrase "ethical consumption" at all.
"There is a polarization of awareness in Japan," said Tomokazu Seki, business strategist at Dentsu who carried out the survey.
Seki stressed the need to raise the value of socially conscious goods in order to make them more popular, saying, "They need to look good and be easy to buy."
Add TheJapanNews to your Google News feed.