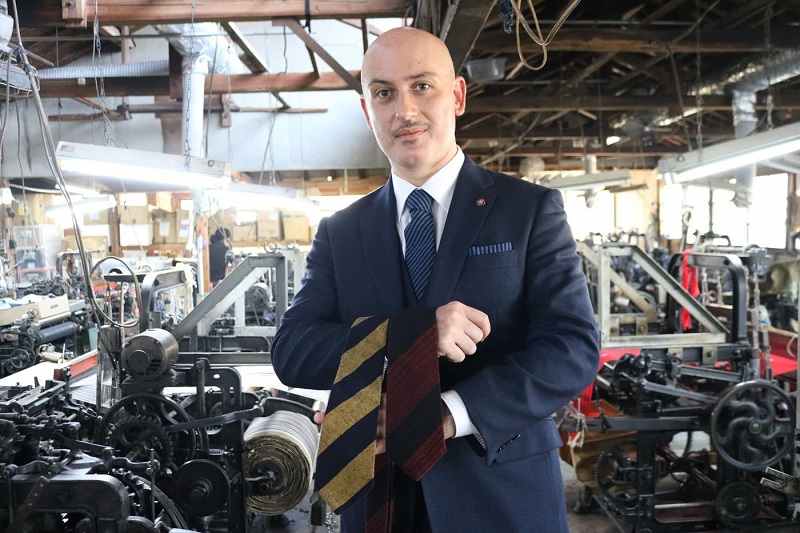 The Yomiuri Shimbun


Di Santo Corp. President Daniele Di Santo shows off ties made using Kurume Kasuri.
12:00 JST, May 13, 2022
FUKUOKA — A Fukuoka-based company that facilitates business tie-ups between Japan and Italy is shining a light on Kurume Kasuri — a traditional cotton fabric produced in the prefecture — by using it for face masks, ties and other daily-use items.
Di Santo Corp., a consulting company led by Italian national Daniele Di Santo, markets the goods in Japan and abroad under its Kimonissimo brand. The firm aims to sell easy-to-use-items while following traditional uses of the fabric, which has an enduring association with the prefecture's Chikugo area.
The company uses fabrics made by weaving firm Sakata Orimono in Hirokawa in the prefecture.
Kurume Kasuri has long been used to make women's clothes and souvenirs. Di Santo, however, worked with others to produce designs and products that are useful in everyday life. Out of respect to the local culture that nurtured the craft, the entire production process takes place in the prefecture.
The firm sold its first products online in the spring of 2021. In February this year, Di Santo Corp. started shipping to Europe, the United States and other major Asian countries.
The Yomiuri Shimbun


Kazuo Sakata, president of weaving firm Sakata Orimono
The company currently offers about 20 different designs. Ties come in regular and narrow types to fit various occasions, from business to casual. Some of the firm's masks and handkerchiefs use fabrics that have antibacterial and deodorizing qualities.
"We'd been thinking about our products purely from a maker's perspective," said Kazuo Sakata, president of Sakata Orimono. "[Through working with Kimonissimo], we're learning about the many ways [the fabric] can be used."
From Italy to Japan
Before starting his company, Di Santo, who hails from Rome, worked as a newspaper reporter covering politics and economics. He started living in Japan in 2007, after being dispatched at the request of an Italian political party.
He established Di Santo Corp., a consulting company, in 2010 to help small and midsize Japanese companies expand their businesses in Italy. The company eventually located to Kyushu after building up a large client base there.
Di Santo's relationship with Kurume Kasuri started in 2020 as the novel coronavirus was spreading worldwide. He decided to make and send masks to business partners and acquaintances in Italy, where masks were difficult to obtain. After selecting Kurume Kasuri as the material, he created the masks and sent them as gifts.
Kurume Kasuri features attractively blurred patterns created by a technique known as "kukuri." The cotton fabric has a comfortable feel, and Di Santo was impressed that craftspeople used looms made more than 100 years ago.
Di Santo, whose family business is related to shoes, became increasingly fascinated with Kurume Kasuri through factory visits and meeting craftspeople. He thought the locally produced material was stylish and began considering making products using the fabric to allow people outside Japan to appreciate its value.
Appealing to younger generation
Currently, most of Di Santo Corp.'s orders originate from Japan. Di Santo says he intends to travel overseas to promote Kurume Kasuri when coronavirus infections subside. The company also has a number of new products in the pipeline, including pocket squares and suit-matching stoles.
With fewer people buying traditional products, Japan and Italy are both faced with the problem of how to protect and hand down their traditions and manufacturing techniques to subsequent generations, Di Santo says.
"When we promote our products, we convey the history and tradition of Kurume Kasuri, as well as the weavers' thoughts, so young people think it's cool to wear the fabric," Di Santo said.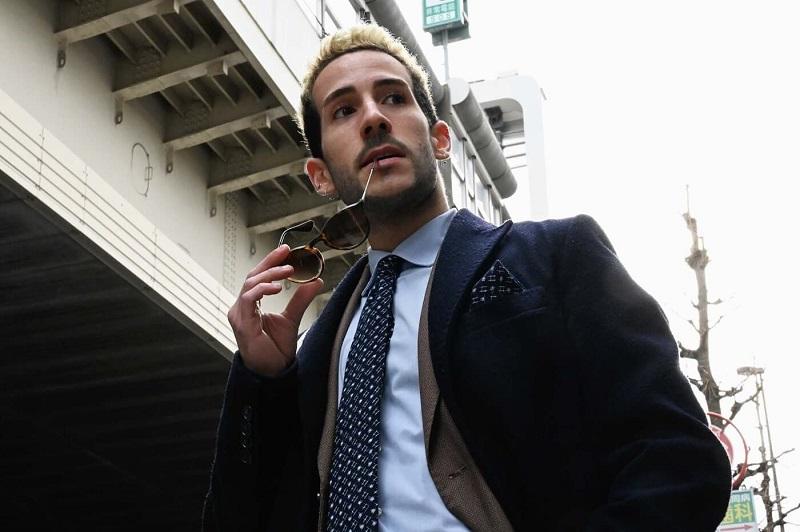 Add TheJapanNews to your Google News feed.